I bumped into Maria one fall afternoon on West Virginia University's Evansdale campus and was immediately drawn to her ensemble's uniqueness. From her stylish jeans to quirky color combination, Maria's look is bold and fun. Her willingness to find pieces that capture her personality is truly an inspiration.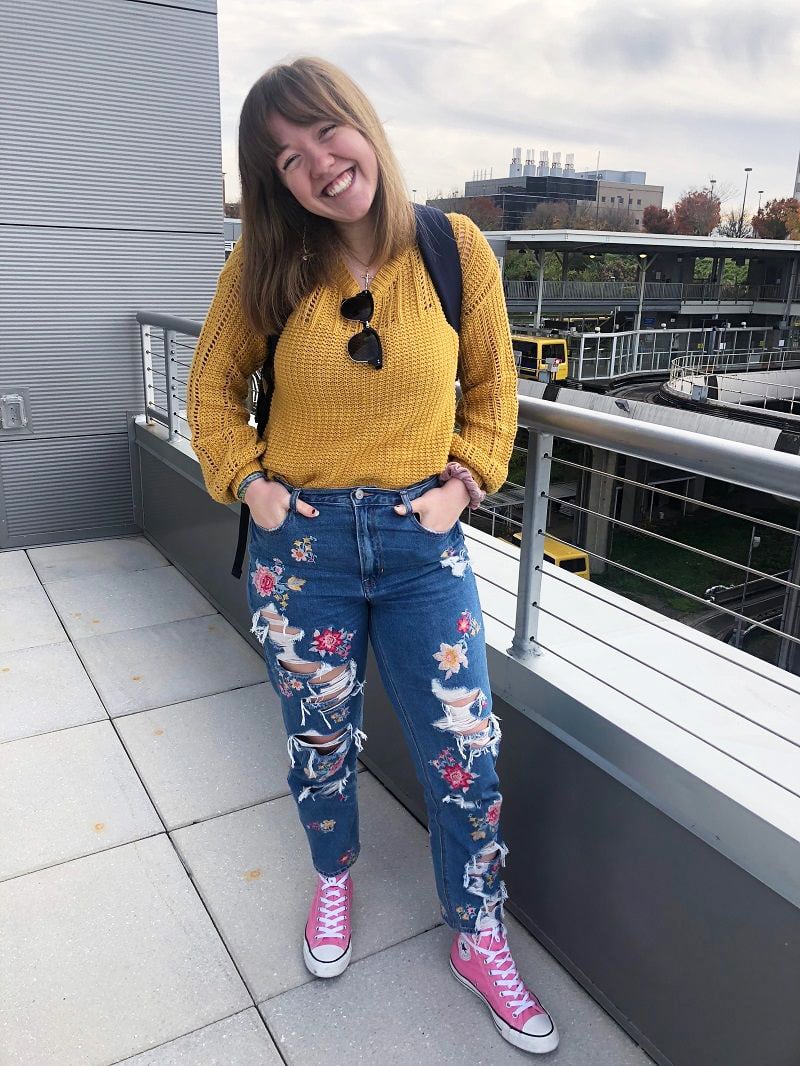 Maria 101
Name: Maria
School: West Virginia University
Major: Art Education
Year: Freshman
Hometown: Morgantown, WV
Let's Talk Fashion
Who inspires your style? "I would say my mom, my sister Ruthie, and also my good friends, Cat and Ashton, [all] inspire my style. [They wear] things for comfort while always looking good too! I even wear my mom's hand-me-downs, so it's truly wonderful to see a mixed sense of style that just comes together."
Where do you like to shop? "I definitely like to shop at places like L.L. Bean and American Eagle. You can also find me shopping in my mom's closet every now and then when I'm home from college."
How would you describe your sense of style? "'Put together relaxed.' I always make sure I'm comfortable with everything I wear. Sometimes I have a vintage twist, a 'mom' look, artsy, or adventurous."
Why did I choose this particular outfit? This outfit [revolves] around my jeans. To me, they are a statement in [themselves] and give off a bright, happy feeling. I also love the mustard color in them which made me choose the mustard sweater, resulting in the picking of my pink shoes which also match my pants! Everything is so comfortable, plus I still look cute."
What fashion advice would you give to other students looking to improve their style? "I would recommend finding key pieces that go with their personalities that are comfortable. It's much easier, for me personally, to get out into the world while being confident in what I'm wearing."
What are your favorite trends right now? "I love trench coats. I like a lot of the footwear trends, at the moment: Birkenstocks, bean boots, and Chelsea boots. As I mentioned, I love the mustard color which is a big trend right now. For pants, I like high-waisted or mom jeans."
Do you have any favorite fashion designers? If so who? "Ralph Lauren and Tommy Hilfiger, just because I wore these designer brands as a child and it was sort of the start of my fashion sense. Now I wear my parents' vintage versions of them and it just comes full circle for me."
What do you do for fun – do you have any unique hobbies or interests? "I am a part of Young Life at WVU. I'm also an art major so I love to paint and draw with realism. I love photography, especially with my Polaroid. I also love to play sports and work out a lot."
If you could raid anyone's closet who would it be? "My mom's, my sister Ruthie's, and my friends, Cat and Ashton! Our styles are so similar so I would be able to add so many fun pieces to my wardrobe."
Elements of Maria's Outfit
1. Embroidered Ripped Jeans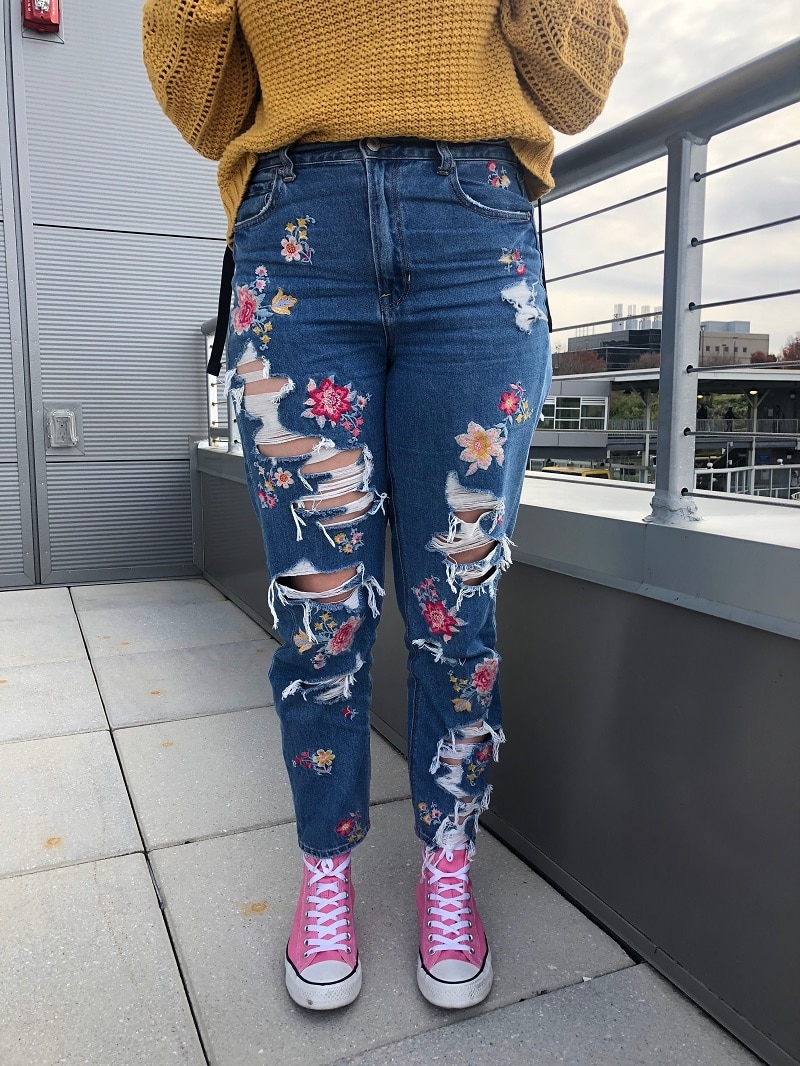 Maria got this stylish pair of jeans at American Eagle. The embroidery is exceptionally detailed, which is a lovely touch. Pulling hues from the colors in her jeans, Maria does an excellent job of creating a funky color combo throughout the rest of her look.
2. Mustard Sweater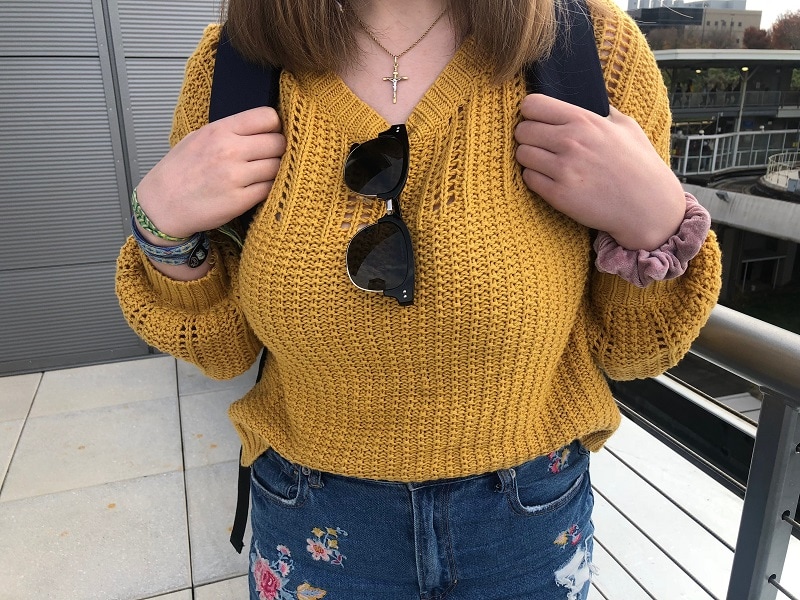 Another great buy from American Eagle, Maria's mustard sweater is a basic necessity for any closet. I love the oversized look of this piece. Her assorted bracelets and scrunchie also provide pops of color.
3. Hot Pink Kicks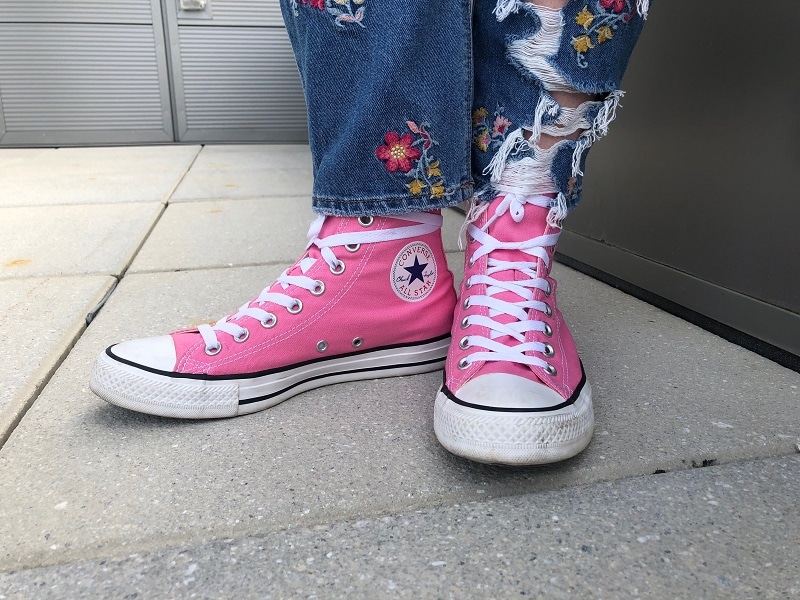 Maria's pink high tops are a killer staple. She easily could have gone neutral with her footwear, but she chose to make a statement in these neon kicks. They truly do give off a bright and cheerful look.
Now we want to know your thoughts!
Do you love Maria's bold, colorful choices? Would you wear her funky jeans? Let us know below!