During the summer, life on campus can be pretty quiet at West Virginia University. With freshman orientation officially over, the campus is home solely to summer students, athletes, and Morgantown natives like Maggie! You will find her at the mall, hanging with friends, and enjoying her summer break. This fashionista knows all about dressing to have fun and feel confident.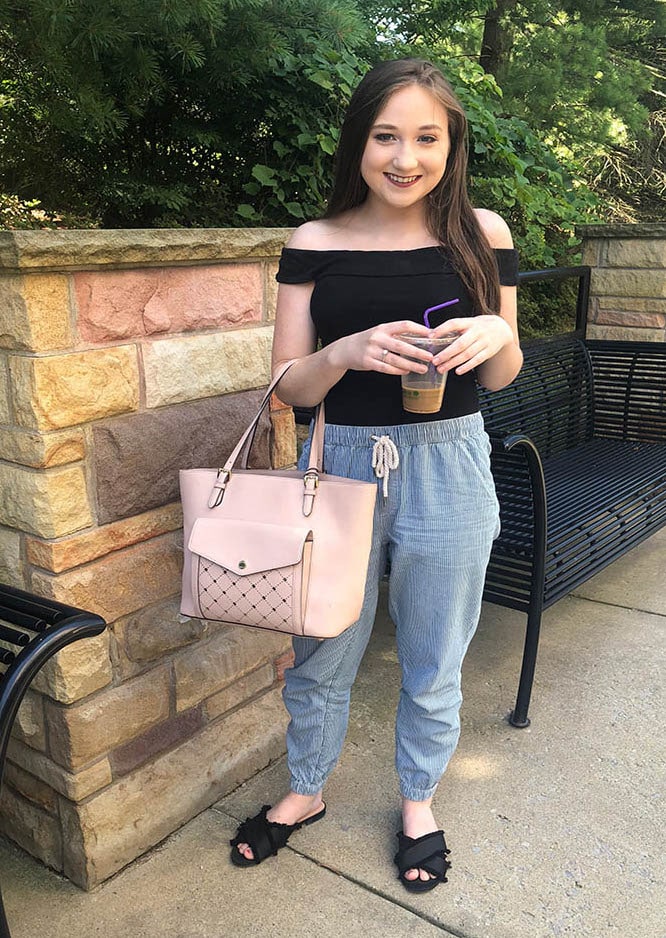 Maggie 101
Name: Maggie
School: West Virginia University
Year: Freshman
Major: English
Hometown: Morgantown, WV
Let's Talk Fashion
Who or what inspires your style? "The feeling an outfit [gives me] inspires me. Sometimes I like to be lazy and wear sweatpants all day. Other days I'll throw on a pair of heels because they make me feel as if I have my life together! When I make an effort to look good, I feel more confident in everything I do. My outfit often inspires my mood and my mood often inspires my outfit."
Where do you like to shop? "Shopping is one of my favorite things to do. I will shop anywhere from high end boutiques to Goodwill! Some of my favorite places to shop are Target, Altar'd State, and Nordstrom."
How would you describe your sense of style? "I would describe my style as all over the place. You could see my outfit one day and then not recognize me the next. I like so many types of styles, so I like to try out a lot of different things."
Why did you choose this outfit today? "I chose this outfit because it is comfy and easy but it looks put-together. With the pattern[ed] pants and the off-the-shoulder top, it makes it look as if I tried a lot harder than I did. I'm all about easy and if it makes me feel good and confident then all the better."
What advice would you give to other students looking to improve their style? "If you want to improve your style I would suggest buying a few bold staple pieces. A nice leather jacket or a pair of casual heels are two great things that can just pull an outfit together in a [pinch]. And if all else fails, pop on a colorful lipstick!"
What are you favorite trends? "I am always ready to hop on the new color trend. I love walking into a store and a new color captivating the entire space. Something I've been into lately is pastels. I love the fresh feel [they have]. One of my favorites so far has been the lavender trend."
Do you have any favorite fashion designers? "One of the first designers that comes to mind when I think of my favorites is Kate Spade. I really love how elegant her clothing is. Everything is simple and very classy with that that Kate Spade kick. Whether it's a pattern or her use of lace, I always feel simultaneously trendy and graceful in her clothes."
If you could raid anyone's closet, who would it be and why? "If I had to raid someone's closet, I would choose Tati Westbrook. She is one of my favorite makeup Youtubers. She is always dressed to impress. I would describe her style as sophisticated with bad girl vibes. Similar to mine, Tati's style varies day-to-day. I would steal her clothes in a heartbeat."
Elements of Maggie's Outfit
1. Black Off-The Shoulder Tee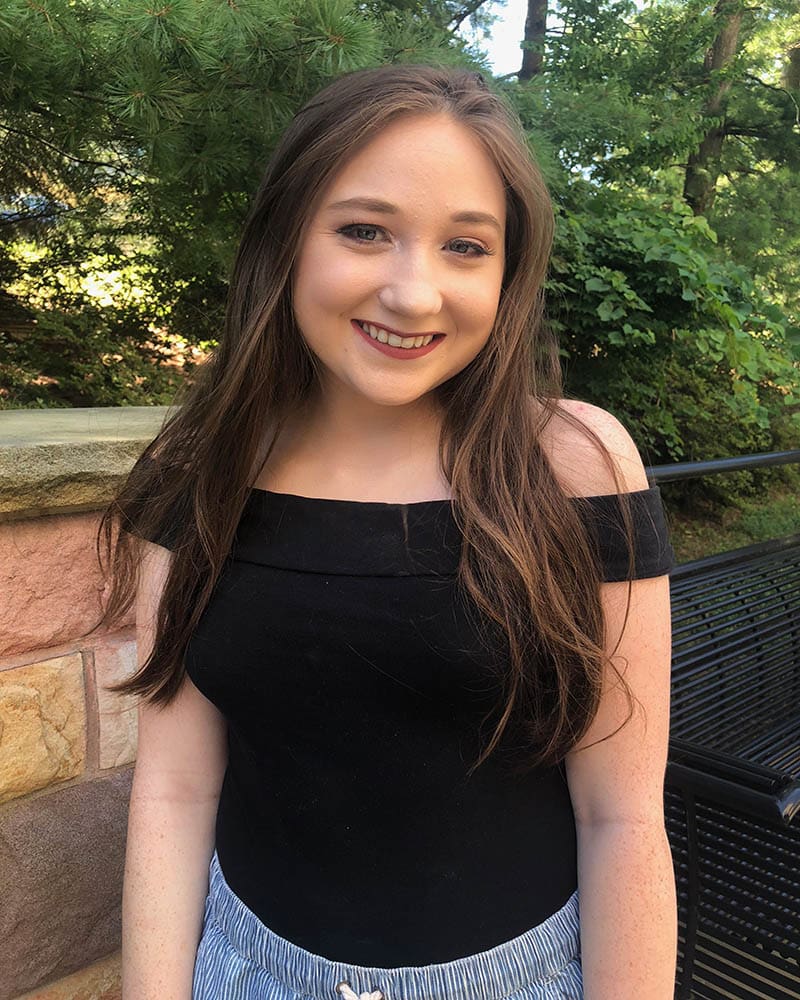 Off-the-shoulder tops are one of the hottest trends right now. Maggie's '90s-inspired black tee from Forever 21 is the not only the perfect way to wear black and still beat the heat, it is so much more unique than the average black crop top. She dressed it down for a more causal look with her patterned joggers which also brighten the whole ensemble. Bonus: Maggie could switch her joggers for ripped skinny jeans and her outfit would be transformed for an edgier occasion.
2. Light Blue Striped Joggers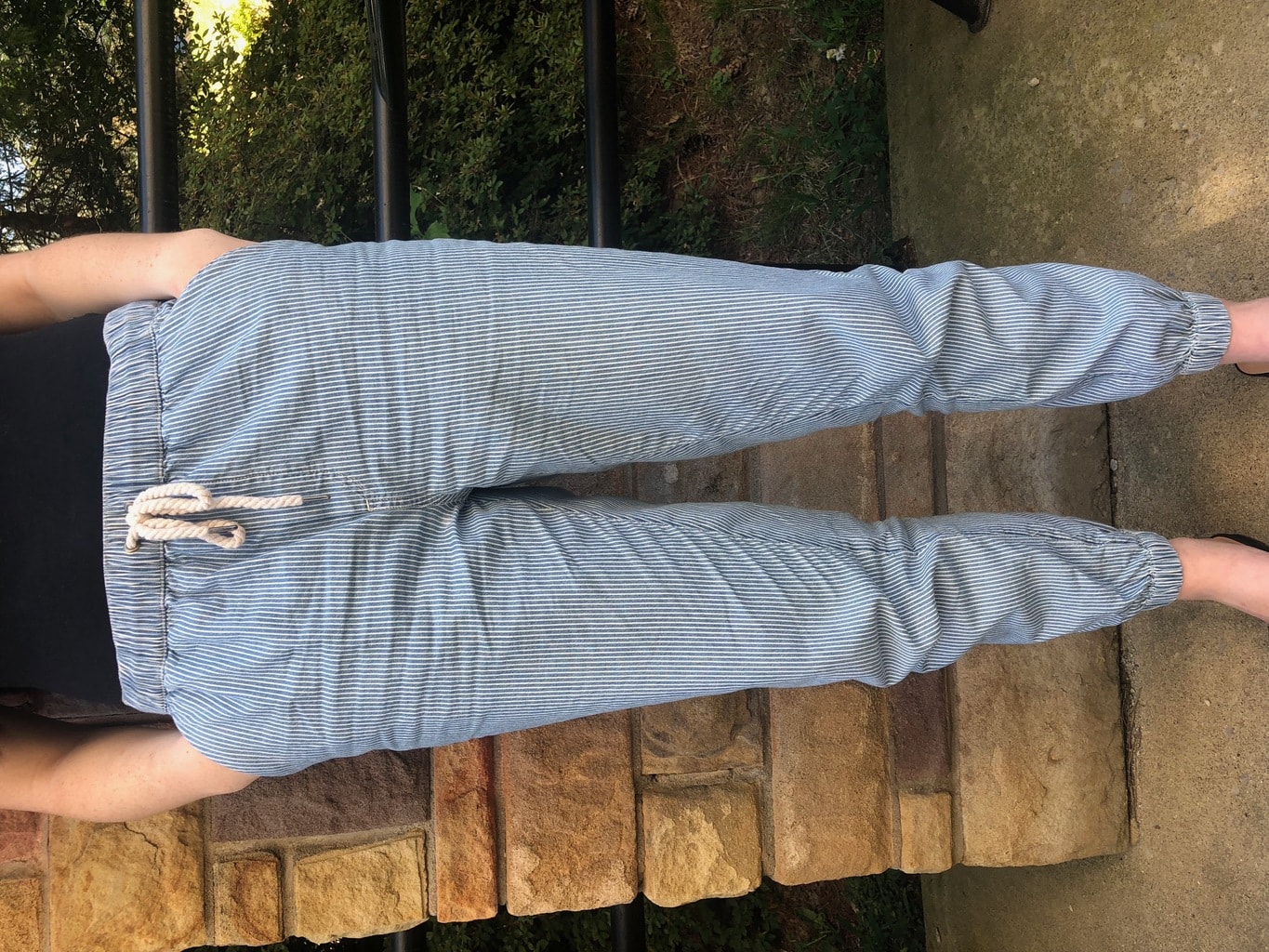 I know the question you are asking… and yes, Maggie's joggers are as comfortable as they look! These pants are the statement piece of her entire outfit. They bring the right amount of color and balance for a causal day out spent running errands and catching up with friends.
3. Black Frayed Slides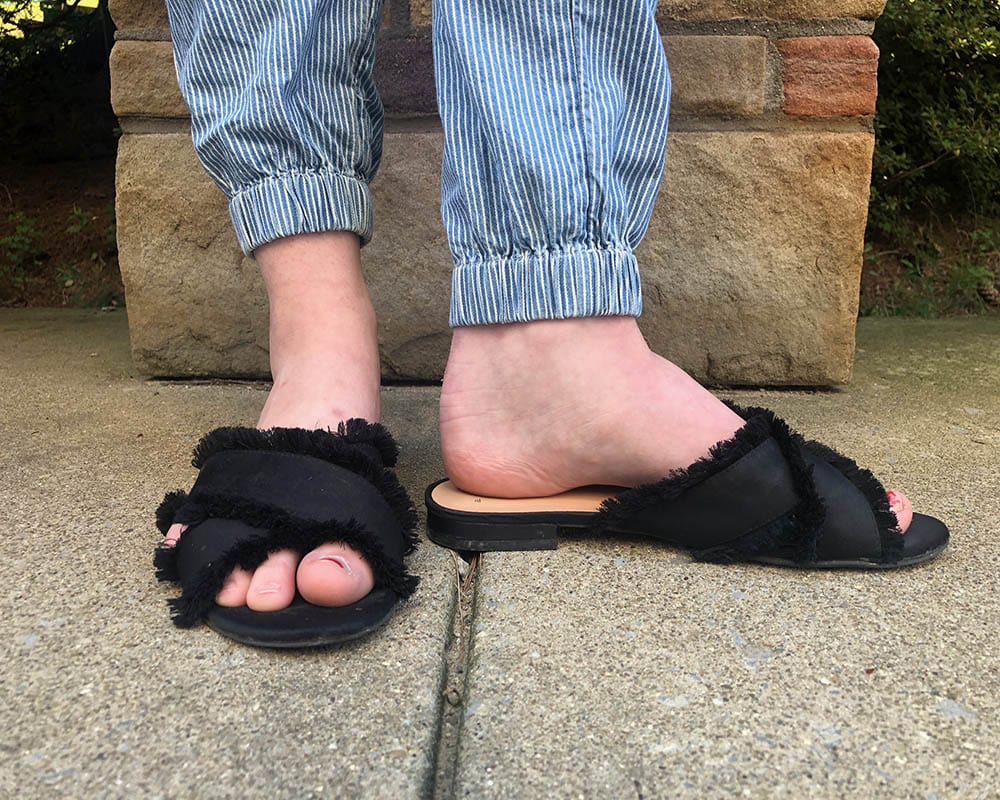 These sandals from Target are super stylish! The details in the frayed edges really pull the whole outfit together. Maggie is the perfect example of manipulating your favorite staples to pull off an effortless, fashionable look!
4. Pink Tote Bag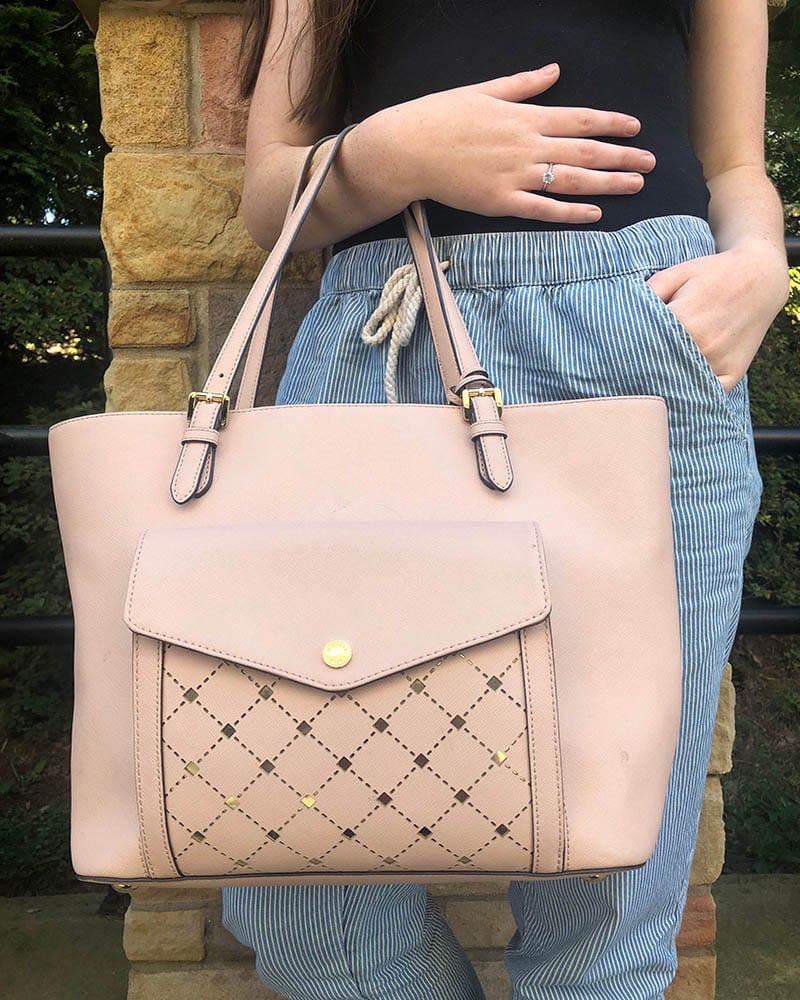 I am constantly seeing women tossing out their crossbody bags and backpacks in favor of a trendy tote. Maggie's pink tote bag adds the perfect pop of summer colors to her ensemble. As huge fan of Michael Kors, I can't get over how cute this tote with gold detailing is!
Now we want to know your thoughts!
Do you love Maggie's summertime style? Are casual joggers your favorite casual pants to wear too? Let us know below!