With the warm weather finally making an appearance, we're seeing the usual surge in light, summery colors and textures. However, here at College Fashion, we encourage you to march to the beat of your own drum, and that's why we think Claire's all-black ensemble is so great!
Standing out in a crowd of floral sundresses, her dramatic look is full of texture, details, and personality. Claire's witchy vibes are a sultry inspiration.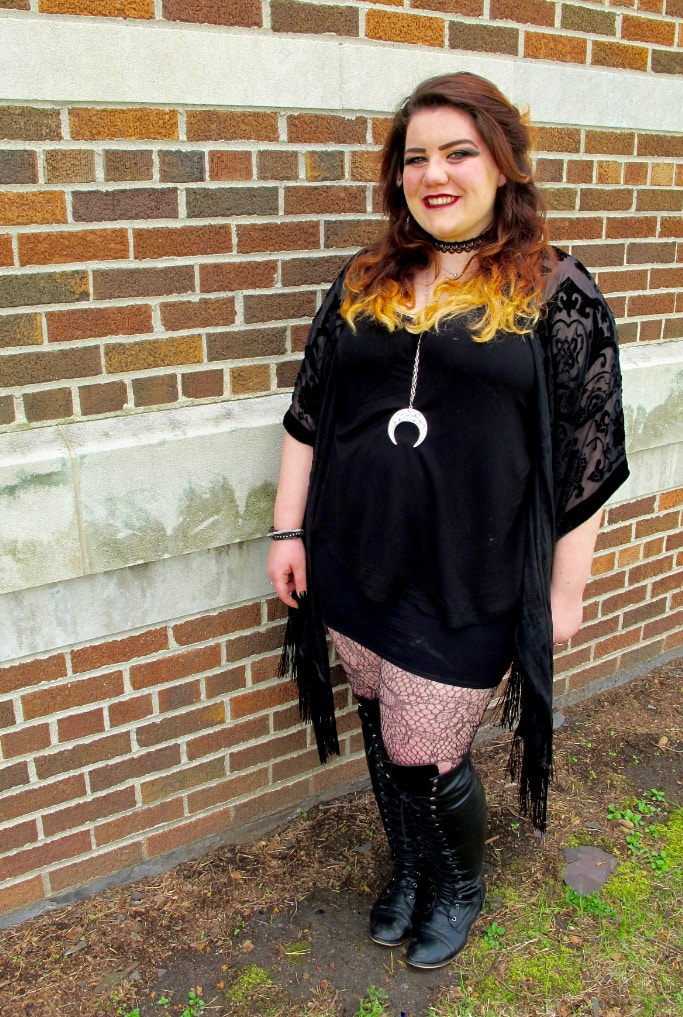 Claire 101
Name: Claire
Year: Senior
Major: English
School: Michigan State University
Hometown: Plymouth, MI
Let's Talk Fashion
Who or what inspires your style? "If it's black, I will look at it. If it isn't black, I probably won't look at it. Colors aren't really my thing. I do black and gray. Sometimes I'll do burgundy or dark green, but it's mostly black and gray. I like clothes that make me feel powerful and make me feel confident."
Where do you like to shop? "Hot Topic. Sadly, like a middle school goth kid! Half of my wardrobe either comes from [the] Salvation Army or my dad or boyfriend's closet. I'm a cheapskate so I look for thrift stores or sales and I go to the mall occasionally. All over the place really, so anywhere I can find something that I like that's black."
Why did you choose this particular outfit? "I was singing a song from Wicked for a creative showcase so I wanted to look like a witch."
What fashion advice would you give others looking to improve their style? "Black is always the best color. It matches with everything and it looks good with everything, but just wear what makes you happy and what makes you comfy. Because my secret is that I wear clothes that are really, really comfy and then I throw on an accessory and it looks like I tried."
What are your favorite trends right now? "Chokers, as you can see – love them! Dark lipstick too, and I'm liking that grunge and plaid '90s [looks are] a thing again because I'm all over that."
If you could splurge on one outfit what would it be? "Probably an exact replica of the outfit Maleficent wears in the Sleeping Beauty movies."
What do you do for fun? Do you have any unique hobbies or interests? "I like to write and draw. Dragon Age – that's a video game – owns me. I've only had this game for a year and I've already spent 750 hours of life playing that game. I also watch anime. That's pretty much all I do!"
If you could raid anyone's closet, who would it be? "Bellatrix Lestrange."
Elements of Claire's Outfit
1. Patterned Shawl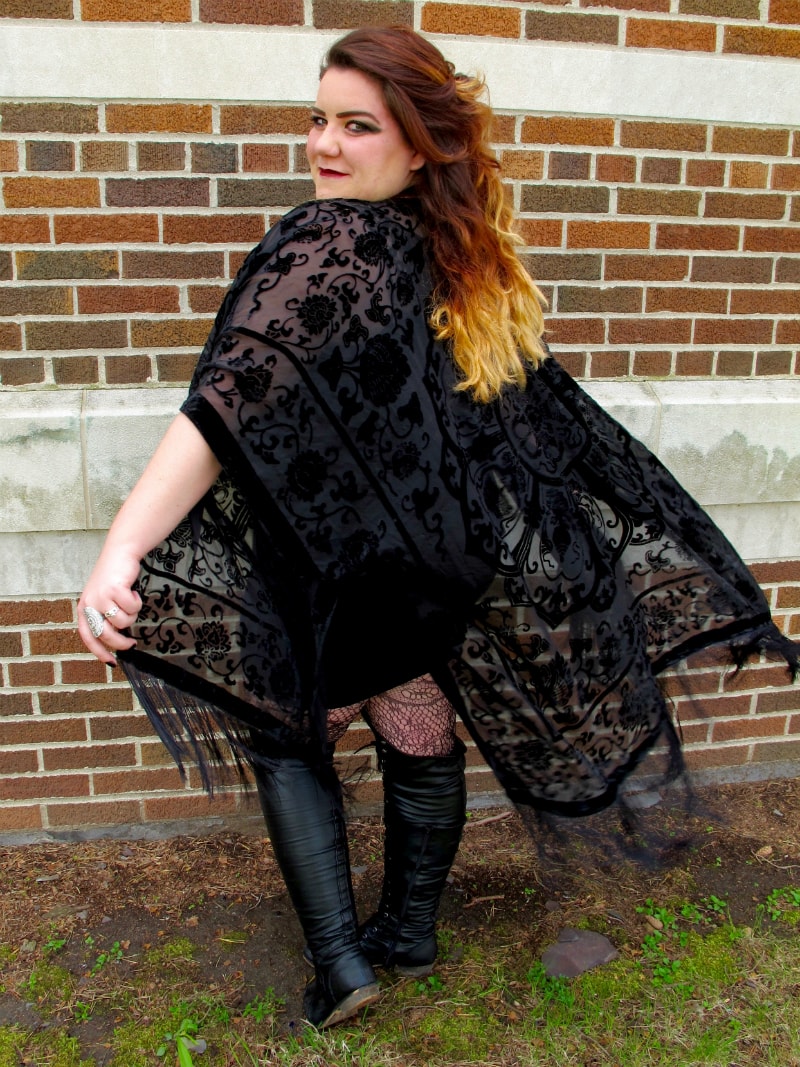 If you're going for a black-on-black aesthetic like Claire, mixing and matching clothing items with different patterns and textures is important to keep your outfit interesting.
Claire's shawl from Target not only has a dramatic, swooping effect, but it also adds a layer of texture to her ensemble. With the sheer panels and velvet flowers, this shawl would translate to a variety of different styles and would be easy to layer over any almost kind of outfit.
2. Layered Necklaces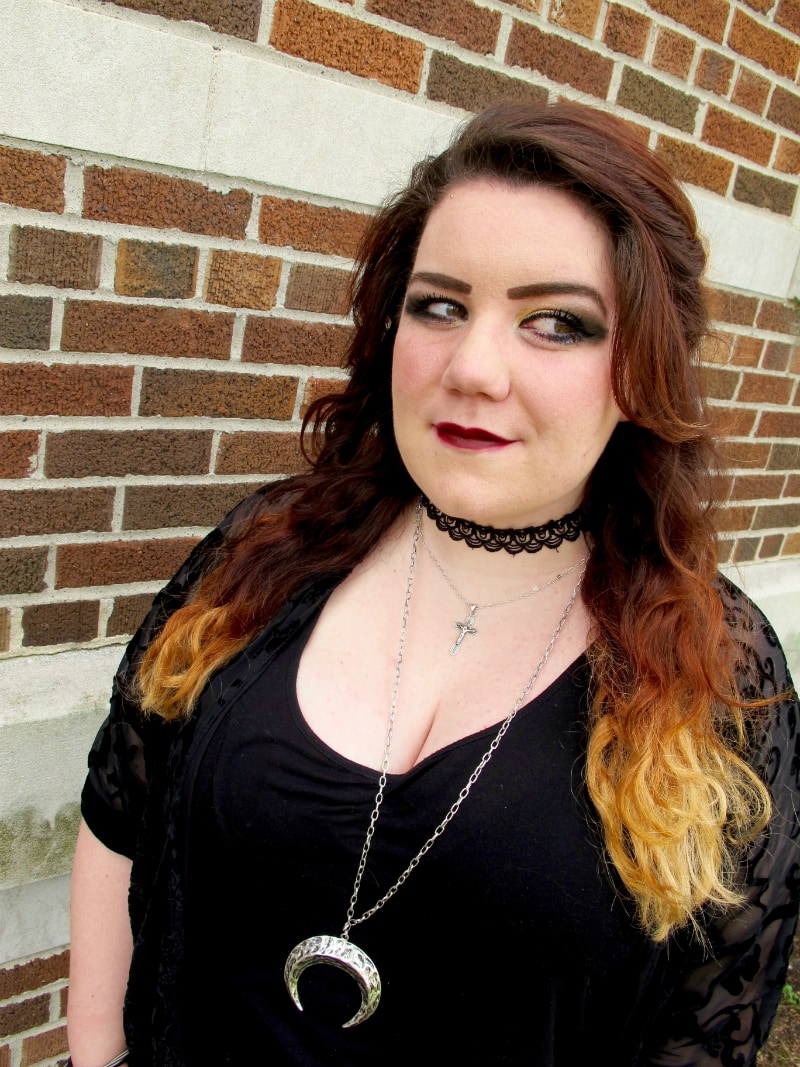 An all black outfit is already striking, so why not let your jewelry take it to the next level? Pairing necklaces of various lengths will add a touch of shine. Claire demonstrates how to mix and match necklaces to create a perfectly layered look to pull everything together.
3. Tall Boots + Textured Tights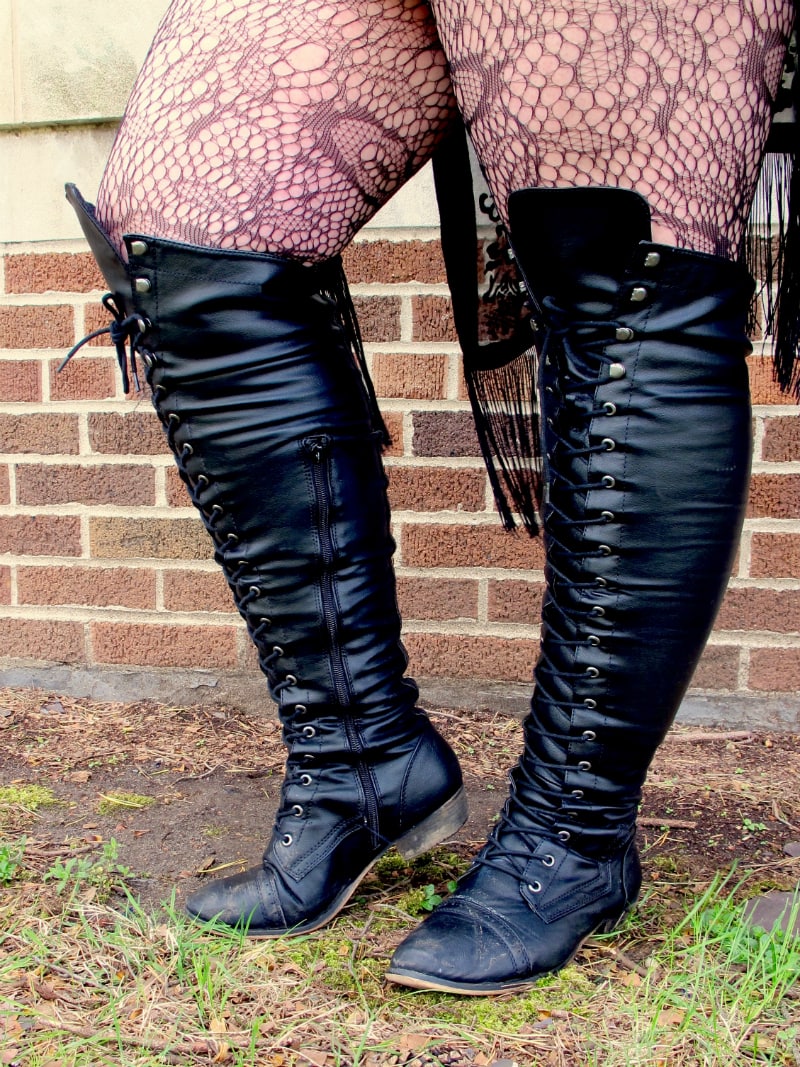 Naming these boots her best Amazon purchase to date, Claire paired her tall, lace-up boots with lace tights. Throwing on a pair of knee-high boots will make you look fierce and ready to take on the world.
Now we want to know your thoughts!
Are you spellbound over Claire's witchy vibes? Do you play with textures when you wear monochromatic outfits too? Comment below because we want to know what you think!