I don't know how it is for you, but for me, when February comes around, I start unconsciously channeling romantic, sweet, and girly vibes in my outfits. Brittani was doing the same when I caught her on campus: She styled a few cute pieces to create a flirty, attention-grabbing look. I fell head over heels for her style and I think you guys will, too!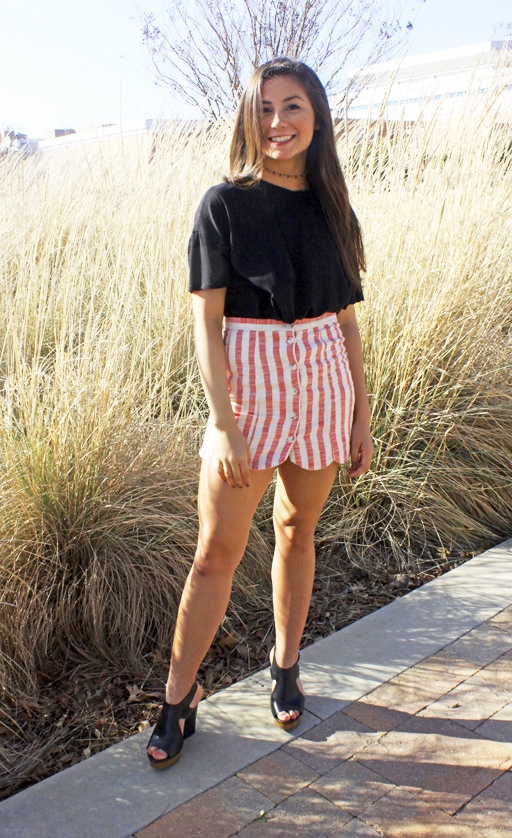 Brittani 101
Name: Brittani
School: University of Texas at Arlington
Year: Freshman
Major: Public Relations
Hometown: Spring, TX
Let's Talk Fashion
Who or what inspires your style? "Honestly, looking through magazines and seeing celebrities' style or just scrolling through my Instagram feed gives me outfit ideas. I follow many high-profile models like Josephine Skriver [who] can pull off any outfit and they inspire me to try new things."
Where do you like to shop? "Nordstrom is my go-to. I [always find] long-lasting staple pieces there. Also, Urban Outfitters makes up most of my wardrobe. They always offer clothing combinations that I would never find [anywhere else]."
How would you describe your sense of style? "I think my style [is] very girly but still comfortable. I'm always looking to integrate my free-spirited personality into my everyday look by keeping it an understated chic."
Why did you choose this particular outfit? "The skirt goes with the February vibe and I felt like dressing up my normal everyday look."
What fashion advice would you give to other students looking to improve their style? "I would tell them to wear what they feel comfortable in, but at the same time to not be afraid to experiment with different trends."
What are your favorite trends right now? "I love skorts! They are old-fashioned and are making a comeback. You get the girly flair of wearing a skirt and the [comfort] of wearing shorts."
Do you have any favorite fashion designers? If so, who? "Chloé is beyond my favorite designer. I love the bohemian-chic [look of all of their] pieces. I aspire that one day I will be successful enough to afford their accessories."
What do you do for fun – do you have any unique hobbies or interests? "Running is one of my favorite hobbies. I try and run three to six miles per day, everyday. Running makes me feel liberated. With all of the pressure college puts on my shoulders, it's like I'm symbolically running away from all of the stress."
If you could raid anyone's closet who would it be and why? "It would definitely be Bella Hadid. I feel like her closet has my name written all over it. I admire her bold yet carefree personality when it comes to what she presents herself in."
Elements of Brittani's Outfit
1. Simple Choker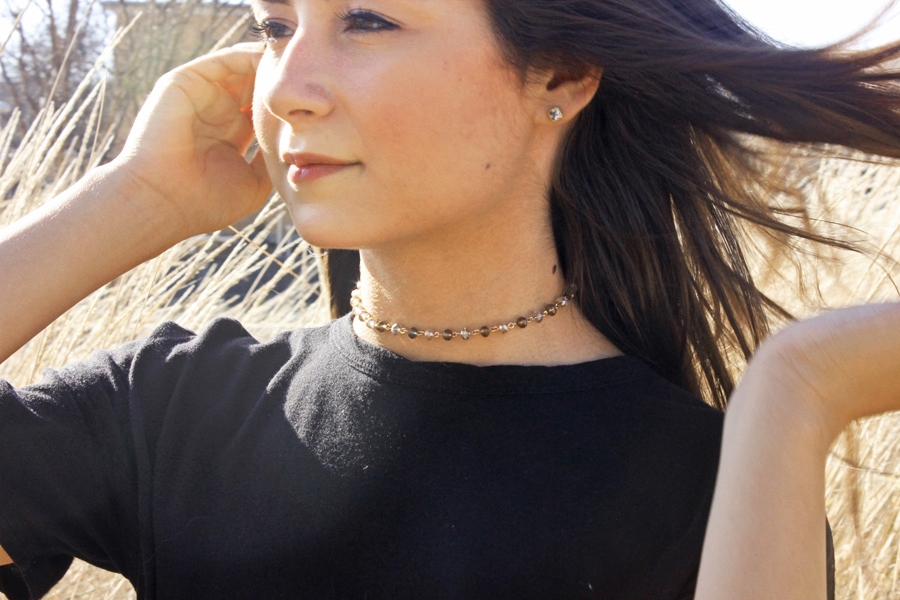 Delicate jewelry is a huge trend and can be used to dress up any look. Brittani's bling is from Anthropologie. A thin, jeweled choker like hers is the perfect choice to polish off a look without stealing the spotlight from her other pieces.
2. Tee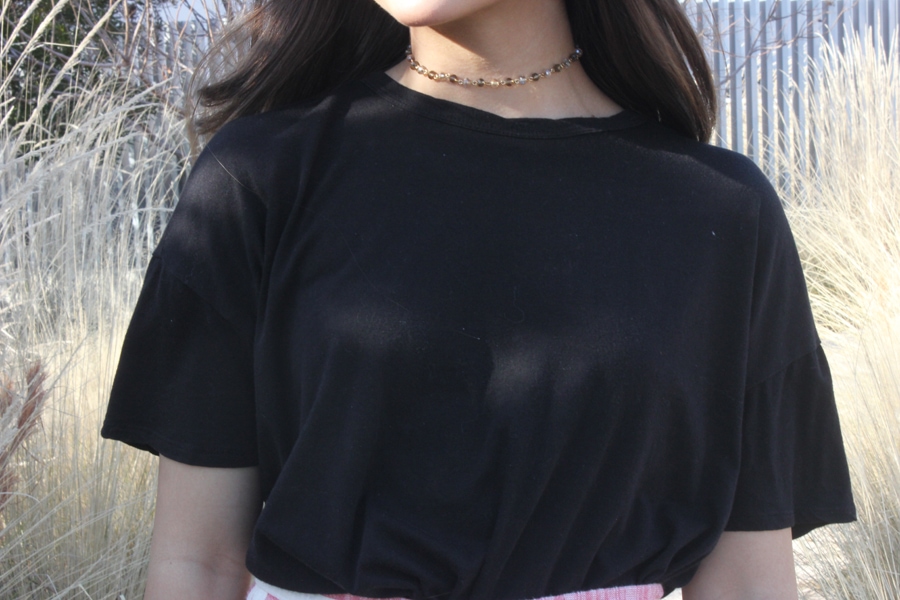 Brittani keeps it simple with a plain black t-shirt from Forever 21. A black tee is such a versatile piece and can be worn in many creative ways. Brittani tucked it into her statement skirt to dress it up!
3. High-Waisted Skirt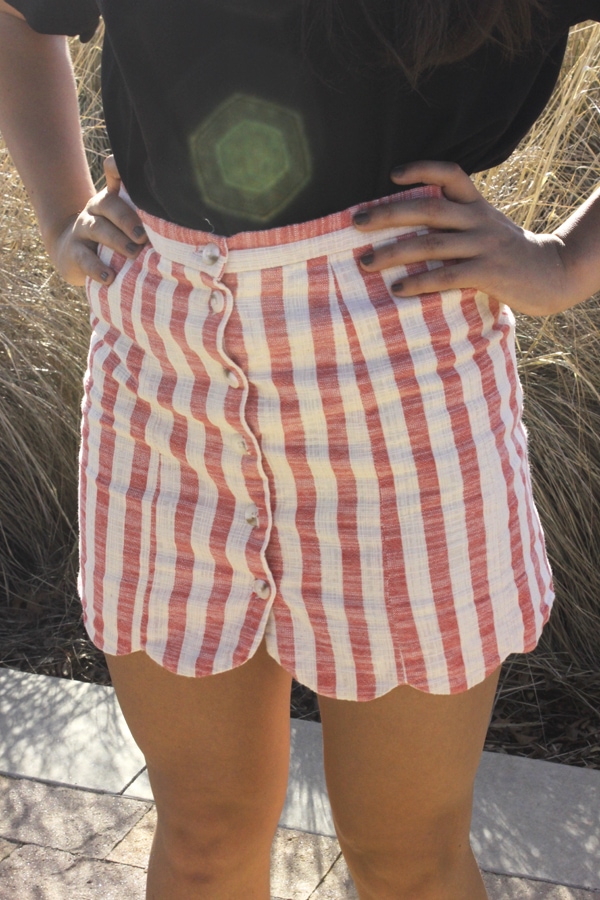 High-waisted skirts have been "in" for a while now, but Brittani spiced up the trend by choosing a skirt that has interesting details. The red and white stripes catch the eye, while the scalloping adds a cool dimension to the hemline.
4. Wedges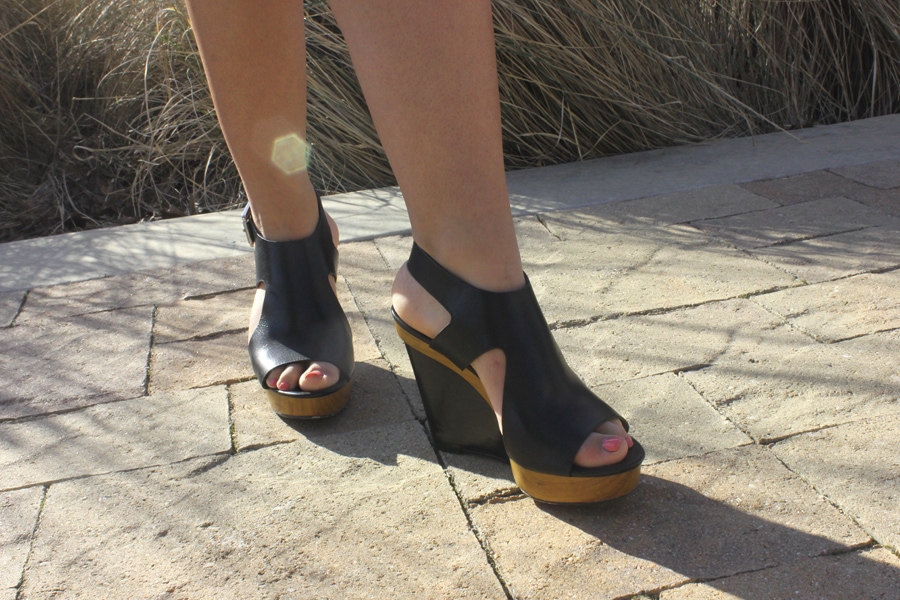 Brittani matched her black top by pairing it with some black wedges from Nordstrom. They pull her outfit together and are comfy enough to wear while rocking across campus – Brittani promises!
What do you think of Brittani's look?
Would you wear Brittani's outfit? What do you think of her high-waisted skirt? Comment below and let us know!