I've always been impressed by Amy's colorful (and occasionally wacky) outfits, so when I spotted her walking around town looking like a boho chic princess, I simply had to photograph her. Daring, flattering, and absolutely ethereal… Amy is a walking fashion inspiration.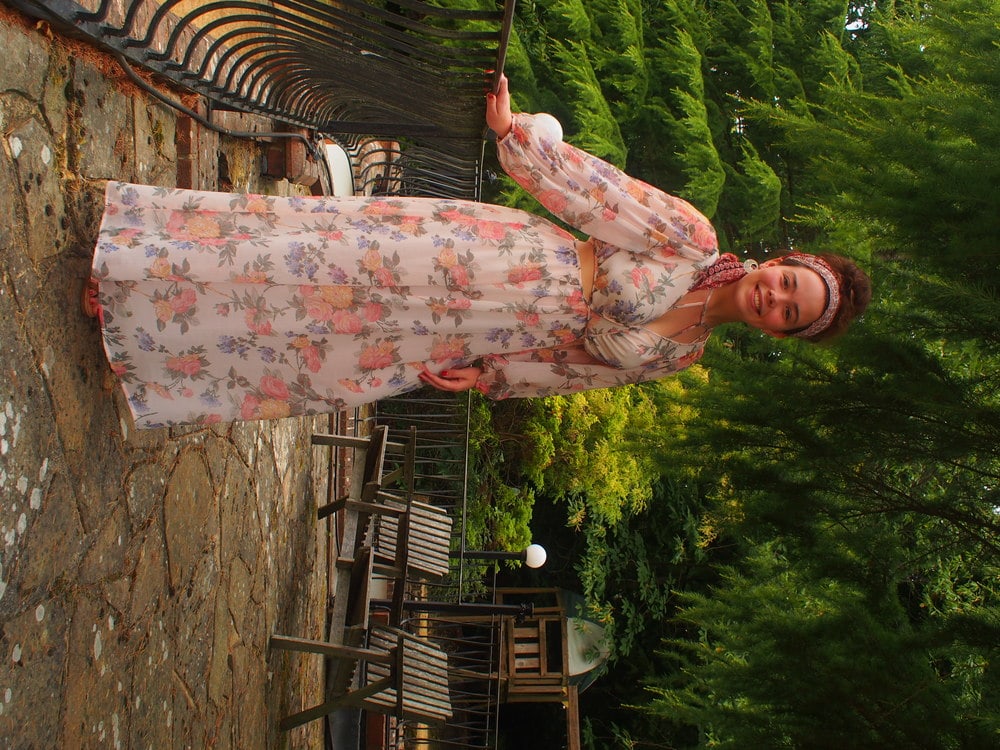 Amy 101
Name: Amy
Hometown: Deepcut, England
School: Royal Holloway, University of London, England
Year: Second Year
Major: History
Let's Talk Fashion
Why did you decide to wear this particular outfit? "I wear this outfit to formal occasions and in this circumstance [I] was wearing it to an event hosted by my university. Personally, I believe it is different from other formalwear and therefore has the ability to make me stand out from the crowd. In regards to my accessories, I decided that wearing a headscarf [would give] my look a more casual element and it also has the ability [to bring] out the flowers in the dress, due to a similar pattern. I was in a similar mindset when choosing my earrings, as I wanted something that emphasized the formal yet casual look. My shoes are [an] oak brown color and therefore add a different element to my outfit due to the contrast. I believe when selecting an outfit that there should be a range of different parts that each contribute something different."
Who or what inspires your style? "I do not have a specific person that I aspire to, but my main inspiration comes from nature. As you can see from my outfit, it is decorated with flowers and the material itself is very free and flowing. Nature is incredibly beautiful, and to dress like that is very important to me."
Where do you like to shop? "I shop in a range of places, but mostly H&M, Next, Topshop, and Primark. I tend to buy a lot when I go shopping, so [I] try to avoid places that are too expensive."
How would you describe your sense of style? "Different. It is not a typical sense of style!"
What fashion advice would you give to other students looking to improve their style? "When putting an outfit together, try to think of what you want your final outfit to say. So make sure to pay attention to small things, such as accessories."
What are your favorite trends right now? "One of my favorite trends would have to be bold colors. I love fashion that stands out and wearing something 'out there' is so cool."
Do you have any favorite fashion designers? If so, who? "I do really like Sarah Burton (Alexander McQueen). In particular, the dress she designed for Rosamund Pike."
What do you do for fun – do you have any unique hobbies or interests? "My main hobbies rotate around music. I enjoy playing the piano and flute. I have decided to teach myself the cello over summer."
If you could raid anyone's closet, who would it be and why? "Hmmm… I would have to say Holly Willoughby. I have always admired her look and it goes so well with her figure. I would love to be able to try on some of her outfits."
Elements of Amy's Outfit
1. Cutout Maxi Dress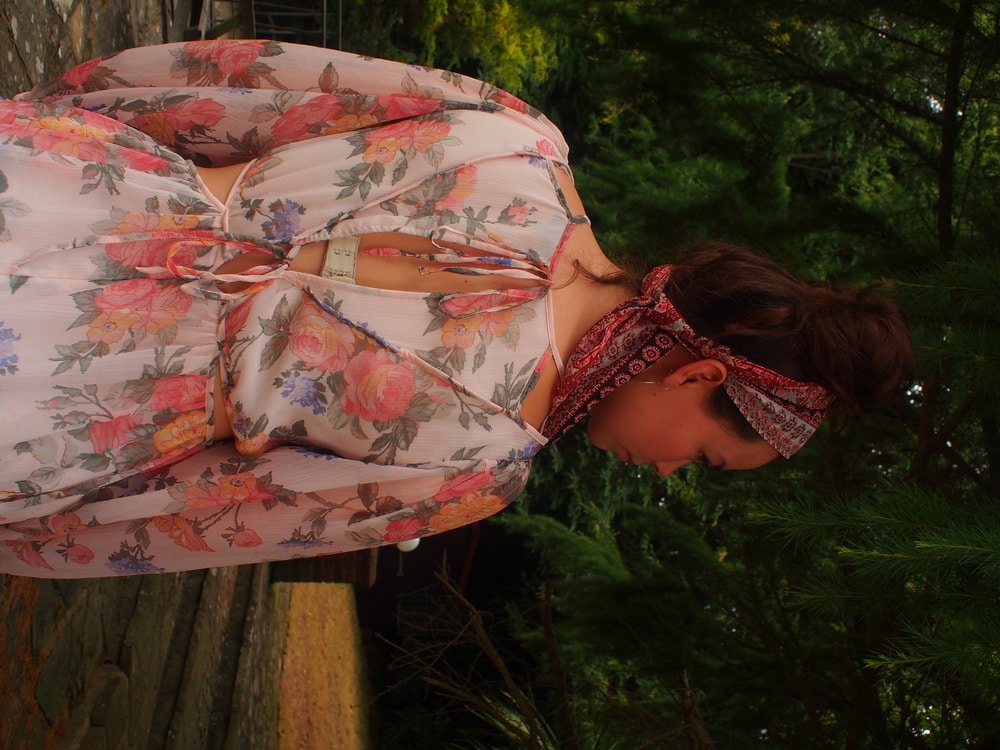 Amy's inspiration from nature is clear; this flirty, floral Topshop maxi dress is covered in muted, earthy florals. I was hooked when I saw the unique cutouts and ties in the back of the dress… it's certainly a special garment!
2. Bandana + Earrings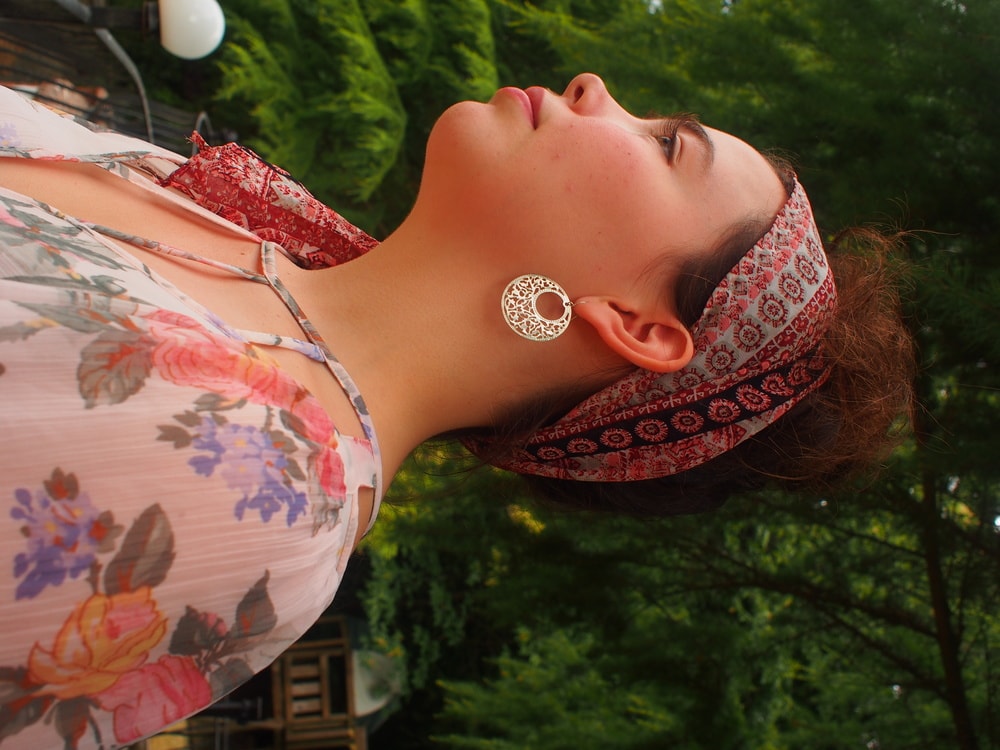 An essential part of Amy's outfit is her choice of accessories. Her combination of a tied bandana, a messy updo, and statement earrings looks polished and well thought-out, yet effortlessly casual.
3. Wedge Heels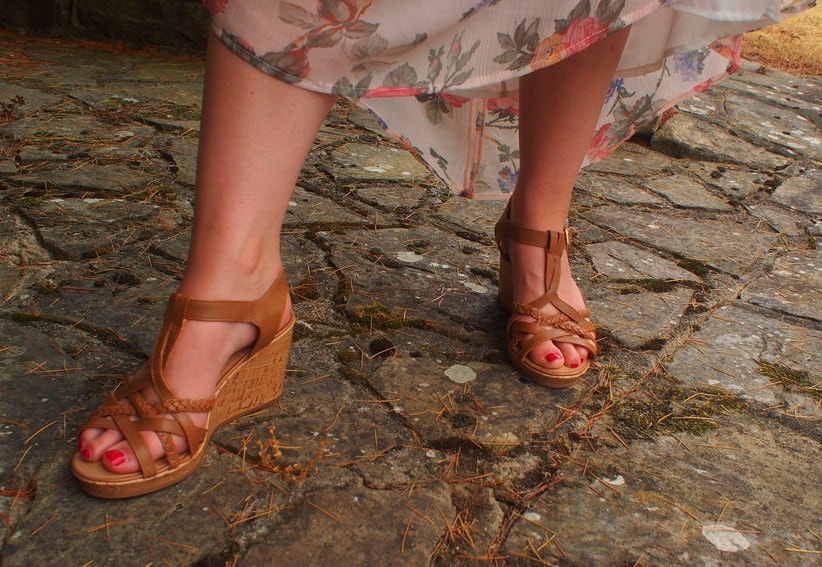 Amy sports t-strap brown wedges, which are her go-to summer footwear style. They're still very earthy, but give her a little added height, which is always a plus!
Now that you've seen her look, we want to know what you think!
Do you love Amy's whimiscal outfit? Would you wear her dress? Let us know below!