Shukura is not afraid to express herself! She loves to rock jumpsuits, layered necklaces, and long line cardigans. Inspired by Teyana Taylor's boss chick vibes and Rihanna's sporty style, Shukura crafts her own aesthetic that is simply fabulous.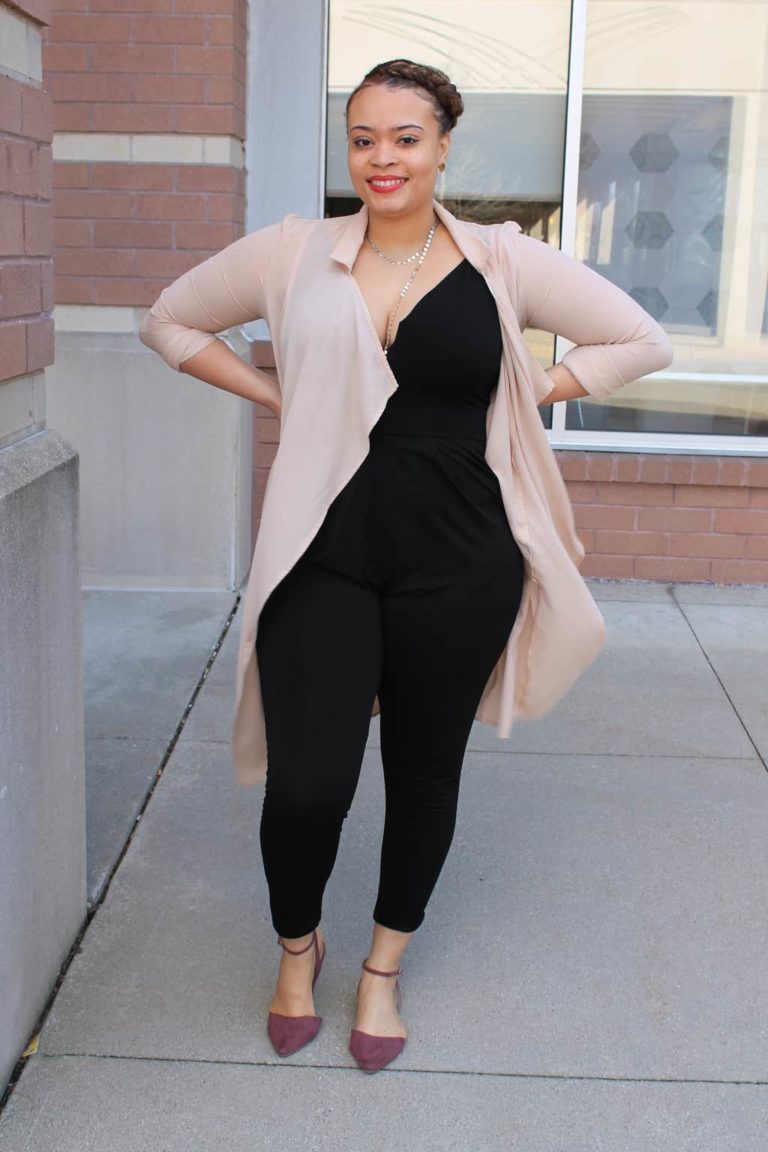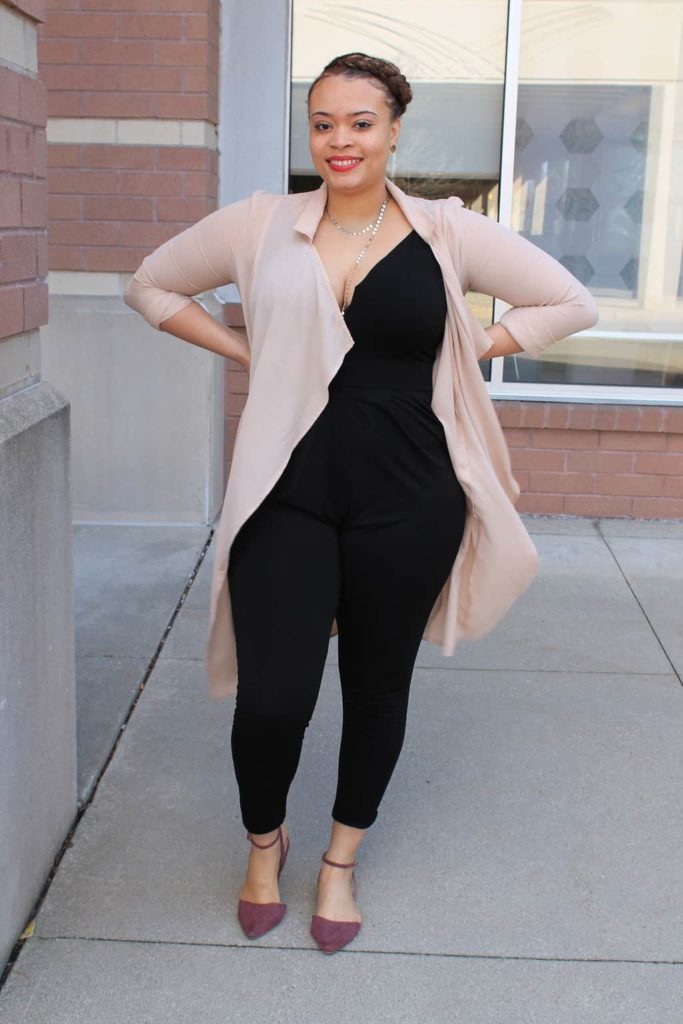 Shukura 101
Name: Shukura
School: Grand Valley State University
Major: AD/PR
Year: Graduate
Hometown: Detroit, MI
Let's Talk Fashion
Who or what inspires your style? "Classy Beyoncé and sporty Rihanna. They each bring something different to the table. Beyoncé is a boss chick who I look up to and Rihanna can rock the coolest sporty looks even when she isn't about to go work out."
Where do you like to shop? "Express for sure! I used to work at one in Detroit and would get their discount. But either way, discount or not, I love their items. I can find anything, from business to casual and sporty. It's a one stop shop for the most part!"
How would you describe your sense of style? "Bad and bossy in the best way possible. I want people to look at my outfit and see exactly who I am: a confident woman who loves herself."
Why did you choose this particular outfit? "I am obsessed with this jumpsuit so I started with that. Then I decided that Michigan is feeling a little more like spring, so the pink cardigan worked great and the shoes and necklaces were just great pieces to put with the outfit."
What fashion advice would you give to other students looking to improve their style? "Whatever you do, do it confidently."
What are your favorite trends right now? "I am really liking the sneaker game at the moment. I would own so many if my bank account allowed it!"
Do you have any favorite fashion designers and if so who? "I'm not really into high fashion brands just because I feel like the name doesn't mean anything unless you really like the outfit. I would say I just love anything that looks cute on me."
What do you do for fun – do you have any unique hobbies or interests? "I recently had a daughter eight months ago so I am obsessed with her! She is my best friend. But I also love hanging out with my friends and traveling. I have been on three trips in the last two months and I can't wait to add new places to my list!"
If you could raid anyone's closet who would it be and why? "Teyana Taylor for sure. She can rock anything and make it look great. Who wouldn't want a wardrobe like that? Being able to walk into your closet and feel like you're at a mall would be insane."
Elements of Shukura's Outfit
1. Silky Pastel Pink Cardigan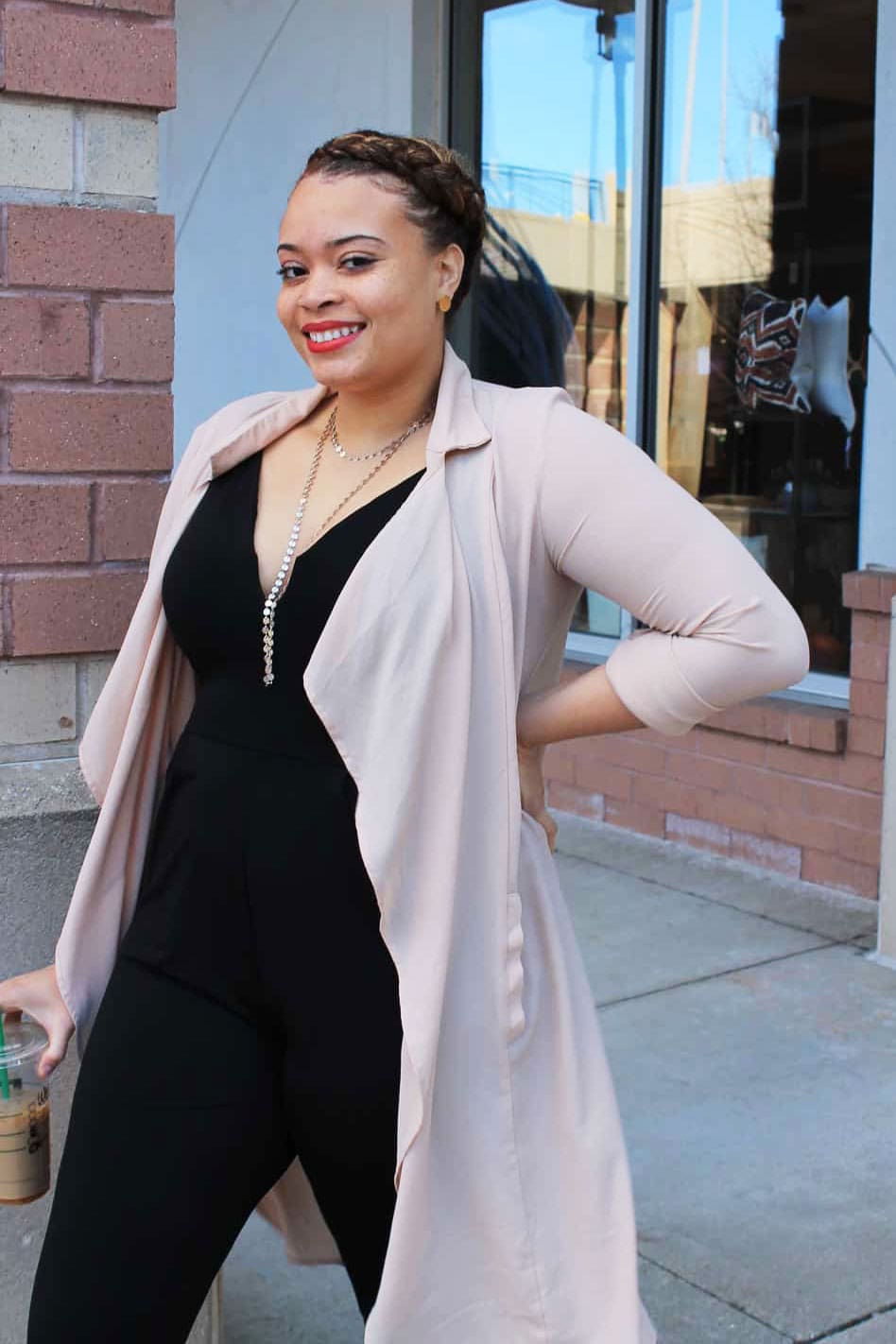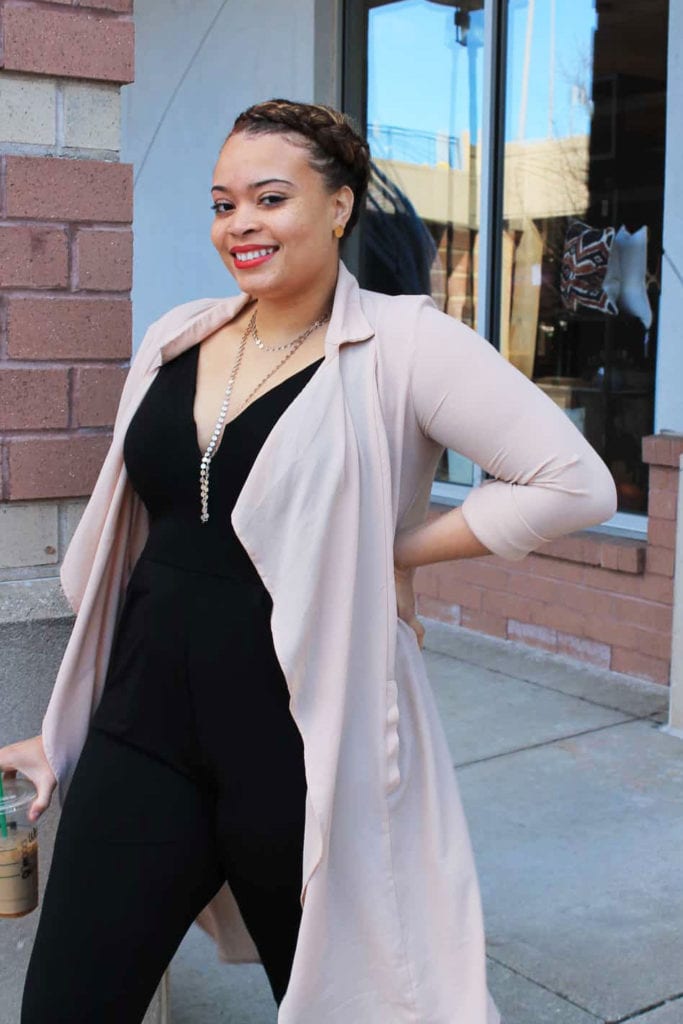 Fabulous is the only way to describe this cardigan! It is sleek, chic, and can give any girl the confidence they need when getting ready to tackle the world. We are used to seeing knit cardigans, but this silky material stands out in the best way possible.
2. Black Bodysuit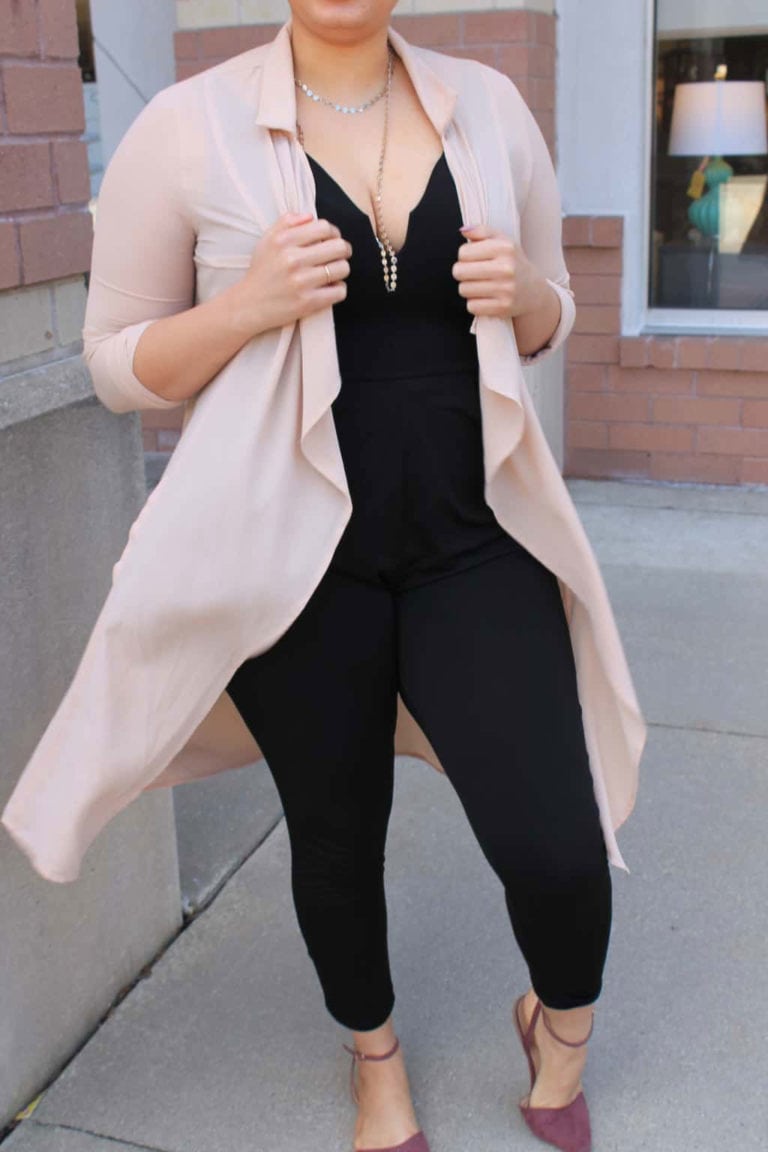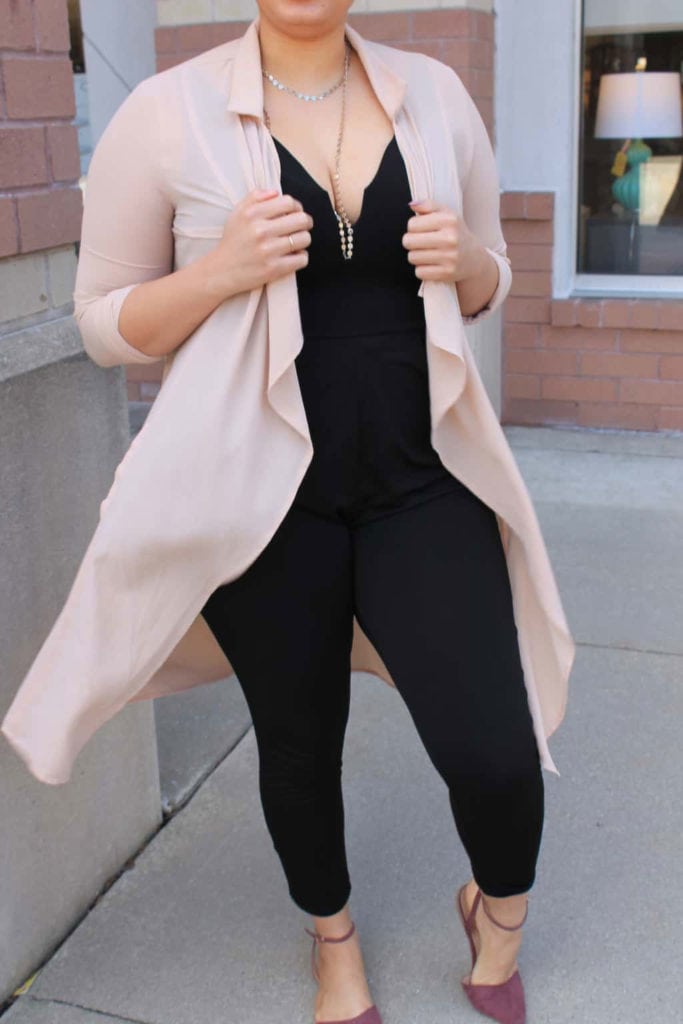 This bodysuit is a comfortable fashion statement at its finest. This piece can be dressed up, like Shukura so fabulously did, or dressed down with a jean jacket and sandals.
3. Mauve Flats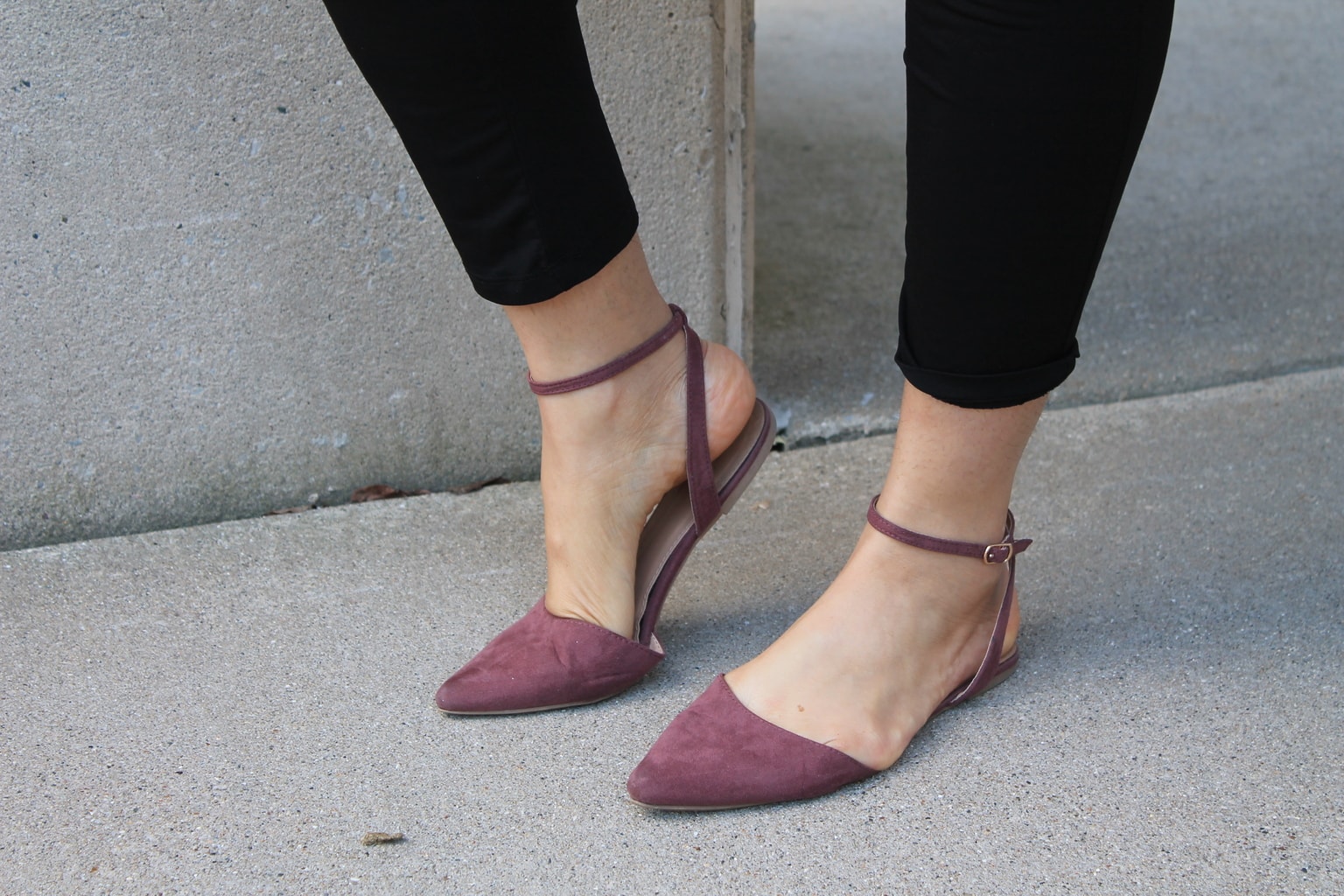 DSW is a must for college students. This store gives the consumer great finds for very affordable prices! Anyone would love these mauve pointed-toe flats. A hybrid between an ankle-strap sandal and flats, they are just dressy enough for work, yet cute enough for weekend wear.
Now we want to know what you think!
Do you love Shukura's business outfit? Would you wear her silky cardigan? Let us know below!