I spotted Isabella on her way to grab some coffee with friends while I was home in New York over winter break. Isabella attends Franklin & Marshall College in Lancaster, Pennsylvania where she participates in an a cappella group on campus and is actively involved with Greek life.
For a simple yet trendy look, Isabella combined basic pieces with a standout fur vest. She added a black leather bag and chunky ankle boots to tie her outfit together. I love her outfit and would definitely wear something like this!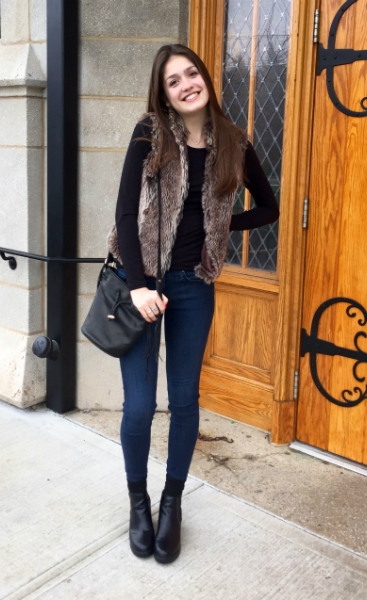 Isabella 101
Name: Isabella
School: Franklin & Marshall College
Year: Sophomore
Major: Undeclared
Let's Talk Fashion
Who or what inspires your style? "My mother inspires my style. She is a stylist and always pushes me to get out of my comfort zone and to dress up more."
Where do you like to shop? "I like to shop at Nordstrom, and Zara is another good go-to."
How would you describe your sense of style? "Very versatile. It depends on what I am doing. Most of the time I dress pretty casual but I love getting dressed up for events. I like neutral tones, scarves, and furry things."
Why did you choose this particular outfit? "It's a comfortable outfit that I can move around all day in. Adding the fur vest easily spices up a plain outfit. My jeans are also extremely comfortable and the boots are my current obsession. I like the bag because of its fringe and I think the gold accents complement the fur."
What fashion advice would you give to other students looking to improve their style? "Make your shopping sustainable. When you are shopping, pick an article of clothing that you know can be worn with at least three other things. Don't just buy something for one use, that way you know your purchase was worthwhile."
What are your favorite trends right now? "I am loving the super skinny jeans with chunky boots."
Do you have any favorite fashion designers? If so, who? "I really like Joie. The clothes are simple, yet stylish and super comfortable. They are really great quality and I prefer that over quantity."
What do you do for fun – do you have any unique hobbies or interests? "I sing for an a cappella group on campus called The Poor Richards. We practice weekly and perform for tons of on-campus events. I have loved singing since I was a little girl and during my freshman year it was a great way to meet people and get involved."
If you could raid anyone's closet, who would it be and why? "I would want to raid my cousin Claire's closet. She works for Serge Azria, the owner of Joie. Her job in fashion allows her closet to be constantly evolving and super stylish. Everything she owns I absolutely love."
Elements of Isabella's Outfit
1. Black Boots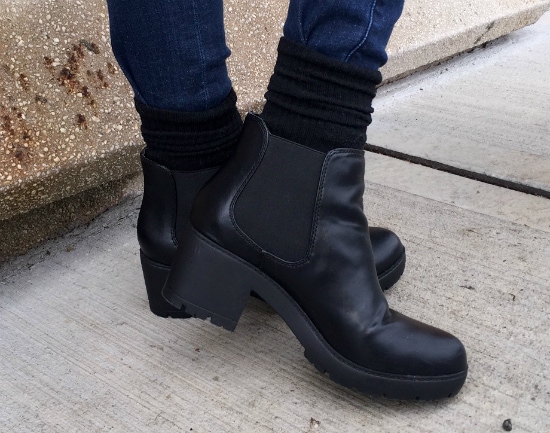 Isabella's elastic black boots from Steve Madden lengthen her legs and flatter her figure. She tucked her dark wash jeans from Current/Elliott into some black socks that not only keep her warm, but also add an extra dimension.
2. Stacked Rings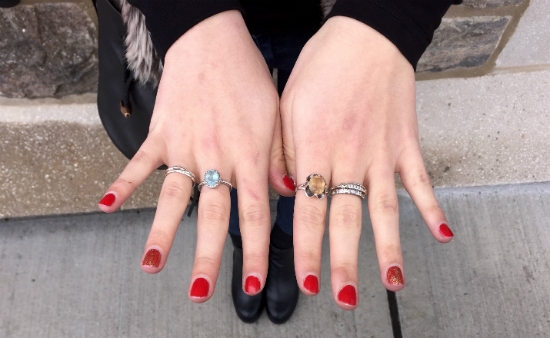 With her rings either being passed down from her mother or gifted by friends, Isabella succeeds at combining the various styles. Adding a variety of jewelry to an outfit makes a statement and brings a story to tell. Just the rings alone are a trendy touch to her outfit.
3. Fur Vest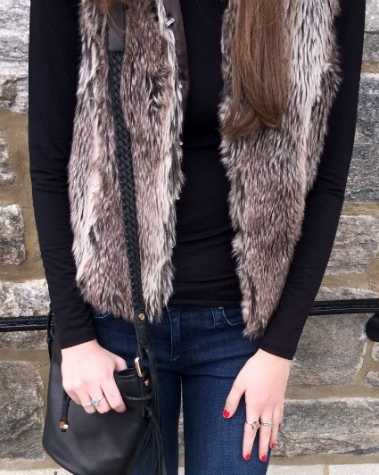 A staple piece in a winter wardrobe, Isabella uses this piece from Italy to complete her look and add some warmth. With the simple black bag from Joie, she ties in her black shirt and black leather boots together to be stylish and practical for her day of plans.
Now we want to know what you think!
Do you love Isabella's look? What do you think of her stacked and mismatched rings? How do you wear a fur vest? Comment below and share your thoughts with us!