This post may contain affiliate links, which means we may receive a commission if you purchase through our links. Please
read our full disclosure here
.

For me, shopping for makeup is like a bargain scavenger hunt. Whether I'm using coupons or waiting for a Friends & Family sale, I'll do whatever it takes to save money. To be honest, I often hesitate to buy high-end products because I know I can usually find a substitute from a drugstore brand.
You know you have discovered gold when you find a great drugstore substitute for a cult product. Over the years of scouring the aisles at Target and CVS, I've learned that there are some amazing high-end product replacements out there – you just have to seek them out! Here are five of my favorites.
1. Urban Decay's 24/7 Glide-On Eye Pencil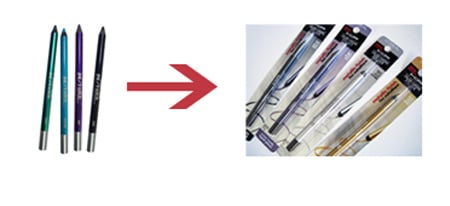 Urban Decay's 24/7 Glide-On Eye Pencil and L'OREAL's Hip Color Chrome Eyeliner
It easily understandable why people cherish UD's eyeliners; they have a great color selection and their color payoff is amazing. If you haven't heard of these eyeliners before, know that they are not your normal black and brown eyeliners; they have colors ranging from vibrant blue to golden yellow.
Don't get me wrong: UD's eyeliners are great, but at $16 dollars, I question whether they're really worth the price. Although their color variety is not as great, L'Oreal's Hip Color Chrome Eyeliner is a great $9 substitute for UD's 24/7 liner. In general, I think L'Oreal Hip makes a lot of great substitutes for brands like Urban Decay and MAC because of their funky color variety and amazing pigmentation.
2. Diorshow Mascara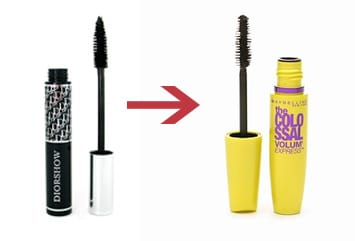 Diorshow Mascara and Maybelline Colossal Volume
I remember being so excited as a mascara lover to purchase my first tube of Diorshow. Some people go as far to say that it is the "holy grail" of mascaras. However, after a couple uses, I was extremely disappointed. For $23, I expected va-va-VOOM eyelashes but instead all I could think was "my drugstore mascara is better than this."
Leave it up to the drugstore mascara maven, Maybelline, to one-up the high-end brand with their version, Colossal Volume Mascara. My former roommate had this so I tried hers out and fell in love with it. It definitely helps give your lashes volume, but be forewarned: it does contain a strong floral scent. Overall, though, at $8 compared to Dior's $23 price tag, Colossal Volume is definitely worth it.
3. MAC's Blacktrack Fluidline Eye Liner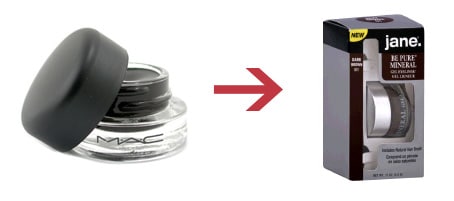 MAC's Blacktrack and Jane's Be Pure Mineral Eyeliner
Gel eyeliners can vary a lot in quality, and finding the right one proved to be quite a challenge for me. After a bit of research, I decided to splurge on MAC's Blacktrack, which didn't disappoint with its creamy, smooth application.
I thought I had found my perfect eyeliner until one of my closest friends told me that Jane Be Pure Mineral Gel Eyeliner was a great dupe for Blacktrack at a quarter of the price. I almost didn't believe her – could a drugstore brand really challenge the quality of a MAC product? Yet after I bought it, I was surprised to find that instead of some hard sheer formula, it was incredibly pigmented and smooth. So if you want to buy great gel eyeliner but don't want to shell out $16 for one, I would definitely recommend this product.
* Note: The Jane eyeliner depicted above is in Dark Brown; however, it does come in Black as well as Navy and Eggplant.
4. Bobbi Brown Shimmer Bricks

Bobbi Brown's Shimmer Brick and Physician's Formula Shimmer Strips
Bobbi Brown's Shimmer Brick was one of the first makeup products to catch my eye when I was younger – the shimmery gradient effect made it look irresistible. However, at 13, what girl can afford to spend $38 dollars on a beauty product?
On the hunt, I went to my nearest drugstore to find a match and it didn't take too long to discover Physician's Formula Shimmer Strips. At first glance, you cannot deny the physical resemblance between the two products. I was beyond happy that I could get my little hands on this treasure for $12. Even today, I really love this product because it has multiple uses: it works equally well as a gorgeous highlighter/blush and an eye shadow. But most importantly, the quality of the Physician's Formula product is absolutely amazing – just as good as Bobbi Brown.
5. Urban Decay's Primer Potion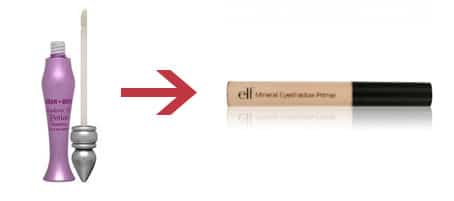 Urban Decay's Eyeshadow Primer Potion and ELF's Mineral Eye Shadow Primer
Eyeshadow primer is quite the handy tool when you want to prepare for a long day at school or a night out. Their main purpose is to help your makeup last longer and keep your eye makeup from creasing. One of the most well known primers is Urban Decay's Primer Potion (one of our cult beauty products worth the hype).
However, if you're hesitant about spending $17 on UDPP, then I recommend E.L.F. Mineral Eyeshadow Primer. Even though it is only $3, the staying power and quality is easily comparable to Urban Decay's. In general, for any girl who wants to keep their eye makeup lasting longer, primer is a must-have, and E.L.F.'s is just as good as the high-end brand in this case.
Any other thoughts?
I absolutely love looking around for little drugstore treasures. For me, that's half the fun of makeup! Now I want to know – what awesome drugstore substitutes have you guys found? I think it would be amazing if we all share this information so next time we know what to look for!