Finding a great foundation can be a difficult and even overwhelming experience. Your friend raved about one foundation, but maybe another one didn't like it. You read tons of rave reviews about a different foundation online, but when you bought it yourself, it didn't work for you. Sound familiar?
In general, there are a lot of amazing drugstore foundations out there, but it certainly takes some digging to find them. And the key to finding the one that's perfect for you? Skin type. It's the reason one foundation may look amazing on one person but horrible on another. That's why it is crucial that you assess your skin type before purchasing the product in order to have the most flattering look.
Below, I've broken down each of the four most common skin types, and a great drugstore foundation for each (with the exception of "normal" skin, which can wear all three foundations).
Skin Types
In general, there are four main skin types: normal, oily, combination, and dry.
Normal: Luckily for you, your skin appears evenly toned and you suffer from few breakouts. Your skin is not overly dry or oily. You can pretty much wear whatever foundation you want – they will all work for you, more or less.
Oily: If you notice that your face tends to get shiny after a short period of time, then you probably have oily skin. This is more obvious in the T-Zone area, which is across your forehead and down the bridge of your nose. Oily skin types typically don't have many dry areas.
Dry: Your skin often feels tight and looks flaky. You may get dry patches especially around the nose and chin area. This usually gets worse in the winter.
Combination: Your skin displays characteristics of both oily and dry skin. You likely have an oily t-zone (nose, forehead, and chin), but dry patches on the rest of your face.
Now that you have an idea of your skin type, on to the foundations!
Oily Skin – Neutrogena Healthy Skin Liquid Makeup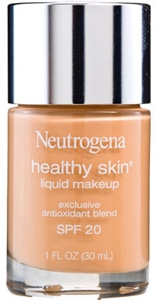 Neutrogena Healthy Skin Liquid Foundation – $11.99
Neutrogena's Healthy Skin foundation is perhaps the best drugstore foundation for oily skin. As a general rule, Neutrogena foundations will not clog your pores or add grease to already-oily skin. In addition, Neutrogena is known for their acne-fighting skincare products, so it makes sense that their foundations would work for problem skin. If you have a history of breaking out due to your foundation, you should definitely consider Neutrogena.
Foundation rundown:
Coverage: The coverage of this foundation is moderate to medium. It blends in with your skin beautifully and most importantly looks natural.
Biggest Pro: This foundation contains lots of great ingredients and is actually proven to help improve the quality of your skin.
Biggest Con: Application can be a pain with the screwtop cap – spilling is usually unavoidable, and don't even try to get all the product out of the bottle. It's not going to happen.
Dry Skin – Revlon Colorstay Foundation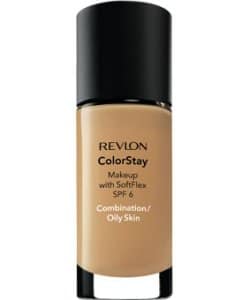 Revlon's Colorstay Foundation – $12.99
Although the package says "for combination and oily skin", I've found Colorstay to be the best drugstore foundation for dry skin. Foundations for dry skin typically contain more moisturizing ingredients, and Colorstay fits the bill. In general, if you have dry skin, look for foundations that emphasize their hydrating ingredients. Also, girls with dry skin should always exfoliate before applying foundation. This will help get rid of some of the dry, dead skin cells so the foundation can go on more smoothly.
If you are looking for something a bit lighter than a full-coverage foundation, I also recommend tinted moisturizers for a hint of color minus the heavy look. For example, Covergirl's CG Smoothers SPF 15 has the perfect ingredients for dry skin users.
Foundation rundown:
Coverage: The reason why I recommend Revlon Colorstay over CG Smoothers is because Revlon has much better coverage. Tinted moisturizers for the most part have sheer coverage, while foundations have medium to full.
Biggest Pro: The great thing about the Colorstay line is that they have a great variety of colors for all skin types. The coverage is also amazing. I used it on my friend's sunburned skin once and you could not tell she was sunburned afterwards.
Biggest Con: This foundation can feel heavy on your face and sometimes looks too cakey if applied with a heavy hand.
Combination Skin – Revlon PhotoReady Foundation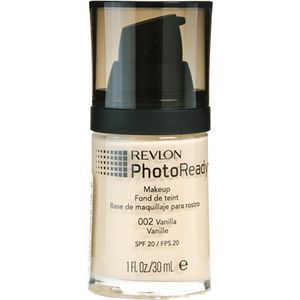 Revlon's PhotoReady Foundation – $13.99
Combination skin can be tricky to work with. I have combination skin myself and I find that the seasons largely dictate what foundation I wear. For example, during winter, my skin can get really dry so I need a more hydrating foundation, while during the summer, my skin gets shiny the second I walk out into the heat.
If you have combination skin, you may need two foundations – one for winter, and one for summer. That said, I've found that Revlon PhotoReady is the best drugstore foundation for combination skin because it works well year-round: wear over moisturizer in winter and under powder in summer.
Foundation rundown:
Coverage: Photoready Foundation has beautiful coverage that helps even out your skin tone. The coverage is more moderate than Colorstay.
Biggest Pro: This foundation blends in beautifully with your skin tone and doesn't look unnatural or too cakey.
Biggest Con: It does contain shimmer, which may be a problem for ladies with skin on the oilier side. Shimmery foundations can have a tendency to highlight open pores and oily areas, so be sure to use a powder on top if you're worried about it.
Your thoughts?
I know a bunch of you requested this post so I hope it fit your expectations! Now I want to know what you think – what foundations do you guys enjoy using? Feel free to recommend any other products in the comments section, and be sure to note your skin type.