Summertime is famous for long days running into long nights. How many times have you spent hours out with your friends with no time to change your clothes or makeup for a party, or had to carry your entire vanity around in your makeup bag? To help you out, I have a foolproof summer makeup look that will have you looking radiant during the day and sultry during the night.
The Look: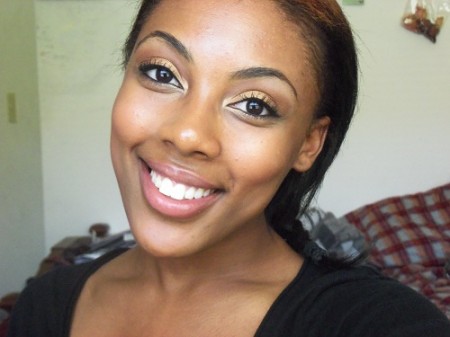 The Bronzed Babe look is all about gorgeous shimmery eyes, glowing skin, and a pretty pink lip. It's ideal for transitioning from day to night, and its shimmery colors will look perfect with any summer outfit.
One thing to note before we get to the tutorial: You don't have to use the exact products seen here! Take this tutorial and adapt it to work for you. For example, if your skin is lighter, you might want to opt for lighter toned eyeshadows. If it's darker, you may choose to use colors that are more pigmented. Feel free to experiment with products to find the ones that work best with your individual coloring.
How to Get the Look:
College Fashion Makeup Tutorial: Bronzed Babe
Products Used:
Dupes for high end products used:
College girls are on a budget. Heck, just about everyone would opt to save some cash if they had the opportunity. So don't feel intimidated if you don't have the exact products to re-create this look because you don't really need them.
For this tutorial, you can use similar colors you already own, or opt for one of these inexpensive dupes for the products I used:
Now, all you need to do is set your makeup with a setting spray – my favorite is Urban Decay's All Nighter Spray. Then, just grab your favorite gloss and you are ready for the day and night.
Your thoughts?
Did you like our first beauty video blog? How easy do you think it would be to re-create this look? What are some other looks you would like to see covered in a future video? Tell me what you think!