This post may contain affiliate links, which means we may receive a commission if you purchase through our links. Please
read our full disclosure here
.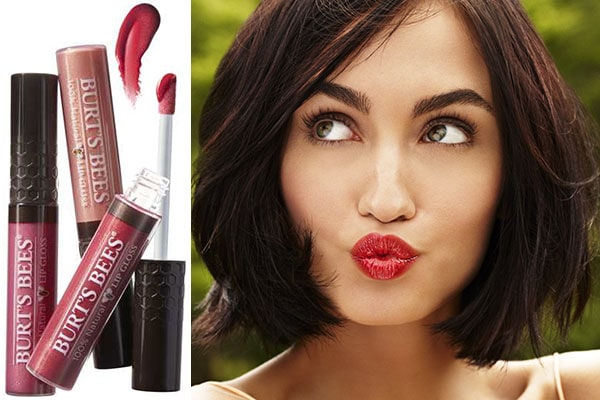 As we all know, lip gloss is a staple in every college girl's makeup kit. While lip balms and lipsticks are great, there's just something about a shiny, sparkly, pigmented gloss that nothing else can replace.
So when we found out that Burt's Bees, makers of our all-time favorite natural lip balm, had a 100% natural lip gloss range to try, we couldn't wait to check it out!
100% Natural Lip Gloss: Our Review
Thanks to Burt's Bees, we got to test out the full range of lip glosses, and let me tell you, we were impressed.
Unlike most glosses we've tried, the Burt's Bees glosses are 100% natural and boast wonderful ingredients like moisturizing Sunflower Oil and nourishing Beeswax to keep your lips looking and feeling their best. After testing, we noticed that the gloss felt super moisturizing and didn't need to be reapplied over and over all day – a big plus in our book!
Also, we love that this gloss is nice and pigmented, with a great color payoff and tons of shine. We also like that depending on how much you apply and the shade you choose, you can get a sheer or ultra-pigmented look – it's all up to you!
12 Gorgeous Shades
The gloss comes in twelve rich, pearlized colors, so there's sure to be a shade that fits your style. Check them out below! (Click image to enlarge.)

Try these glosses with a $2.00 off coupon!
If you want to try these fab lip glosses for yourself, great news: Burt's Bees is offering a coupon for $2.00 off!
Just visit NatureKnowsColor.com to download and print your free coupon (can also be applied to online purchases on the Burt's Bees' website). That website also has all the info on the lip glosses, tips from celebrity make-up artist Katey Denno, an interactive Lip Shade Finder to discover your perfect shade, and information on where to buy!
Your thoughts?
Are you a fan of Burt's Bees products? Have you tried these lip glosses yet? Are you as lip gloss addicted as we are? Let us know by leaving a comment.
Disclosure: This post was sponsored by Burts Bees and product was provided for review. The opinions, as always, are our own. For more information, please see our Disclosure page.