Playing with a bold hair color sounds like an awesome idea (and super fun!) but sometimes, the commitment can be very scary and it might not align with your daily life. Every once in a while, I'm feeling pink hair and I want it without the commitment.
Thankfully, Garnier has released a new, innovative product called Garnier Color Styler which allows you to put fun, bright colors in your hair with zero risk, no damage, and no commitment. It's basically the first just-for-fun haircolor! And it's so easy! The colors wash out after just a few shampoos.

There are 5 colors — Pink Pop, Blue Burst, Purple Mania, Bronze Attitude, and Red Temptation, and trust me, these are the perfect fun shades. Since it's not typical hair dye, it works on all shades of hair, dark or light. And unlike hair chalk, it doesn't get all over everything!
I partnered up with Garnier to try out the shade Pink Pop in my platinum blonde hair for a concert with my friends a few nights ago, just for fun! And I loved it! Here, I'll be sharing with you my results and how to use this super easy product.
How to Use:
Style your clean, dry, untangled hair in the manner that will make application appropriate for your desired result (sections for streaks, etc.) and cover your shoulders with a towel so the product doesn't get on your shirt.
Apply the gloves provided in the box.
Shake the bottle of Garnier Color Styler to ensure color is mixed.
Gently squeeze out a few drops (3 to 4) on the gloves.
Rub fingers together.
Starting at the root, apply a thin coat of Garnier Color Styler in a downward, smoothing motion on the sections you'd like to have color. Apply in small sections until you have even coverage, each time putting a couple of drops on to the gloves, rubbing the fingers together to spread out the color, and then applying to hair.
To ensure all product on the glove is used grab hair with fingertips and twirl around hand.
Allow Garnier Color Styler to completely dry.
Once Garnier Color Styler is completely dry, comb through your hair using either a wide tooth brush or comb. You can use a hair dryer to speed up dry time.
If you make a mistake, apply hair oils like coconut, almond, or Moroccan oils to remove the color quickly.
And you're done! Have fun with your awesome-colored hair!
My Results
I did basic highlights underneath my hair just for a bit of "pop" and I have to say I got tons of compliments on it!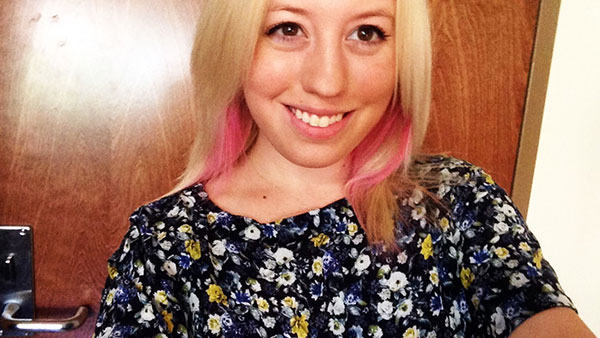 When I told my friends that it was only for a few days, they were ready to run out and buy their own! Also, if the 2-3 day timeframe is too long (maybe you have an interview!) don't fret. Use a clarifying shampoo, a dandruff shampoo, and/or oils to make it wash out a bit faster.
Become Garnier's Funnest Girl In The World Spokesmodel!
To celebrate these fun new hair colors, Garnier is giving you the chance to become their Funnest Girl In The World. Every 3 days, for the duration of the campaign, Garnier Color Styler will choose a real girl to become the Color Styler spokesmodel for 72 hours (about the same amount of time the color lasts), and earn the Title of "The Funnest Girl In The World." This girl will be featured on the Color Styler website and across social media for the 3 days of her reign.
To participate, try Color Styler and post a quick selfie on Instagram. Tell us why you deserve the title and use the hashtag #FunnestGirl! Find out more at garnierusa.com/funnestgirl.
Disclosure: This post was sponsored by Garnier and the product was provided for free. The opinions, as always, are our own. For more information, please see our Disclosure page.