This post may contain affiliate links, which means we may receive a commission if you purchase through our links. Please
read our full disclosure here
.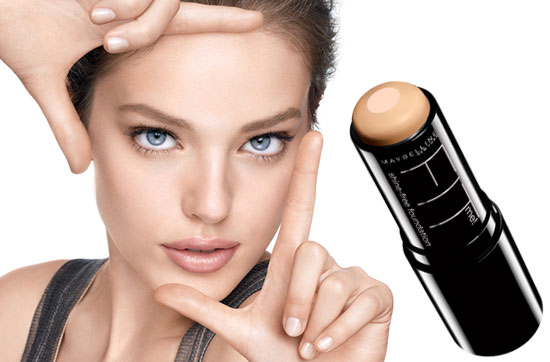 I have a confession to make: I'm a bit of a foundation addict. After struggling with acne in my teens, and combination skin and acne scars post-HS, I've tried hundreds of foundations in search of the perfect one.
Given my foundation addiction, I was super excited to try Maybelline's latest offering, the Fit Me Shine-Free Foundation Stick, their "first gel stick foundation with an anti-shine core". I'm always on the lookout for a good drugstore foundation, and this one seemed ultra-convenient and perfect for my combination skin. Below, I'll share my review.
My Review of Maybelline Fit Me Shine-Free Foundation

To start, I've always been a liquid foundation girl so I was hesitant to try a stick foundation – most stick foundations I've tried apply too heavily and look cakey fast. This product, however, isn't your typical stick foundation. It boasts a "gel formula", which means that it applies smoothly, almost like a silicone primer (think Smashbox Photo Finish). This means it's easy to apply and blend to a perfect finish.
Maybelline's Fit Me line is designed to blend perfectly with your skin tone, and I found that claim to be true for the Shine-Free Foundation. My shade, 110 (more on that below), was a perfect match and once I blended the foundation in, it covered all imperfections while looking like I wasn't wearing makeup. Love!
According to Maybelline, the Shine-Free foundation boasts "ultra-lightweight powders built in to instantly dissolve excess oil". As a combo-skin girl, I was most excited for this benefit!
After applying this sans-primer over my daily sunscreen, I found that while my skin quickly felt oily (as is usually the case for me with any foundation), it still LOOKED matte for hours. When I used an oil-control primer underneath, that's when the magic really happened – my skin didn't get greasy and maintained a natural, soft, matte look all day.
My Shade
Maybelline was kind enough to send me a couple of different shades to try, so I could find my perfect one. I usually wear MAC NW15/Make-up-for-Ever HD in 115, so I received Maybelline sticks in 110, 115, and 120.
I found that 110 Porcelain was the best match for my jawline/overall face, while 120 Classic Ivory was ideal for contouring. Using these two shades together, I got great results.
Your thoughts?
Have you guys tried this foundation yet? Are you excited to? If so, what aspect of the product are you most excited about? Let me know your thoughts by leaving a comment!
Disclosure: This post was sponsored by Maybelline and product was provided for review. The opinions, as always, are our own. For more information, please see our Disclosure page.