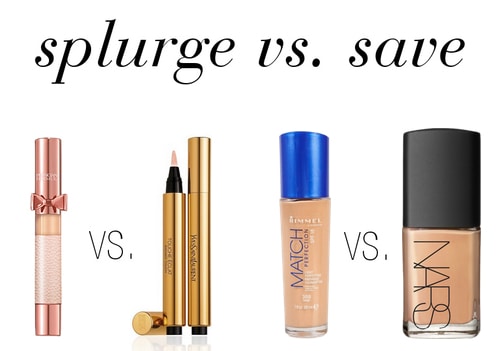 Buying luxury makeup is fun, but it's not always the practical choice. Sure, walking around Sephora or the beauty section in a department store is tempting, but since I'm on a college student budget, I know I can't always give in.
Because of this, I decided to start a "Splurge vs. Save" series. In it, I'll review expensive, hyped-up products, then share my picks for drugstore dupes.
Two of the most expensive high-end beauty products are foundation and concealer, so I wanted to find the best drugstore foundations and concealers. The two "splurge" products below are blogger and YouTuber "holy grail" favorites, but are they really worth it? Read on to find out:

Save: Rimmel Match Perfection Foundation

$5.79 at Drugstore.com
This foundation is one I always hear about, so I decided to give it a try. Rimmel's products are always pretty good, and this was no exception. I do think the packaging is quite cheap-feeling, but hey, it only costs $6!
Although it doesn't provide full coverage, it is good for light makeup days. The foundation also has a luminous finish, so I do find myself needing to touch up with a mattifying powder every couple of hours. However, if that doesn't bother you, this foundation literally does match and blend into your skin perfectly, and has a nice sheer to medium coverage.
Splurge: NARS Sheer Glow Foundation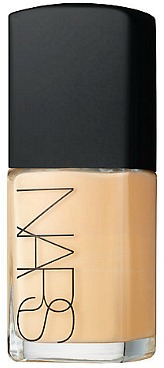 $45 at Sephora
This foundation is $45, which is pretty darn pricy for the average college girl. But, NARS' Sheer Glow foundation is basically theperfect sheer foundation. It's not too luminous, but it's not matte either. It's hydrating, and smooths over dry patches.
This is one of those foundations that will last you forever, however, if you're on a budget, I really can't justify the price tag. If it was full coverage, I might be able to justify it.
The Verdict? SAVE!
The Rimmel foundation will do most of the same things as the NARS foundation. Although you may need to touch up a bit more, you'll be saving almost $40!
Save: Physicians Formula Nude Wear Touch of Glow Concealer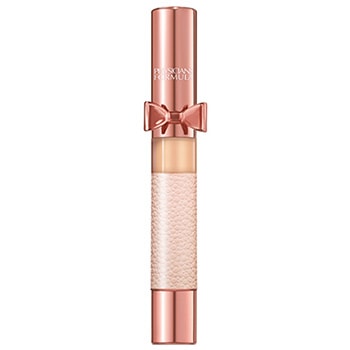 $11.63 at Walmart
Let's talk about the packaging for a second. How cute is the rose gold? I'm obsessed! Besides the packaging, this is an incredible product. Physicians Formula is one of my absolute trusted brands, and this product was not a letdown.
I use it right below my eyes and down my nose, and it blends perfectly and conceals imperfections. It also brightens my skin.
It is a bit more expensive than most drugstore products, but compared to it's über-expensive splurge counterpart, it's worth it. Keep an eye out at your local drugstore – sometimes they run buy-one-get-one-free sales on Physicians Formula!
Splurge: Yves Saint Laurent Touche Éclat Concealer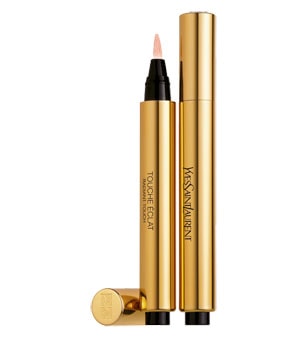 $41 at Sephora
This is probably one of the most-hyped products I've EVER encountered. The packaging is stunning and feels so luxurious, but to be honest, this is no better than the Physicians Formula one.
Yves Saint Laurent is one of the most high-end makeup brands out there, so this concealer definitely feels "expensive," but it's not worth $41.
However, the good thing about this product is the number of shades that are available. If you have a hard-to-find skin tone, you might need to try this out. It's still a great product, and it does last longer than the drugstore equivalent, but it's not always worth the splurge.
The Verdict? SAVE!
My advice? Go for the Physicians Formula concealer – it's a Touche Eclat dupe. However, if it doesn't fit your skin-tone, you may want to try the YSL version to see if you can find a match.
What do you think?
What are your favorite concealers and foundations? Have you tried any disappointing luxury products? Would you like to see more posts like this? Remember to tell us your thoughts by leaving a comment!