Lately, I am seeing images all over the Internet that resemble the ones above: flashy, glittery makeup looks that use every color of the rainbow and make the wearer look like a magical unicorn. So cute.
However, I have the problem that I can't pull off eight different shades of pastel glitter at once in public. I just can't do it. (If you're someone who can, you're amazing and please tell me your secrets.)
So in the spirit of finding a happy medium, I've become completely obsessed with the idea of rainbow-inspired makeup products, that let me try a couple bold shades without going too crazy.
If you're ready to break into new territories of the color wheel in a way that's subtle enough for everyday use, read on! I'm here to share some of my favorite makeup products from every color of the rainbow. Rock a different shade every day or combine a few – the choice is yours!
Red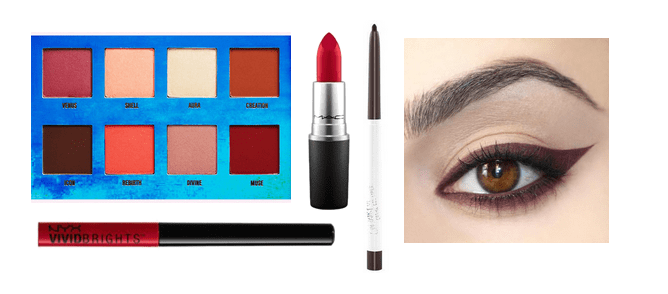 Products: Eyeshadow Palette – Lime Crime, Bright Red Liner – NYX, Lipstick – MAC, Burgundy Liner – Colour Pop
Sure, red isn't completely out-of-the-box for makeup. Red lipstick and blush are formal classics, but incorporating them into your daytime look is a fun way to shake up your routine. (I vote for MAC's Ruby Woo lipstick, which is a cult favorite for a reason.)
If you want to go a bit riskier, use red tones in your eye palette. This can be tough to balance without looking sick, (easier for people with darker or olive skin tones, more difficult for fairer-skinned people) but the results are amazing if you pull it off right. My favorite shade is deep burgundy, which looks especially stunning with dark brown eyes.
Orange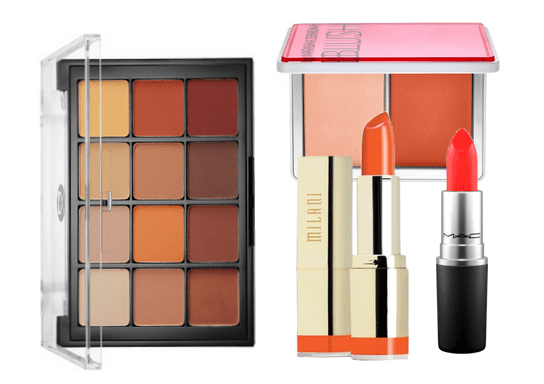 Products: Eyeshadow Palette – Viseart, Blush – Natasha Denona, Burnt Orange Lipstick – Milani, Bright Orange Lipstick – MAC
Orange lipstick has been a fun trend for a while, and with summer coming up, now is the perfect time to try this gorgeous hue!
Orange eyeshadow is also fun to combine with pale browns for a beautiful autumnal look, while a deep burnt orange blush combined with a peach highlighter is another interesting way to incorporate this shade.
Yellow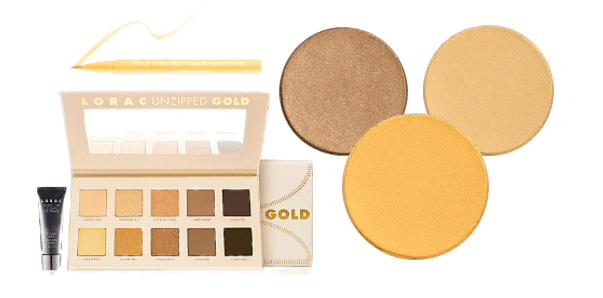 Products: Eyeshadow Palette – LORAC, Eyeliner – Too Faced, Gold Highlighter – Anastasia, Pale Yellow – Anastasia, Bright Yellow – Anastasia
Okay, gold. I personally love the way gold highlighters look against red or pink blush, so above, I've featured three of my favorite gold highlighter shades.
Yellow matches naturally well with green and blue, so if you have hazel, green, or blue eyes, yellow eyeliner and/or a gold eyeshadow palette will really make them pop.
Green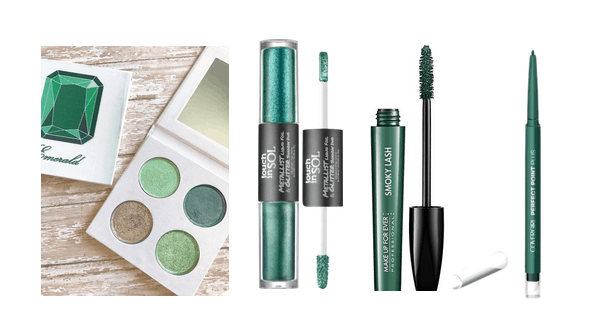 Products: Eyeshadow Palette – BreakingBeautyShop, Green Glitter Liquid Eyeshadow – Touch In Sol, Mascara – Make Up For Ever, Eyeliner – CoverGirl
This is one of my favorites. If you have green or brown eyes and you're not accenting them with emerald makeup, what are you even doing?
This eyeshadow palette is from BreakingBeautyShop, which makes a different palette for every birthstone! (So aesthetically pleasing.)
Dark green mascara actually comes out pretty subtly while bringing out any flecks of green in your eyes, while green eyeliner or emerald glitter foil is honestly stunning. These shades are perfectly summery no matter what color eyes you have.
Blue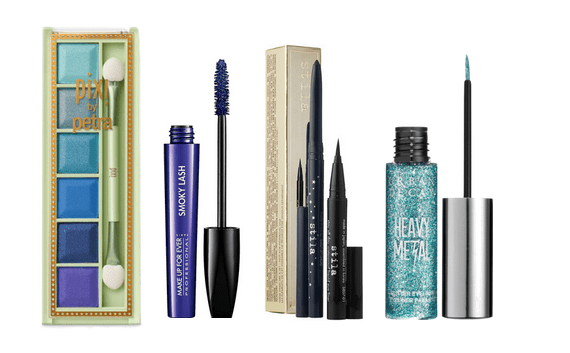 Products: Eyeshadow Palette – pixi, Mascara – Make Up For Ever, Dark Blue Eyeliner – stila, Glitter Eyeliner – Urban Decay
Blue can be a fun pop of color no matter what color eyes you have, but obviously works amazingly with blue or grey eyes.
On the eyeshadow front, I'm obsessed with this palette of pale teals and blues from pixi! Mix a shade in with neutrals for a subtle look.
Once again, tinted mascara is a good, subtle way to bring out your eyes, while eyeliners can range from dark blue (good for a night out) to glittery teal (an excellent pop of color to contrast with a more neutral makeup look.)
Actually, I'd recommend neutrality in the rest of your makeup look when wearing blue makeup, unless you want to rep the '80s.
Violet
Products: Blush – Urban Decay, Bright Purple Lipstick – Urban Decay, Dark Purple Lipstick – Black Up, Eyeliner – Urban Decay
I saved the best for last! Purple makeup is unequivocally my favorite.
First, this is my absolute favorite blush right now – it might look insanely bright but actually goes on as more of a pinkish-lilac that looks beautiful on pretty much all skin tones.
Purple eyeliner also looks gorgeous on your lash line paired with purple, green, or smoky eyeshadow looks.
I'm personally still too scared to try purple lipstick (I know), but there are so many different shades (from bright to dark) that one of them is bound to look amazing on you! Try it out and let me know what you think.
What do you think?
Which one of these hues is your favorite? Will you be trying any of them? Let me know how it feels to get out of your comfort zone!