When taking pictures, the biggest issue most girls have is their noses getting lost and faces looking wide and bright from the flash. The solution? A little process called contouring.
Contouring is when you enhance the hollows of your face to create sharper features and help slim your face. When you contour your face, you can also highlight it. Highlighting is when you enhance the parts of your face that naturally stick out, such as your cheekbones. Contouring and highlighting is the perfect way to make your favorite features stand out – and it's easier than you think.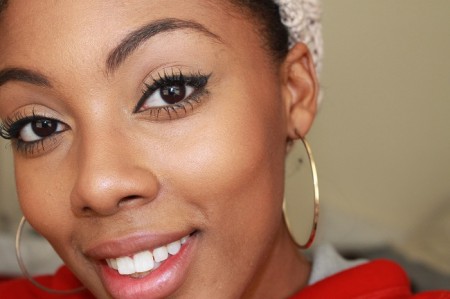 If you look at pictures of celebrities, you can tell that most of them are contouring their faces to help create a more structured face and to help their face keep its shape when all those flashbulbs are going off. (Hi, Kardashians!) It really is a great way to look fabulous in photos.
A few quick tips: You want to be sure not to contour too dark or highlight too light or else you'll look like you're wearing a mask. It's best to keep everything as natural as possible – start subtle and work your way up.
Also, the colors you use matter: My best advice is to visit a makeup counter to get color matched, then go to the drugstore to find some cheaper duplicates of the products.
Learn How to Contour:
Contouring & Highlighting Tutorial - College Fashion
Products Used:
More Tips for Contouring:
For darker skin, concentrate on highlighting.
For fairer skin, concentrate on contouring.
Contouring with cream foundations is much easier than using powders.
Make sure all of your shades are the right color: Contouring won't look right unless the colors are in tone with your skin.
Thoughts?
How many of you contour your faces? Did you find the information helpful? What are some more beauty tutorials you would like to see this year?