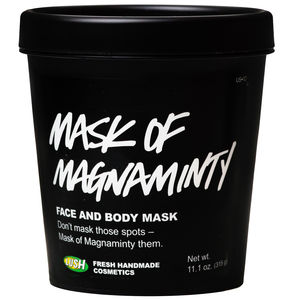 Over my recent spring break, I traveled to lots of different places, London and New York City being two of them! So obviously, I did some shopping! When I was in NYC, I visited Lush, which is a store I've been meaning to check out forever. (They don't have one near me – sob!)
You probably already know this, but at Lush, all the products are natural and homemade – so cool! Since I hadn't been to a store before, I asked an employee for help, and he walked me through all the products and what I might need for my skin and hair needs. I ended up with a slew of new products, and I've listed my four favorites below.
Marilyn Hair Treatment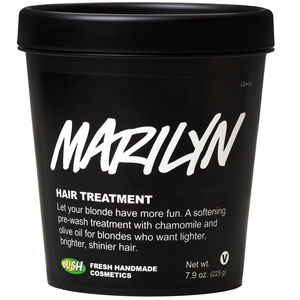 Marilyn Hair Treatment – $23.95
This is one of Lush's more "splurge-y" products, but it's going to last you forever and make such a huge difference in your hair! This hair treatment, aptly called Marilyn, is for blondes or even light brown-haired ladies who are looking to brighten up their blonde and remove brassy tones. 
To use, you apply this on dry hair and let it sit for 20-30 minutes. Then, shampoo it out and condition as usual. It says to use half the pot for longer hair, but I've started to use about a quarter pot every two weeks. On thinner hair this can be really rich, so a little goes a long way. Give this a try if your color is looking a bit blah. 
Honey I Washed My Hair Shampoo Bar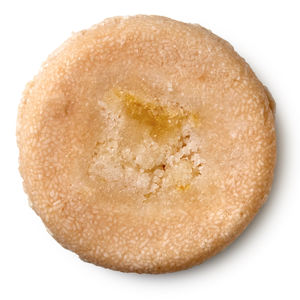 Honey I Washed My Hair Shampoo Bar – $9.95
You're probably thinking, what the heck is a shampoo bar? Well, it's a super-concentrated solid bar of shampoo that lasts three times longer than a bottle of liquid shampoo. This one is meant to moisturize and give your hair lots of shine, all while imparting a beautiful honey-toffee scent upon your locks!
To use these bars, you wet your hair and the bar and then glide the bar down the two sides of your hair and then down the back. Yes, this does lather like a normal shampoo! Then, rinse as normal. This is my favorite of the Lush shampoo bars I've tried because it's very light yet hydrating and doesn't leave any residue.
Mask of Magnaminty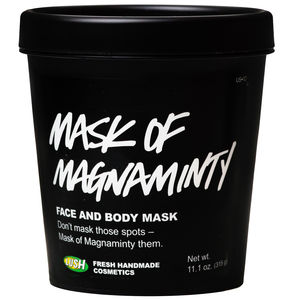 Mask of Magnaminty – $13.95
This mask. I am obsessed! I absolutely love this stuff and I will probably be buying this (along with the next product I'll talk about) for the rest of my life. This mask is super minty and really cleanses your pores while not being super drying! It also calms redness and smooths your skin with light exfoliation.
This mask is super cold on the skin and tingly, so if you don't like that, be warned. However, it's the best mask I've ever used and I love the refreshing tingle sensation. I use this about once a week for 15 minutes and the results are real! My skin clears up every time I use this. Give this a try if you have problem skin you want to clear up! 
Angels on Bare Skin Cleanser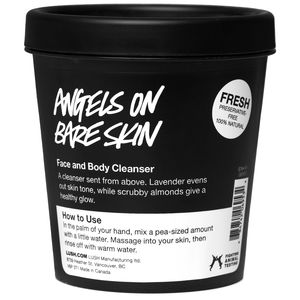 Angels on Bare Skin – $13.95
This cleanser is definitely a little bit weird, but once you try it, you'll be as addicted as I am. Called "Angels On Bare Skin," it evens out your skin tone and exfoliates while calming any redness or acne spots. I have been using this for a few weeks and have already noticed a serious difference in the amount of redness on my skin and my spots are going away faster than before.
Also, if you're struggling with acne on your back, you can use this on your body as well. It's such a useful product that I'm not sure if I could ever go back to anything else! Give this a try if you're looking for a calming, everyday cleanser for problem skin.
What do you think?
Have you ever tried any products from Lush? If so, what are your faves? Do you want to try any of these? Let me know in the comments!