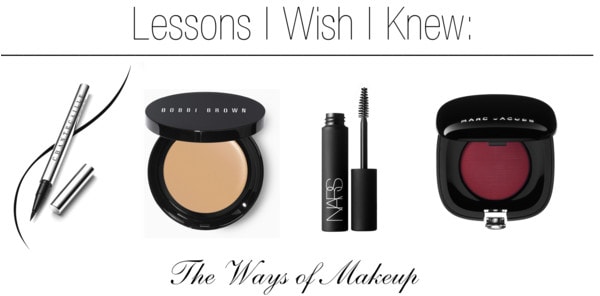 After regaling tales of several of my personal fashion mishaps (and laughing at them together), I thought this week I'd continue this trend by sharing my worst makeup fails.
Now, I'm not sure about you, but I can name numerous instances where I wish my mom had stopped me and said, "You are not leaving the house like that." My fashion sense was easier to hide; my pants weren't as noticeable while I was in a desk. However, my makeup was out for the world to see.
Here, I'll share four of my worst makeup mistakes that I made, most of which occurred in HS. Scroll down to see them all:
1. Eyeliner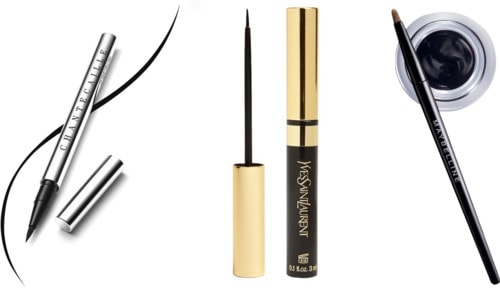 Product Information: Left to right – Chantecaille, Yves Saint Laurent, and Maybelline
Now, I'm not even going to talk about the era when my belief was "the thicker the eyeliner, the cooler the wearer" (that's a tale for a different day). This documents my first experience applying eyeliner on myself.
My biggest mistake was trying to imitate my friends' placement of eyeliner. They were placing it along their bottom waterlines, but I didn't quite grasp what a waterline was. With this in mind, I placed it on the skin right beneath the waterline… and could not understand why my makeup looked different than theirs. You can imagine just how much my thick lower-only eyeliner smudged throughout the day… especially after track practice.
2. Foundation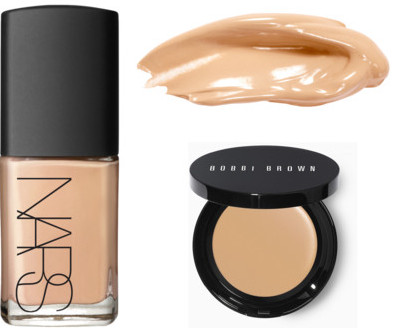 Product Information: Liquid – NARS, Compact – Bobbi Brown, Swatch – ELF
Foundation taught me the importance of applying makeup in good lighting. Unfortunately though, to learn said lesson, I had to first apply makeup in not-so-good lighting.
I still remember this as if it were yesterday: I walked into school, and within a minute, I had a girl ask, "Why is your chin so much lighter than the rest of your face?" I had thought the foundation was similar to my shade (I mean my mom's colors must be somewhat similar to my own…right?), and I had only wanted to cover an extremely red blemish with a dab of product. 30 seconds in the bathroom mirror and I was ready to go! Or so I thought.
After being alerted to this supposed chin situation, I grabbed a compact mirror and took a peek at my face in natural lighting – lo and behold, my chin was practically white! I scrubbed it off and swore a solemn vow to improve my foundation skills going forward.
3. Eyebrows
Product Information: Powder – NYX, Gel – NARS, Brush – Shu Uemera
Before we dive into this topic, let me first state that my eyebrows have a life of their own. Think a slightly thinner version of Joe Jonas's. I've learned how to manage them now, but my first experience with controlling them resulted in having extremely patchy brows that desperately needed to be filled in every morning.
I have black brows, and I thought "Black brows…black eyeliner… it'll work." Thinking back, I now realize that I resembled a cartoon character, most obviously to the makeup counter worker who asked "Honey, are you here for eyebrow products?" I can only imagine her thoughts when I declined her offer.
4. Blush

Product Information: Left to right – Marc Jacobs, Maybelline, and H&M
This was the one and only occasion I had let my friend apply makeup on me during a school day, and this also happened to be the only day I didn't bring a compact mirror to check my makeup. My well-meaning friend had noticed I lacked blush, and I always noticed how put-together her makeup looked. Nothing could possibly go wrong, I thought.
What I failed to take into account, of course, was that said friend was a few shades darker than me in skin color, and she had placed too much blush on the brush without noticing. When I finally saw myself in a mirror, I looked like a clown, yet I somehow made the decision that looking like a clown was better than not wearing makeup at all. So I went with it. All day. Looking back, my priorities were definitely skewed.
Thoughts?
What's was your biggest issue when learning how to use makeup? Did you make any of the same mistakes I had? Leave a comment and let us know!