This post may contain affiliate links, which means we may receive a commission if you purchase through our links. Please
read our full disclosure here
.
https://www.youtube.com/watch?v=4pmsLjQblLc
I have a confession to make: I wear my hair up. A lot. This is partly because I have a compulsion to play with it, partly because there's so much of it, but mostly because I want it out of my face. Over the years, I've probably amassed thousands of bobby pins and hairties, yet I'm constantly on the hunt for new haircare items to give me that perfect updo look.
Cue Goody Simple Styles. As soon as I saw the commercial on TV, which only featured the Spin Pin, I knew I had to buy it. A few days ago, I went into my local CVS and bought myself three of the goodies (I'm so punny!) from the collection: The Spin Pin, the Modern Updo Maker and the Volume Boost Comb (the Pony Pouf Clip was sold out.) How did they work out? Read on and see!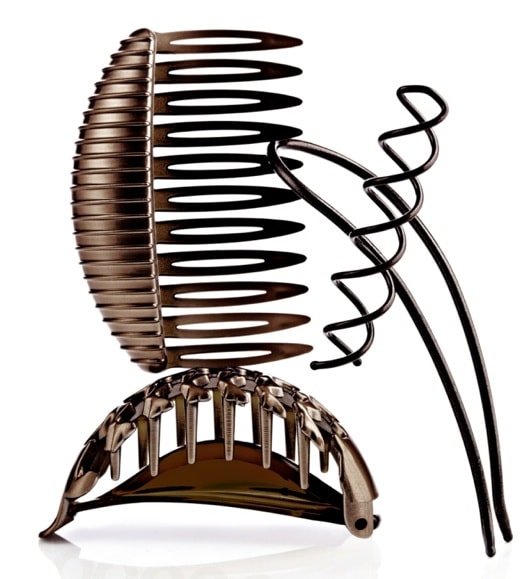 Spin Pin, Modern Updo Maker and Volume Boost Comb– $5.99 each at Target
1. Spin Pin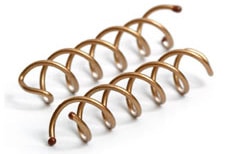 Spin Pin – $5.99 at Target
As someone who wears her hair in a messy bun a lot, I had high hopes for this product. According to the commercial, this corkscrew-shaped pin does the work of 20 bobby pins. 20!! That's half a pack. As soon as I got this home, I had to test it out.
After twisting my hair into a perfect little knot, I spun two Spin Pins in – one from the top and one from the bottom. In the commercial, they only use one pin, but the instructions tell you to use two, and with my thickish hair (I'd compare it to the texture of Anne Hathaway's), two is a must. Two seconds later, I had a perfectly deconstructed bun. After trying so many ASOTV products for this column (and usually ending up disappointed), I kept thinking that somehow it would fall out- but no, the Spin Pin kept my hair in for 2-3 hours, which is basically how often I re-do my hairstyle anyways.
My Rating:
I'm really impressed with this and now keep both pins in my bag at all times. I give the Spin Pin a 9/10, taking off one point because the pin can be difficult to take out (not necessarily a bad thing if you want your updo to stay!). Overall, if you want a messy chignon, get this ASAP!
2. Modern Updo Maker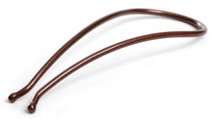 Modern Updo Maker – $5.99 at Target
After my success with the Spin Pin, I was excited to try the Modern Updo Maker, which promises to help you create that perfect chignon.
Once I had my hair in a bun, per the package's instructions, I inserted the Modern Updo Maker. I then twisted it around to create the updo, and as I pushed it down, it kept scratching my scalp- which was really painful! In order to avoid this, I attempted to push the pin in without letting it touch my scalp. When I did that, however, the updo would just fall out. It was annoying.
Finally, after a half hour of toying with it, and many views of this YouTube video, I finally put the Modern Updo Maker in right (pain-free!). When I did it correctly, I had a great French twist that stayed in all day, although the pin did show through my hair.
My Rating:
Overall, I rate the Modern Updo Maker a 6/10, taking points off for the difficult instructions and the discomfort I felt when I put it on the first few times. Also, If you don't insert it just right, your updo can come out pretty quickly! If you want an easier way to create a French twist, then invest the $5-7 for this product—but make sure to follow the instructions correctly because you'll have to re-do it a few times!
3. Volume Boost Comb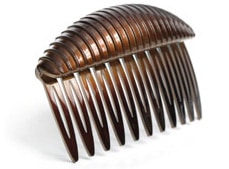 Volume Boost Comb – $5.99 at Target
Out of the three Simple Styles products I bought, was the most skeptical of this one- after my failed attempts at using the Bump-It, I had little faith left in these "volume boosters." But I decided to give it a try anyway.
This comb fits into my hand- it's about 3.5 inches in length and ½ an inch in height. To be fair, my hair does have volume on its own- much more than this small comb can provide, which perhaps explains the core problem I had with this product– It's too small to do any good. The little volume it gave me looked awkward, because the comb is so small compared to my head. Like the bump-it, the Volume Boost Comb made me look like I had a growth on top of my scalp! On top of this, I couldn't get it to stay, and there was no helpful tutorial online. Thumbs down.
My Rating:
After another bad experience with a volume-boosting comb, I'm giving this a 1/10. I really don't see how this product could be of use to anyone, so save your money and skip this one! Even a Bump-It would probably work better than this.
My Overall Opinion:
As far as As Seen on TV products go, the Goody Simple Styles collection is pretty solid– I will definitely be incorporating the Spin Pin and Modern Updo Maker in my beauty routine. Of course, no product is perfect – I had issues with the Modern Updo Maker, as well as the disastrous Volume Boost Comb. That said, once I learned to use the Modern Updo Maker, I was sold. The Volume Boost Comb, however, ended up in the trash. They can't all be home runs, but the Simple Styles collection batted 2 out of 3.
What do you guys think?
Have any of you tried these products? What was your experience? Are there any other ASOTV products you'd like me to try next? Tell me in the comments!