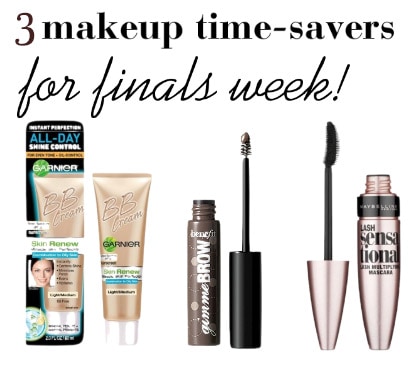 This week is my finals week, and obviously I'm not happy about it. I'm a senior so it's my last one ever which is somewhat making this easier, but it's still absolutely zero fun. I have no extra time to spend on anything, besides eating and sleeping.
Because of this, I like to stick to a pretty simple beauty routine for the week. Trust me, this is so easy and fast! Read on to see the products I use for the worst week ever.
Garnier Skin Renew Miracle Skin Perfector BB Cream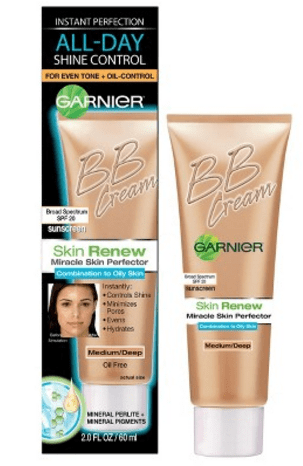 Garnier Skin Renew Miracle Skin Perfector – $10
I absolutely love BB creams for days when I just don't feel like putting a ton of effort in but still want nice, even skin. This one by Garnier is my favorite drugstore one right now. It's oil free so it stays well on combination to oily skin, which I have right now (so annoying!). It keeps shine away and while hydrating for a more even complexion.
I know that BB creams don't come in many shades, but the light shade works really well on me and I have very pale skin – if you're pale like me, you'll love it. I like to apply BB creams after moisturizer, and I always apply them with a dampened makeup sponge. Then you're good to go!
Benefit Gimme Brow Volumizing Fiber Gel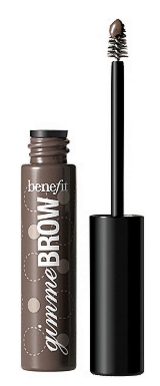 Benefit Gimme Brow Volumizing Fiber Gel – $24
This stuff is my absolute favorite brow product, and yes I'm saying that even though I sing the praises of Anastasia Beverly Hills' Dipbrow and Brow Wiz. This brow gel by Benefit is made with little tiny fibers that cling to your brows, volumizing them and filling them in while tinting them to the perfect shade. You just swipe this over your brows and voila! Brows on fleek.
This stuff literally makes fuller brows appear out of nowhere in so little time. If I'm going on a trip, this is the only brow product I bring with me because I love it that much! The tiny brush works so well, and because I have darker eyebrows but lighter hair, this works perfectly for me. I can't rave enough about this!
Maybelline New York Lash Sensational Mascara

Maybelline New York Lash Sensational Mascara – $6
Yes, the hype around this mascara is deserved. Maybelline's Lash Sensational mascara is absolutely amazing and probably the best mascara I have ever used, besides the YSL Babydoll Mascara (which is way out of my price range, TBH). This mascara lifts and curls your lashes while still giving you clump-free volume. And it's $6, you guys!
As a bonus, I only need one coat of this stuff – it's that good. I normally can't wear mascara without a thin line of eyeliner, but I love my lashes with this mascara so much that I can just walk out the door with only mascara on. If you have not tried this yet, treat yourself immediately for finals week.
What do you think?
What are your favorite products for a quick makeup look? What are you loving currently? Let me know in the comments!