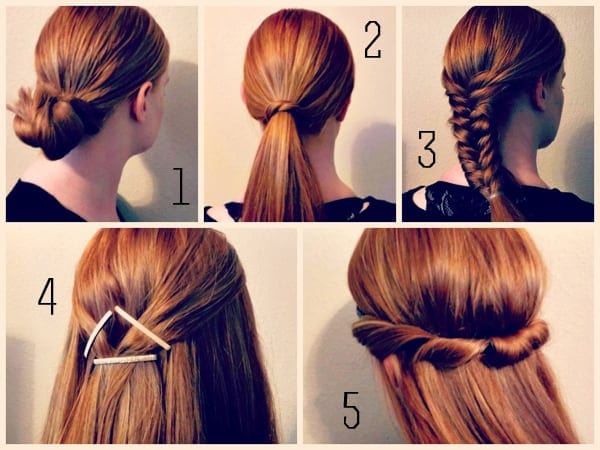 Hello, my hair-challenged friends! Raise your virtual hand if you're guilty of rocking a top knot one too many days in a row… Guilty as charged? I know I am. As much as I love a good top knot, it's time to start changing it up. Pretty, low maintenance hairstyles that will last all day are important for college girls with busy schedules… especially to this girl right here.
I don't have time to fix my hair multiple times a day, so I challenged myself to wear a different hairstyle every day for ten days. These are the results. Look below for links to tutorials for each style, then check back in two weeks for the second part of the challenge!
1. Messy Side Bun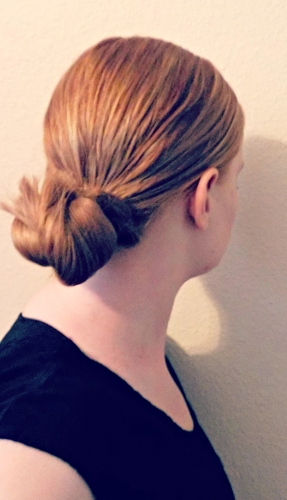 This is one of my faves simply because it's basically a top knot with a twist. Wearing the bun to the side has a feminine, romantic effect, but still hits that perfect mix of styled but casual.
It's a great hairstyle to highlight an open back blouse or an intricate design on the back of a dress. It literally takes one minute and looks so sophisticated. It also looks fab whether your hair is naturally straight or curly. If you want to try this look, I recommend checking out this easy tutorial at Hairdresser on Fire.
2. Wrapped Ponytail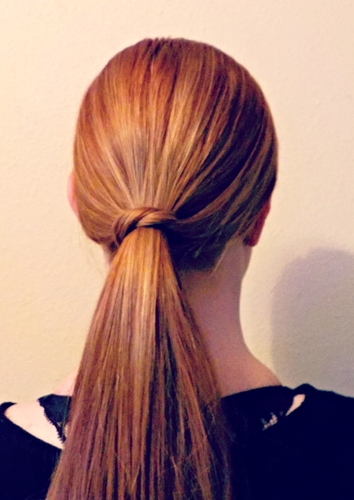 This style is an incredibly chic way to dress up a ponytail and it's ridiculously easy to do. What makes it even more versatile is the fact that it works on almost any length of hair, as long as you can pull it back into a ponytail.
I love this tutorial featured on The Beauty Department (which I might add, is an amazing resource for all things makeup and hair). I'd also recommend purchasing some clear hair elastics to make them easier to hide.
3. Side Fishtail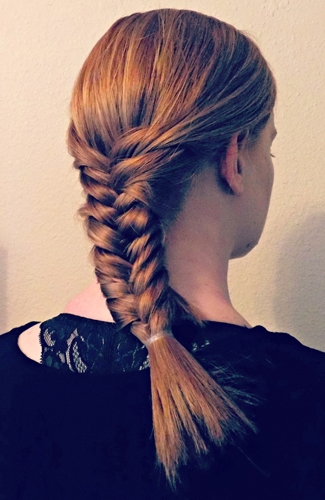 I'm obsessed with discovering new ways to braid my hair, but the fishtail is one of my all time favorites. I've also found that it stays better in my layered hair than a regular braid does. Even when some strands inevitably fall out throughout the day it looks perfectly disheveled.
The braid can be a little difficult to figure out at first, but once you have it down, it'svery quick. Check out this tutorial from PopSugar for an excellent how-to video (along with a few other types of braids!).
4. Triangle Half-Up-Half-Down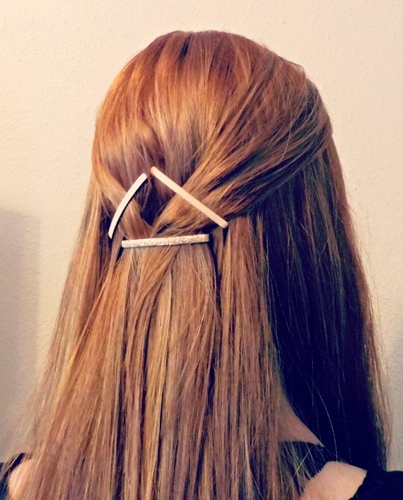 This is such an easy hairstyle that you don't even really need a tutorial, but it's too pretty not to include in my hairstyle challenge. I actually found the inspiration for this style when I was browsing the website Mane Message. Mane Message was created by a college student (just like us!) from California and is a beautifully curated online store filled with all kinds of hair goodies.
I recommend using these hairpins from Mane Message to complete this look. Also, keep in mind that the thicker your hair, the less hair you'll be able to pull back.
5. Headband Twist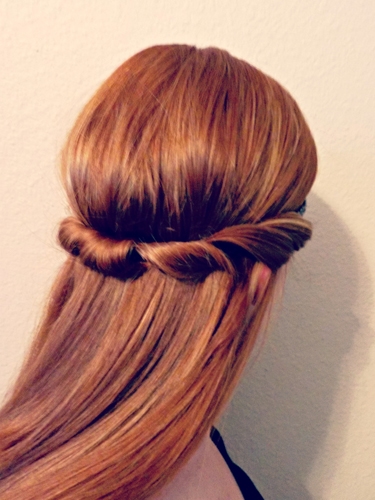 This is one of those hairstyles that I would always see while browsing Pinterest, but never really knew how to do until I found this tutorial from Kouture Kiss. I love how boho it looks, and even though it seems complex, it really isn't.
It's a great hairstyle for when your hair doesn't want to behave but you still want to wear it down. I would recommend using a cute decorative headband to complete the style.
Your Thoughts?
What do you think of these hairstyles? Would you do a hairstyle challenge like this? Are there any other quick, easy hairstyles you like to wear? Let us know and sound off in the comments!