Let's be real — as college students on budgets, it's hard to justify paying for high-end makeup when we should be saving our money for essentials like school, food, and rent. But if you're a beauty junkie like me, then you know how to stretch the meaning of "essential" to include cosmetics.
As a beauty addict, I've tried products on both ends of the spectrum, from low-end to high-end, and have finally figured out which drugstore products are the best alternatives to similar expensive products.
If you've been searching for an inexpensive alternative for one of your favorite, but pricey beauty products, read on for my top 5 high-end makeup substitutes.
1. L'Oreal Voluminous Mascara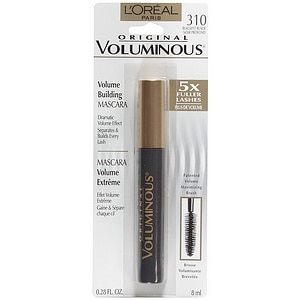 This is one product I can't rave enough about! After years of spending over $20 for the cult-favorite Diorshow Mascara, I tried L'Oreal Voluminous Mascara and saw absolutely no difference between this drugstore gem and its high-priced counterpart.
This mascara is simply amazing – it will give you a dramatic false lash effect without any clumping or flaking. I also love the brush, which isn't awkwardly oversized like the ones you see with other volume-building mascaras.
For daytime, I love to apply this mascara to the tips of my lashes after curling – this gives a nice, natural hint of color. But for night, I can pack on this mascara to my heart's content because it really doesn't clump!
2. Revlon ColorStay Foundation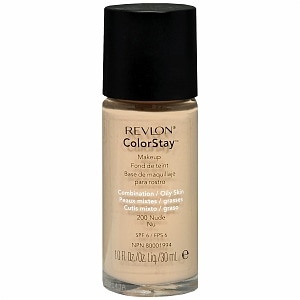 If you're looking for a medium-high coverage drugstore foundation (or a dupe for Make Up Forever Mat Velvet + Matifying Foundation), look no further than Revlon's Colorstay Foundation! I first tried this foundation after seeing so many positive reviews on YouTube and after trying it myself, I was definitely not disappointed.
Let me count the ways I love Colorstay. This product covers most imperfections easily, so I find myself using less concealer when I wear it. I also find that, if I'm short on time, I don't even need to set this foundation because it has amazing wear time. After a long day of work and school, it still looks good without any touch-ups!
Oh, and just a quick word of advice: Less is more with this foundation; just a little bit will give you flawless, full-face coverage.
3. e.l.f Studio Contouring Blush and Bronzing Powder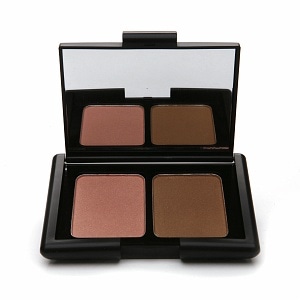 I had been obsessed with NARS Highlighting/Bronzing Duo in Orgasm/Laguna until I hit pan and realized that I did not want to spend another $40 on a product I could probably get for less.
Around that time, I starting seeing lots of reviews for e.l.f. Studio Contouring Blush and Bronzing Powder as being comparable to NARS. After checking it out myself, I can definitely say that the e.l.f duo is much more wearable (and budget friendly) than the NARS version.
While the e.l.f blush and bronzer colors aren't exactly the same as NARS Orgasm and Laguna, I find that they look more natural and effortless on me, and have much less shimmer. (One caveat: Although e.l.f. uses the word "contouring" in the name of the product, I wouldn't recommend it be used as such since there is a hint of shimmer in both the blush and bronzer.)
4. Maybelline EyeStudio Shadow Quad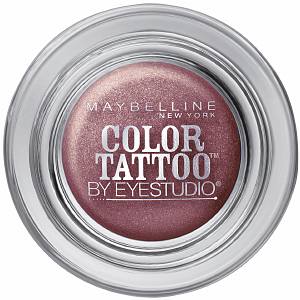 I absolutely love that so many drugstore brands have been upping their product quality over the past couple years, and Maybelline is no exception! My favorite product of theirs is the EyeStudio Color Tattoo 24 Hr Eyeshadow, which is the best cream eyeshadow I've ever tried, beating out my old favorite Bobbi Brown Long-Wear Cream Shadow.
The Color Tattoo eyeshadows come in an awesome range of colors, from pretty shimmers to matte shades perfect for using as bases for other shadows. Unlike many other cream eyeshadows, these do not crease and really do last 24 hours! I highly recommend these, so definitely check them out next time you go shopping.
5. Ben Nye Media Pro Cover-All Concealer Wheel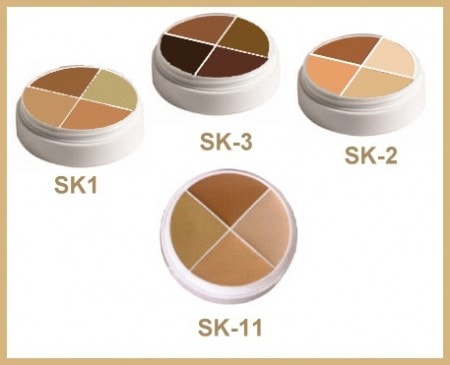 Even though this product can only be found in makeup specialty stores or online, I still had to mention it because it is so good.
Coming in at around $10, the Ben Nye Concealer Wheel is hands-down the best undereye concealer I've ever used. The shades are all perfectly creamy, making them super easy to blend and layer without looking cakey. Since each wheel comes with four shades, it's also easy to mix colors to create the perfect shade for your skin tone.
After spending way too much money on products like Bobbi Brown's Creamy Concealer Kit and Laura Mercier's Secret Camouflage, I find the Ben Nye concealer lasts much longer and truly covers my dark circles like no other product.
What do you think?
Do you buy your makeup from the drugstore or from stores like Sephora? What's your favorite drugstore beauty product? Have you tried any of the products I mentioned? Let us know in the comments below!