Buying your first NYX cosmetics product has often been a rite of passage for makeup novices who are just opening their eyes to the wide world of beauty. That's probably because NYX has all the hype (and often, the same quality) as a high-end brand without the hefty price tag that makes new buyers hesitant.
With prices ranging anywhere from $2.99 to $24.99, the NYX brand is the perfect bridge between drugstore and higher-end beauty products.
That being said, NYX's product range is vast and diverse, giving consumers many options to experiment with for a lower cost.
But do all these products perform the same?
Sadly, there are some flops on the NYX makeup shelves that don't quite live up to the higher standards we have come to expect from this brand.
Luckily for us makeup hoarders, there are a lot more good products than bad ones in the NYX product mix, you just need to know what to look for.
Out of the entire NYX makeup range, I have personally found over a dozen products that shine the brightest, especially when compared with similar high-end beauty products. So today, I'm bringing you my full NYX Cosmetics review.
Below are the best NYX products you should already be trying out for yourself:
HD Powders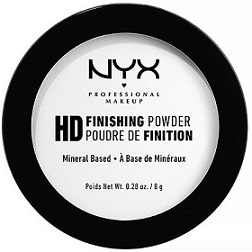 NYX HD Finishing Powders, like many face powders with "HD" in the title, will typically cause some degree of flashback. However, if you're not planning on any flash photography, these powders are a great option.
My translucent HD powder from NYX is a staple product in my collection, because it's so finely milled that it smooths out the skin looking virtually poreless while not making my dry skin look even drier.
I'm not sure how NYX achieved this bomb of a powder formula, but make sure to take advantage of its low price tag.
Primers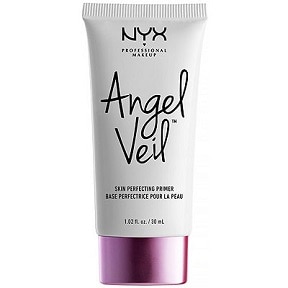 For primers at the drugstore level, no brand does it better than NYX does. Every primer I've tried from the brand, and I've tried almost all of them, has been a huge success for me.
With my dry skin, the luminizing and hydrating primers are what I reach for most often, but I also find the pore-filling and shine control primers to work with my skin type too.
Their most talked about primer, the Angel Veil Primer, is said to be a perfect dupe for the uber expensive Hourglass Veil Mineral Primer.
While they aren't the cheapest primers at the drugstore, they are certainly the most reliable, and that makes all the difference.
Nyx Epic Ink Liquid Eyeliner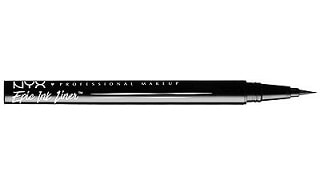 What I love most about this liquid eyeliner is the applicator. The NYX Epic Ink Eyeliner has the exact same precise brush-style applicator as the iconic Kat Von D Tattoo Liner, but only costs a fraction of the price.
This formula is not fully matte, but is extremely long-wearing, and comes in a package that is very easy to use with precision.
For $7.99 this liquid eyeliner is a must-try!
Sweet Cheeks Blush Palette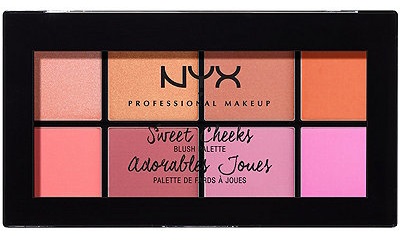 Not only are face palettes convenient, but they're great for traveling as well. The NYX Sweet Cheeks Blush Palette is no exception. This inexpensive palette contains 8 different blush shades in a variety of undertones and finishes, giving you plenty of options for any makeup look you're feeling!
Sure, $19.99 is a little steep for a drugstore blush palette, but the quality and pigmentation of each of the shades makes this a great value in the end.
Dewy Finish Makeup Setting Spray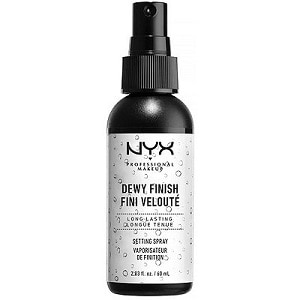 You really can never have enough setting sprays in your arsenal, which is partly why I think the NYX Dewy Finish Setting Spray is a no-brainer.
For my dry skin, I will take all the dewiness I can get my hands on (which is A LOT with this setting spray). I also find that my makeup lasts longer with this spray even though it does make the skin appear "wet".
However, if you're more on the oily side you might want to try the Matte Finish Setting Spray, which does all the same things as the dewy spray minus the dewiness.
Glitter Primer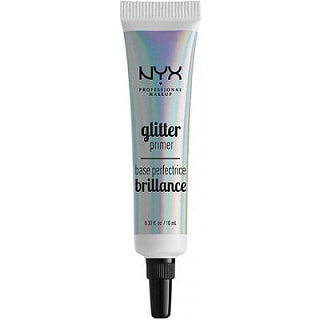 A glitter primer is something we all need at some point. Even if you're not a glitter person, you'll probably need this type of product without even knowing you need it.
The extremely tacky finish of the NYX Glitter Primer allows any eyeshadow, pigment, or glitter to adhere to it like glue. When this formula dries, you can be sure it's not going anywhere until you're ready to take it off at the end of the day.
I love using my glitter primer for foiled eyeshadows because it helps make metallics pop more on the eyelid!
Vivid Brights Eyeliner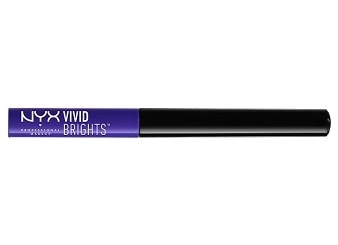 One of my favorite products from NYX is my Vivid Brights Eyeliner in the shade Vivid Sapphire. Every time I wear this eyeliner, without fail, I get compliments on it.
While it does dry completely matte (which can make your eyelid feel slightly tight), it's not so severely matte to the point where wearing it is uncomfortable at all.
One note, however: I have had no problems whatsoever with the sapphire and violet shades, but other shades in the collection (particularly the white shade) have been know to crack and crumble on the eyelid.
All in all, with the Vivid Brights eyeliners there are some amazing shades that can do no wrong, and there are some disappointing shades that should not be messed with.
Total Control Drop Foundation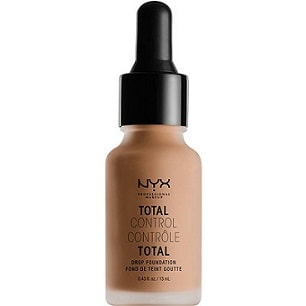 The NYX Total Control Drop Foundation is a great drugstore-priced foundation for those looking for a velvet-matte finish. The whole idea behind the "total control" name is that you are able to build up the coverage of this foundation if needed without it becoming cakey or uneven.
I also love that the super liquidy consistency of this foundation makes it incredibly easy to blend out with a brush or a beauty sponge before drying down.
For my dry-skinned sisters, just make sure to really moisturize the skin before using this foundation, otherwise it may cling to your dry patches.
Gotcha Covered Concealer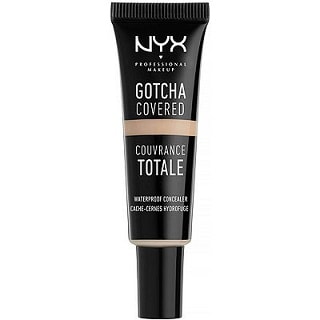 Concealers are a tricky thing to recommend, because those that work amazingly for some are a huge no-go for others. The NYX Gotcha Covered Concealer is a thicker consistency than what most people are probably used to, but it doesn't feel overly heavy on the skin.
Continuing the NYX dupes trend, this concealer is hailed by some to be the best dupe on the market for the it Cosmetics Bye Bye Undereye Concealer based on the formula and coverage it gives.
Because it is infused with coconut oil, I would not recommend it if you have super oily skin. And even if you aren't oily, it's best to use this concealer sparingly and set it with a powder.
For a concealer that's only a whopping $2.99, the NYX Gotcha Covered Concealer should be on your list of products to test out ASAP.
Micro Brow Pencil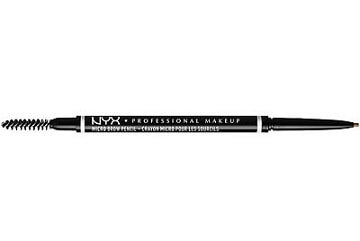 Yet again, NYX has an amazing dupe for a high-end product we all know and love. The NYX Micro Brow Pencil is a dead ringer for the Anastasia Beverly Hills Brow Wiz.
Both versions have a small, precise pencil point on one end, and a spoolie on the other end. The main difference between these two eyebrow products is the price ($9.99 for NYX vs $21 for ABH).
With slightly different formulas, I find the NYX pencil to be slightly less creamy right off the bat than the ABH version, but for an $11 difference in price, who really cares?
Butter Glosses
Just like with setting sprays, one can never have too many lip glosses. The NYX Butter Glosses are some of the best at the drugstore level and compete toe-to-toe with higher-end glosses.
Some of the 34 shades in the range are more pigmented than others, but none are fully opaque. These heavenly feeling glosses are lightweight, non-sticky, and give the perfect amount of color to the lips with every application.
Since they only cost $4.99, I have absolutely nothing negative to say about these butter glosses.
Worth the Hype Mascara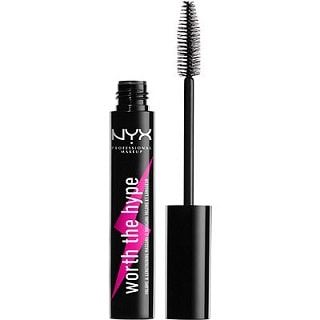 NYX's Worth the Hype Mascara is, as the name suggests, really worth the hype. While the entire world has been obsessing over L'Oreal's Lash Paradise Mascara, NYX has been silently killing the game with their newest addition to the market.
This new NYX mascara has a standard brush applicator to evenly apply this amazing formula that both lengthens and volumizes lashes like nobody's business.
Honorable Mentions:
Love You So Mochi Electric Pastels Eyeshadow Palette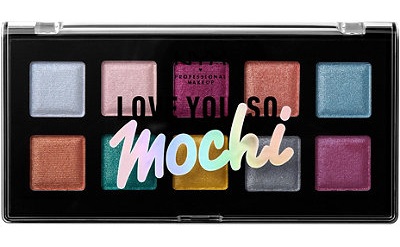 With a stunning array of colors and a squishy texture you have to feel to believe, this newer Mochi Eyeshadow Palette from NYX is one of the more unique products they've come out with in a long while.
Eyebrow Gel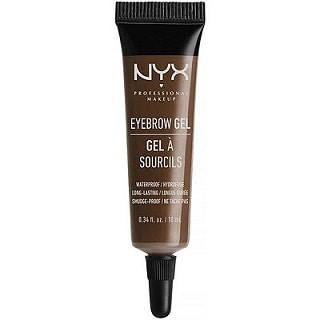 There is a bit of a learning curve to using this eyebrow gel, but once you get the hang of it you'll love how long-lasting and budge-proof the formula is.
Lip Lingerie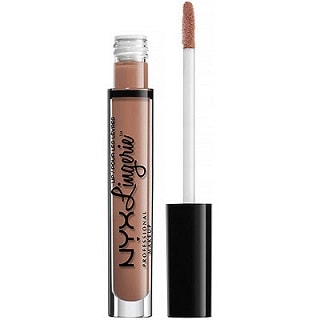 A bunch of nude matte liquid lipsticks at drugstore pricing? Heck yeah!
Eyebrow Cake Powder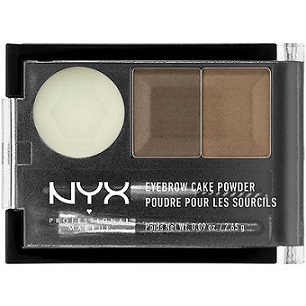 This eyebrow powder is a staple in my makeup collection because of the rich pigmentation and perfect color matches.
Liquid Crystal Body Liner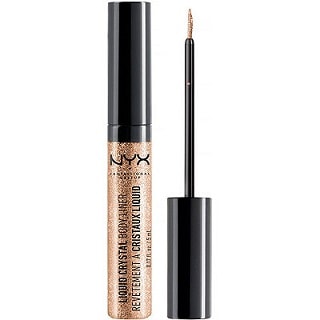 It's a glitter eyeliner that only costs $4.49, need I say more?
What are your fave products from NYX Professional Makeup?
Do you have a list of the best NYX products? What are your favorite NYX cosmetics dupes for other high-end products? Let's talk about it in the comments section below!