There are many makeup brands in mainstream media that end up making a sizeable splash in the beauty community. Benefit Cosmetics is one of these major brands.
I'm sure we've all heard of at least one of Benefit's products, right? Between the Hoola Bronzer, the Roller Lash Mascara, and their extensive line of eyebrow products, there are a lot of winners in Benefit Cosmetic's product mix. But what about the losers?
I'm here to cut to the chase, and give you the in-depth scoop on what products you need to own from Benefit, and what products you should be avoiding.
On your next trip to Sephora or Ulta, I want you to be armed with knowledge about one of the more popular brands they carry, in order to make informed decisions that won't be regretted later on.
Because like I've said a million times before: there's nothing more dangerous than an informed buyer.
So, without further ado, here are my findings on Benefit Cosmetics' makeup:
Primer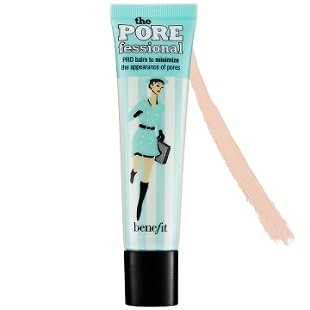 Benefit has one of the most famous pore-filling primers on the market – for good reason. Unlike many silicone-based primers on the market, Benefit's Porefessional Matte Primer actually fills in and smooths out pores for a more seamless foundation application.
My other favorite primer from Benefit is their "That Gal" Brightening Primer, which works best for drier, tired skin in need of a little more TLC. "That Gal" feels and acts a lot like a moisturizer, giving the skin an extra dewy and brightened/lifted appearance.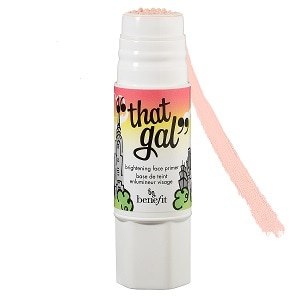 The Dr. Feelgood Mattifying Balm and the Stay Flawless "15-hour" Primer are more-or-less underwhelming options offered by Benefit, but they might be ok options if their two most effective ones don't live up to your expectations.
Verdict: There are some really good primers in the mix, and some that are just OK. Depending on your skin type and your skin needs, you might find a really good fit for you in one of Benefit's primers!
Grade: B+
Foundation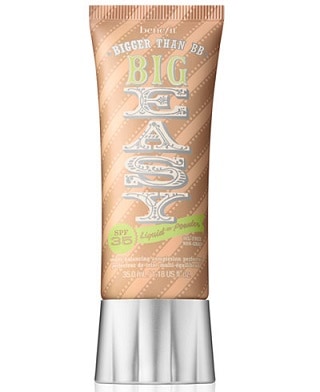 I never seem to hear much buzz about Benefit foundations, which is probably due to the fact that they tend to not work well with different skin types and have very, VERY limited shade ranges.
The Big Easy BB Cream from Benefit is super expensive for a BB Cream ($38), which is essentially a foundation for those who don't like foundations.
The shade range is poor, the formula clings to dry patches and slips and slides around oily skin, so I'd really only recommend this if you have "normal" skin and like throwing a lot of money down on a product with very little coverage.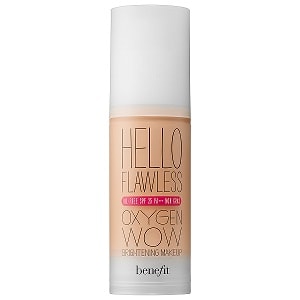 Their Hello Flawless Oxygen Wow! Foundation, much like the BB Cream, also has very few shades. Unlike the BB Cream, this foundation has a light to medium coverage which can be built up, and a dewier finish (meaning it most likely won't work well/at all for oilier skin types.)
This foundation also has a lot of SPF in it, so it probably won't be the most flattering in photographs. Not to mention, what on earth is the deal with this Foundation's super-extra name? (Just a personal gripe!)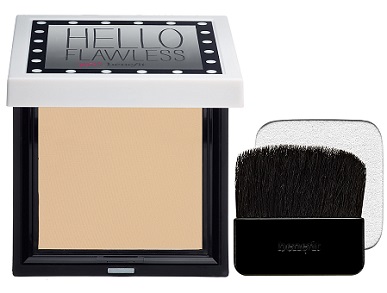 Their only powder formula, the Hello Flawless! Powder Foundation, is actually pretty decent for a powder foundation (if you're into that sorta thing.) Of course, there are only 9 shades in this product, so if by some miracle you can find your shade match, then it could be a really good purchase!
I also think it's worth noting that this foundation claims to work well with all skin types, but like many powdered foundations on the market, will most likely look best on oilier/normal skin.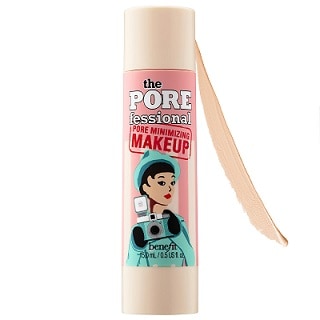 Last but certainly not least, we have Benefit's Pore Minimizing Makeup. You read that right, Pore Minimizing Makeup, not foundation. For the sake of time and sanity this product is lumped in with foundations because, let's be real, it basically is one.
This is a strange product all around, from the name to the packaging, to the application itself. The formula of this "makeup" is very liquidy, and requires a hefty amount if you want any real coverage to take place.
The Pore Minimizing Makeup also dries very quickly and very matte, so it must be worked with in sections, and for the best results, with the teeny sponge-like applicator provided for you. Overall I'm confused by this product, and wouldn't recommend trying it unless you're reaaaally bored and in need of a challenge.
Verdict: Benefit's Foundations are mostly average at best, and there are certainly cheaper options on the market that work better, have more shades, and last longer. If I were you, I'd save my money!
Grade: C
Face Powder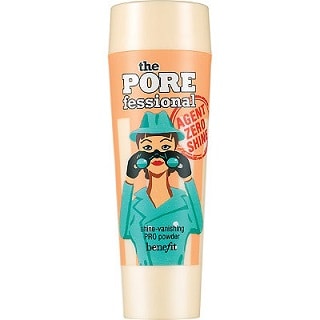 The only face powder Benefit currently has, the Porefessional Agent Zero Shine, is of course made for oily skin. The strange yet cutesy packaging for this mattifying face powder is very on-brand with the rest of Benefit's products, and holds a translucent powder formula that also helps to smooth and fill-in pores.
I love that this powder comes with its own brush, so that even if it isn't ideal packaging for on-the-go usage, it is compact and useful for traveling. Like other mattifying powders, this one can be reapplied throughout the day (if needed) to soak up any excess oils and keep the skin shine-free.
Verdict: It's not the cheapest mattifying product on the market, but it might be just what you're looking for. I recommend trying out a sample before purchasing the whole thing, to see if it meshes with your skin type because, well, you never know until you try.
Grade: B
Concealers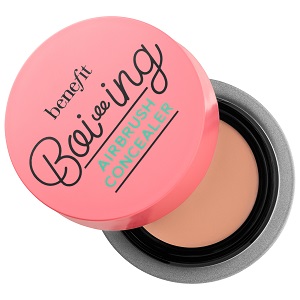 Apparently, no one clued Benefit in on the fact that there are more than 3 skin tones in the world, because all of their concealers in the "Boi-ing" line only come in three shades (aptly named shade 1, shade 2, and shade 3). For me, none of these concealers come in a shade light enough, so already benefit has lost me.
Three out of the four versions of the Boi-ing concealer feel extremely heavy and paste-like while giving sub-par coverage, whereas the Hydrating Concealer, while very hydrating indeed, gives almost no coverage.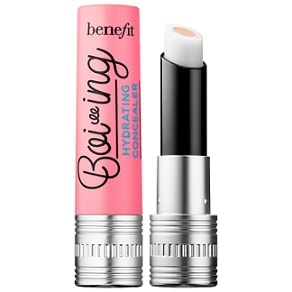 I also have a gripe about the way the Airbrush, Brightening, and Industrial Strength concealers are packaged. Within two weeks of using (read: struggling with) my Boi-ing concealer, I found that dirt and hair found their way much too easily into my concealer pot, making the product feel dirty and gross to apply to my face.
Verdict: I'm sure there are some people out there that enjoy the Boi-ing Concealer line, and to them I say: kudos to you! Unfortunately, I think there are too many issues with these concealers, from the packaging to the formulas to the sad shade range, for them to be worth their price tags. I'll pass!
Grade: C-
Blushes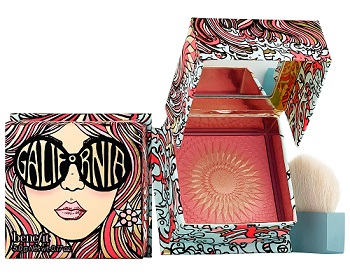 If you're into the whole liquid blush/cheek stain hybrid (I'm not, but regardless…), Benefit's versions of these products are nice enough, but for a cheek stain that costs $30 a pop I'm going to have to have more of an incentive than "nice enough" to purchase.
Their powder blushes on the other hand, while just as expensive, will last you forever, are user friendly, and come in a variety of flattering shades to go with various makeup looks and skin tones.
My personal fave, Galifornia, is a rich pinky-coral shade, giving you the perfect summery flush to your cheeks (even when it's below freezing outside!)
Verdict: Like I said, these blushes are, without a doubt, good quality. I personally would recommend the powder versions over the liquid ones, but it's really up to you!
Grade: A-
Bronzer/Contour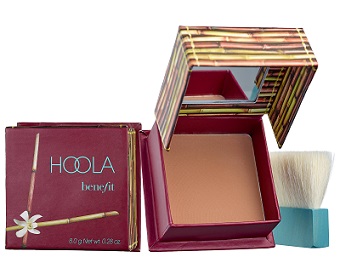 The infamous Hoola Bronzer is one of Benefit's oldest and most popular products to date. This powder bronzer blends evenly and easily, and has just enough pigment to fake a flattering and seamless tan.
This bronzer is perfect for medium skin tones, but tends to look a little too orange on fairer skin. Luckily for us pasty gals, Benefit also came out with a lighter bronzer option.
Hoola Lite Bronzer is the newer, cooler toned, and lighter version of the original. For those of us with fair to light/medium skin tones, this is going to be a much more flattering bronzer to use. I also love how easily this bronzer can be built up to add a nice faux bronze to the face.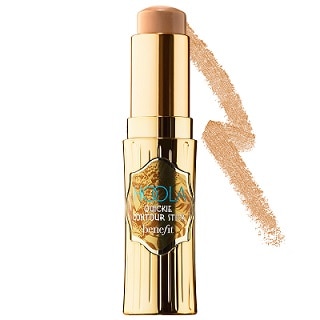 Benefit currently only has one contour product, the Hoola Cream-to-Powder Quickie Contour Stick. This stick only comes in one shade, meaning it really only works for light to medium skin tones, which is disappointing considering how good this product is for beginners.
This contour stick blends extremely easily on top of liquid foundation or bare skin, and isn't so pigmented that you're going to be stuck with a brown stripe across your cheekbone. For those that want to dabble in cream contouring, this is a great product to start with.
Verdict: Herein lies some of Benefit's most well-loved products on the market, so they must be doing something extremely right in the bronzer/contour department. 10/10 would totally recommend.
Grade: A+
Highlighters
In their highlighter range, Benefit has three main formulations: liquid, cream, and powder.
For liquid highlighters, the High Beam is a pink-toned highlighter that works best with lighter skin tones, whereas Sun Beam is a more true-golden shade that looks best on medium and darker skin tones.
While these liquid highlighters are by no means as blinding or metallic as the Cover FX Custom Enhancer Drops or even the Iconic London version, they do give a pretty lit-from-within glow to the skin.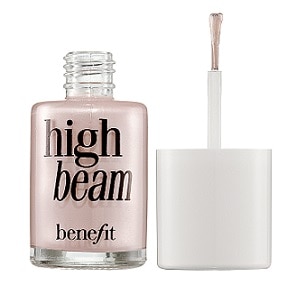 Benefit also has a liquid "highlight" called Dandelion Shy Beam, which is a similar tone to the High Beam but is instead in a matte formula. TBH I don't understand that product, and would only recommend using it as a highlighter if you hate the look of real highlighters.
The Dandelion Twinkle Powder Highlighter is the only powder highlight from Benefit, which yet again has a nude-pink tone to it. This highlight lands right in the middle on a scale of subtle to audacious. It's a solid product, but not worth the nearly $30 price tag attached to it.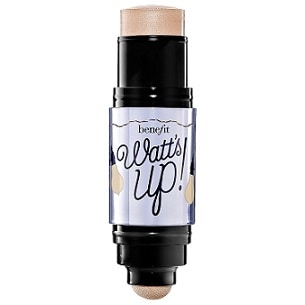 Lastly, we have the classic Watt's Up Cream Highlighter stick, that I used to own many moons ago but somehow misplaced. I really enjoy the smooth texture and easily-to-blend formula of this stick highlighter, and the fact that it doesn't have a pink undertone unlike many of Benefit's other highlighters.
While it can be applied directly to the face and then blended out with your fingers, you can also use a brush to place the product more precisely (like under your brow bone).
This cream is somewhat long-lasting, but works even better if you layer another highlighter over top to set it in place and add an extra oomph. Overall, I think this is the front runner for Benefit highlighters.
Verdict: While there's really only one Benefit Highlighter I would fervently recommend, the rest of them aren't bad at all. You really have to weigh the quality and end results of the highlighters versus the price tag to find out which one is most worth it to you.
Grade: B+
Eyebrow Products
Since there are so many brow products in Benefit's extensive line, I'd figure I'd save time and space by rattling off the Benefit Cosmetics brow products from best to worst in a rapid-fire, need-to-know only format: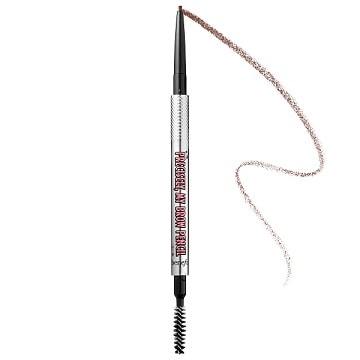 1. Precisely, My Brow: Like the name suggests, it's an extremely precise pencil that's smooth and pigmented with a long-lasting formula. Let's just say it's their most popular brow product for a reason.
2. Goof Proof Brow Pencil: This pencil is not as precise as Precisely My Brow, but still has a great formula, and is extremely (read: suspiciously) comparable to the ABH Brow Definer.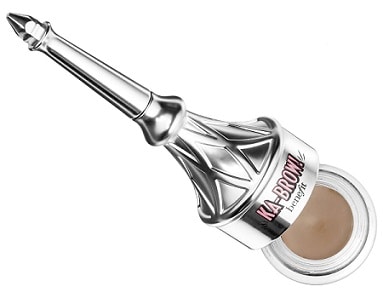 3. ka-Brow! Eyebrow Cream-Gel: The creamy gel formula of this brow product has great color payoff and lasts a really long time. If you prefer to fill in your brows with a pomade-type product, this is a really good option.
4. Brow Zings Eyebrow Shaping Kit: The Brow Zings is basically a mini-kit that includes a colored wax and powder to set the brows in place for long wear. This is one of their more unique brow products and has great enough quality, so much so that it might become your new go-to brow product.
5. 24 Hour Brow Setter: I don't normally like clear brow gels (I prefer dark brow shades that give my brow hairs more volume) but this benefit brow gel works really well at keeping brow hairs tamed for a really long time. It is rather expensive for a brow gel, especially when you can spray a spoolie with hairspray and run it through your brows to give the same effect.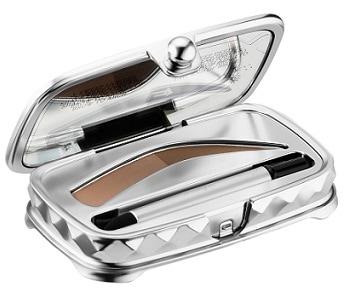 6. Foolproof Brow Powder: While it is a solid product, this brow powder is so low on my list because you don't get a ton of product for the $24 price tag, even though I do like that you get two different powder shades in one kit. However, I have a similar NYX Eyebrow Cake Powder kit that comes with way more product, works just as well, and is so much cheaper, so I'm not convinced this Foolproof Powder is worth it.
7. High Brow Eyebrow Highlighter: This highlighting pencil is a nice idea for a product, but is by no-means necessary, especially when you can easily just use your own concealer to highlight and define around your freshly-shaped brows.
8. 3D BROWtones Eyebrow Enhancer: The 3D Browtones only comes in 2 shades because this eyebrow mascara is supposedly meant to give "depth and dimension" to your brows by not being a perfect match to your actual hair color. The formula works well enough, but doesn't last all day and is by no means a substitute for the beloved Goofproof Brow Gel that was unfortunately discontinued.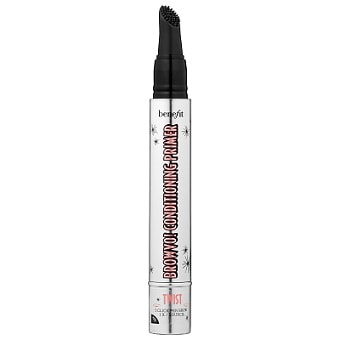 9. BROWVO! Eyebrow Primer: Simply put, this is a completely unnecessary product. As long as you use long-lasting brow products you don't need this, which means if you bought it you'd just be wasting $28. I like to use a pencil and powder combo and the powder helps to reinforce the pencil for all-day wear. Still, bravo to Benefit for coming up with a unique brow product.
Verdict: Benefit has some stellar eyebrow products, no ifs ands or buts about that. You'd be a fool not to own at least one of these suckers.
Grade: A
Eyeliner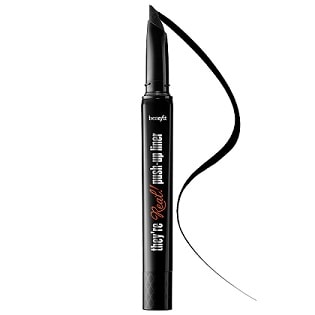 There are surprisingly only two eyeliners in Benefit's arsenal of products, a pencil and a gel-pen version.
I'll cut to the chase with these eyeliners: Save. Your. Money.
The eyeliner pencil is okay, but overpriced considering its lackluster impact on the eyes. I won't even begin to describe what a disappointment the They're Real! Push Up liner is. Hard to use, dry formula, high price-tag; and those are the nicer things I could say about this product.
Verdict: I can't reiterate enough that you should look elsewhere for eyeliner.
Grade: D-
Mascara
The Benefit team really knew what they were doing when they set out to create their mascaras, two of which are on my list of "favorite mascaras in the whole world".
Both the They're Real! Lengthening Mascara and the Roller Lash Curling Mascara are amazing at holding a curl without drying hard and crusty, and lengthening your lashes without looking spidery.
I use the They're Real! Mascara almost every day, and it never budges or fails me in any way, and I couldn't be happier with this mascara purchase.
The BADgal mascara is another great option, if you're looking for more of a volumizing mascara than a lengthening one.
Verdict: Benefit has a mascara for all your eyelash needs, and you need one (or all) of them in your life ASAP.
Grade: A+
Eyeshadow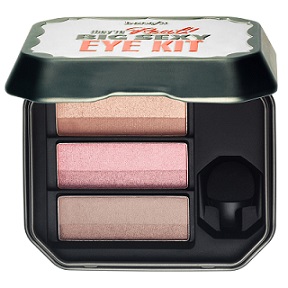 Was anyone else blissfully unaware that Benefit Cosmetics even sold eyeshadow? Yeah, it turns out there's a good reason for that. Overall, Benefit shadows are highly overpriced, with boring shades, so-so formulas, and strange/bulky packaging.
Makeup beginners might enjoy the idea of their eyeshadow kits, since they are supposed to be extremely "user-friendly", but anyone who likes to be creative with makeup will hate these products.
Verdict: Let's just say I wish I could go back to the simpler times, when I didn't know that Benefit sold eyeshadow kits.
Grade: D-
Lip Products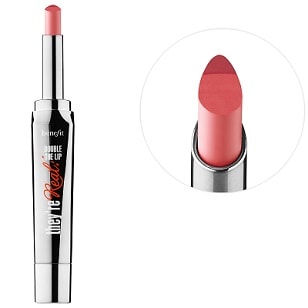 Yet again, Benefit tried to step outside the box with some of their lip products, and it didn't really pay off.
The They're Real! Double the Lip is a lipstick in the shape of a teardrop (already off to a shaky start) that has two colors, one of which is supposed to be a liner. In the end however, its basically an ombre lipstick with no liner, that ends up looking a little too… much. It's just too much.
The formula of the lipsticks themselves is very comfortable to wear, though not overly long-lasting, so if you can pick up a regular benefit lipstick I would recommend that over their gimmicky version.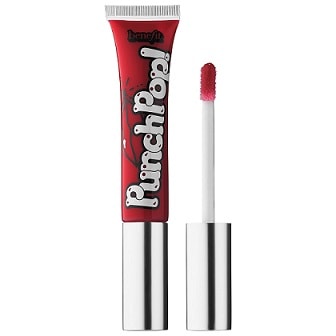 Their only liquid lipstick, called the Punch Pop! Liquid Lip Color is a non-matte liquid lipstick, that never fully dries down. I would say this product is most comparable to the Too Faced Melted Latex, which isn't really my thing but it's nice enough if you like a lipstick with high-shine.
And finally, we have the Hydrating Tinted Lip Balm, which is exactly what it claims to be. Although if I'm being candid I much prefer Fresh's Sugar Lip Treatment which comes in a bunch more colors and also has SPF in it.
Verdict: There's nothing in this category that's a must-have, but none of their lip products are the worst thing on earth. It's just kind of an "eh" category for me.
Grade: C+
What are the best Benefit products, in your opinion?
All in all, Benefit Cosmetics is a very hit-and-miss brand, that has some unique products you'll either love or hate. What's your fave product from Benefit Cosmetics? Least fave? Tell us in the comments.