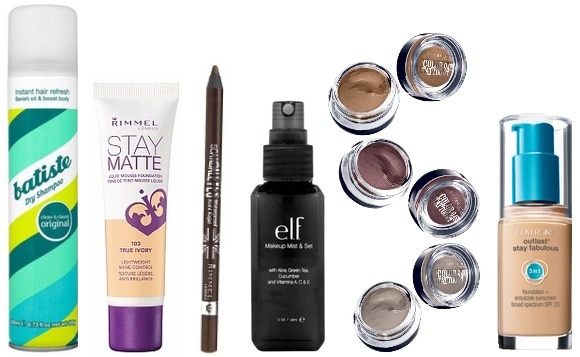 June is already more than halfway over (can you believe it?), and we all know what that means… hello heat wave. Here in Florida, you merely have to step outside and you're drenched with sweat in about 0.2 seconds flat. The humidity is killer, and it's next to impossible to keep your face looking fresh.
Unfortunately, many of the cosmetics that are designed to be heat resistant are expensive, and quickly add up on a college budget. Not to fear, my fellow makeup aficionados. I'm here to share six of my tried-and-true drugstore beauty faves, so you can stay beautiful all summer long! Read on to learn more about each product:
1. Batiste Dry Shampoo

$8.99 at Drugstore.com
Alright ladies, I'm going to let you in on a secret: dry shampoo. It will change your life. I kid you not, dry shampoo has become one of my most used hair products, especially during the summer months. You simply spray it into your scalp, and voilà! It gets rid of grease and gives you an instant volume boost.
I've tested out several brands, but I always come back to my old standby, Batiste Dry Shampoo. I usually stick to the "Original" version, but it also comes in several other scents, as well as formulas generated specifically for blonde and brown hair.
2. Rimmel Stay Matte Liquid Mousse Foundation

$5.49 at Walgreens
I quite literally picked up this product the other day, and I can already say that I'm in love. I have an oily t-zone, so I'm always hunting for foundation that offers good coverage and keeps my skin from getting too shiny. For less than $6, Rimmel's Stay Matte Mousse Foundation will keep your skin looking matte for a good eight hours.
I wore it walking around in ninety degree weather and it still looked freshly applied by the time I got home. With the summer heat I know we could all use a little shine control!
3. Rimmel Scandal Eyes Waterproof Eyeliner

$4.49 at Ulta
I've always been a huge fan of Rimmel's products, and this is one of those instances where the proof is in the pudding – or eyeliner, I should say. Rimmel's Scandal Eyes Eyeliner has over ten colors to choose from, so there's plenty of variety.
Did I mention that it's waterproof? If you need an eyeliner that's going to stay put through blood, sweat, and tears, then this is the product for you. Although you have to sharpen it, the product is creamy and super-easy to apply.
Bonus: Try the nude color (pictured above) on your lower waterline to make your eyes appear bigger. It's magic!
4. E.L.F. Makeup Mist & Set

$3 at e.l.f. Cosmetics
I'll be the first to admit that I was skeptical when I first tried the e.l.f. Makeup Mist & Set. Simply spray it on and your makeup will last all day long? And it's only three bucks? It seemed to good to be true. But I'm here to tell you that it's not. This is has become my holy grail product for getting my makeup to last longer – even in the summer heat.
In my opinion, it's even comparable to Urban Decay's All Nighter Long-Lasting Makeup Setting Spray, and it's just a fraction of the price. That being said, I would recommend transferring it into a higher quality spray bottle, as the one it comes in doesn't mist very well.
5. Maybelline Eye Studio Color Tattoo 24 Hour Eyeshadow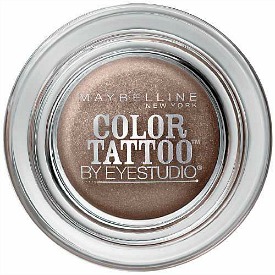 $5.84 at Walmart
Maybelline Color Tattoo Eyeshadow is, hands-down, the best performing cream shadow I've tried for a drugstore price. The product is extremely easy to apply, and doesn't crease or fade throughout the day. The color is highly pigmented (especially considering the price), and has passed the sweat test many times over for me.
The shade pictured above, called "Bad to the Bronze," is a really great neutral for everyday wear, but is also buildable for nights when you want to go for a more fierce look. I highly recommend this eyeshadow if you're looking for something that willtruly last all day!
6. CoverGirl Outlast Stay Fabulous 3-in-1 Foundation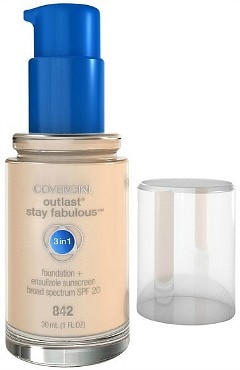 $9.79 at Drugstore.com
Last but not least, is CoverGirl's Outlast Stay Fabulous 3-in-1 Foundation. This isn't the only foundation out there claiming to be a primer, concealer, and foundation all wrapped into one, but I guarantee that it is the cheapest product you'll find that actually succeeds.
Because it's already a primer, you don't have to worry about foundation sweating off, and the coverage is wonderful. Additionally, you can wear it with or without powder, depending on your preference. But the thing I love most about this foundation is that it doesn't feel heavy or thick when you apply it, and it's easy to blend. This product really does do it all!
What do you think?
Have you tried any of these products? What does your summer beauty regime? Are there any holy grail products that you would recommend for summertime? Let us know in the comments!