This post may contain affiliate links, which means we may receive a commission if you purchase through our links. Please
read our full disclosure here
.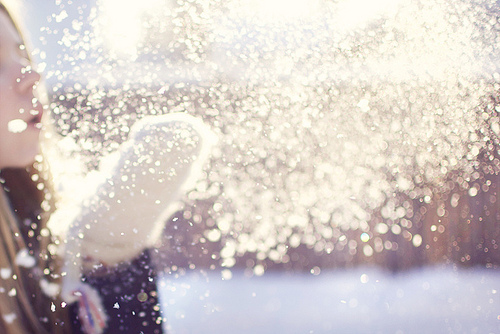 The transition from October to November has been a chilly one. I had to break out my winter coat and scarf this week, and I'll probably wear them daily for the next few months.
Along with my wardrobe transition, I decided to update the contents of my handbag. My skin is not taking the cool weather transition well, so I stocked up on products that will keep my skin hydrated. And then I thought, why not share my winter handbag essentials to combat dry skin with all of you? Who says you can't have glowing skin in December?
1. Hand Creams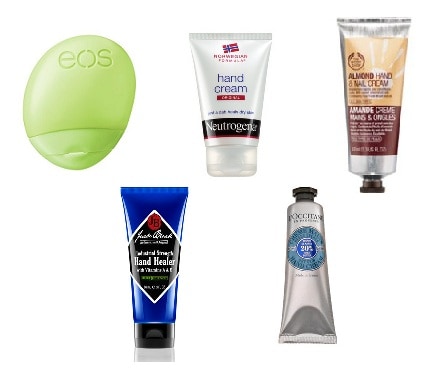 EOS, Neutrogena, The Body Shop, Jack Black, L'Occitane
A thick, creamy hand lotion is a must have for winter! You'll want to find something that is truly nourishing that can help combat those dry hands. Unfortunately, a regular body lotion just won't cut it.
My favorite of the bunch is Neutrogena's hand cream. It does not smell luxurious, but it does do a wonderful job of nourishing my hands. If you need an amazing scent, The Body Shop's Almond Hand & Nail Cream smells incredible and is very moisturizing. And each of the tubes above are small enough to throw in your handbag!
2. Lip Balms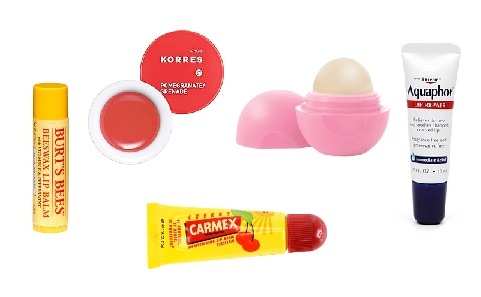 Burt's Bees, Korres, EOS, Aquaphor, Carmex
Since my lips get super dry in winter, I now have a truly unnecessary amount of chapstick in my life — a lip balm in my bag, my car, on my nightstand… you get the idea. If your lips get dry like mine, it's not a bad idea to grab a couple different types and try them all out to see which one works best for you.
I am a lover of the EOS lip spheres, though I've heard others say they don't do much for their lips. Aquaphor Lip Balm has fantastic reviews across the board, though doesn't boast a scent/flavor. Regardless of your preference, a few chapsticks are a MUST in your handbag for winter!
3. Tissues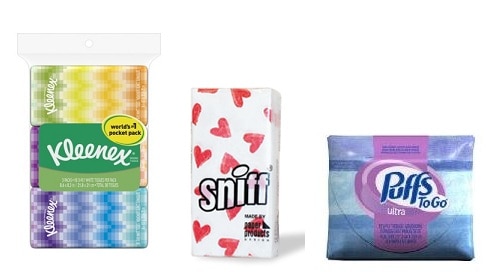 This may be a very obvious one, but you'd be surprised how many times I found myself with a runny nose and no tissue in sight. These guys are so lightweight that you can really stock up on them in your bag.
The best part? You can use tissues for much more than just a nose situation. They can aid in makeup touch-ups and can help with those wind-induced watery eyes we all get. Also, you will be the lifesaver of many a winter cold-afflicted friend. Oh, and the Sniff brand tissues come in the CUTEST patterns. Cute patterns are always a plus!
4. Sample Size Moisturizer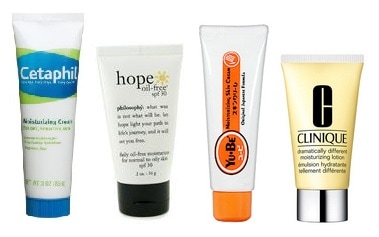 Cetaphil, Philosophy, YuBe, Clinique
A little sample sized moisturizer is a great thing to keep in your bag, especially since hand cream can be a bit too thick for your face. Those unsightly dry patches we all get in winter can easily be taken care of, no matter where you are. Tip: Go to your favorite makeup counter and ask for a sample sized moisturizer, as no one wants to lug their full sized moisturizer around campus!
5. Gloves or Mittens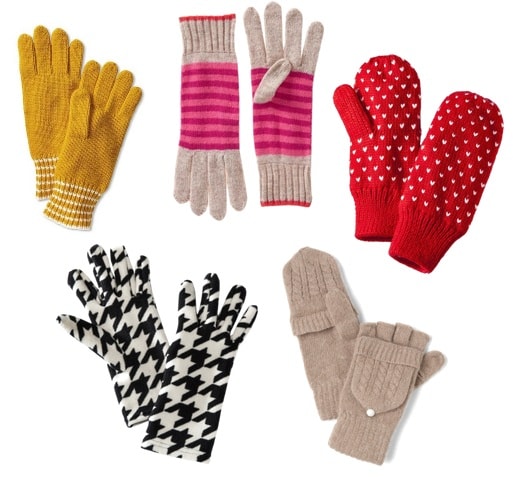 Banana Republic, Old Navy, Target, Target, Modcloth
And last but certainly not least, gloves or mittens are definitely a handbag essential. I am always running out the door and forgetting mine… which makes the whole dry skin situation that much worse. Whether you're running out the door like me or whether you just misjudge the weather, you'll find yourself grateful you stashed a pair of gloves in that bag!
What do you think?
What are your handbag essentials for winter? If you live in the warmer states, how are you getting ready for winter?! What are your favorite lip balms and hand creams? Let us know in the comment below!!!