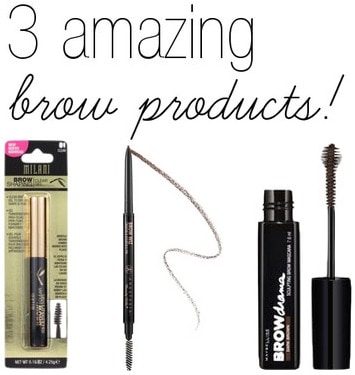 Lately, it seems that the spotlight is on the brows! These days, the more defined and well-done your eyebrows are, the better. No longer can us girls go outside with untidy brows. To be honest, I never really cared much for my eyebrows before last year, but ever since I started to fix them up, I've noticed that I wear less makeup. Sometimes, I'll even skip all other makeup and just define my eyebrows.
I am naturally blonde, but I have dark eyebrows, which can make finding the right balance for my brows difficult. I like to fill them in, but it can also look too harsh depending on the rest of my makeup. As a result, I've tried basically everything, but wanted to talk about my 3 favorite eyebrow beauty products. Read on to learn more about each one.

Milani Brow Shaping Clear Gel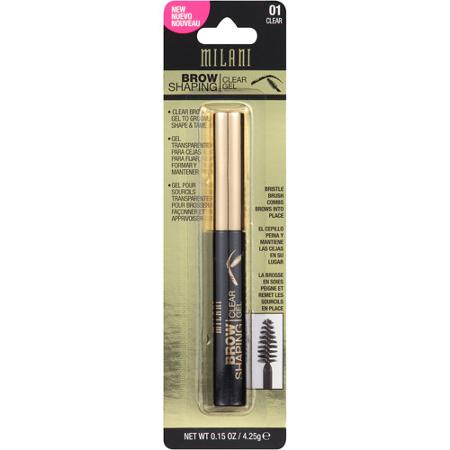 $3.97 at Walmart
Okay, first of all, this brow gel is less than $4. Amazing, right? And the best part is, it works so well. I am such a huge fan of Milani Cosmetics, and this has not let me down. Basically, it's a tiny mascara brush wand that applies a clear brow gel. Since the gel has no color, it's just meant to keep your brow hairs in place the way you want them to.
If you're unfamiliar with this type of product, clear brow gel is almost like hair gel or hair spray. Unlike some other clear gels, this one doesn't flake or wear off during the day. It stays on pretty flawlessly, and you can't beat the price. I use this product when I don't feel like doing much to my brows, so it's ideal for everyday use.
Anastasia Beverly Hills Brow Wiz
$21 at Ulta
I cannot praise this brow pencil enough. I figured I should start out with that because anything else I say will just prove that fact even more! Anastasia Beverly Hills is probably the most iconic brow brand out there right now, and this product, Brow Wiz, is probably their most user-friendly.
The double-ended pencil allows you to do double-duty on your eyebrows with just one product. The spoolie end lets you comb your brows into the right position, and then the pencil end helps you fill them in perfectly. Since the tip is so skinny, it can mimic brow hairs, which makes eyebrows look super-natural.
There are nine color options, ranging from blonde to black to auburn, so you'll be able to easily find your ideal shade. I've gone through three of these pencils, and will probably continue doing so for as long as Anastasia makes them. I'm obsessed!
Maybelline Brow Drama Brow Mascara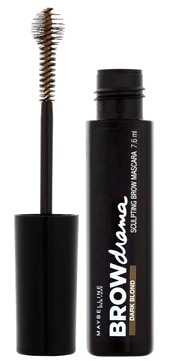 $7.99 at Walgreens
Maybelline's Brow Drama eyebrow mascara is similar to the Milani one we talked about earlier, but this product is tinted so it's a bit more dramatic. The ball-shaped brush sculpts your eyebrows, while the tinted gel adds some color and fills in brows for a natural look. There's also no clumping or flaking, so your look will last all day.
For my brows, I use the shade "Blonde" but there are also brown and black shades available. There's definitely not as many shades as the Anastasia pencil, but it can be built up for a darker color if needed. While I use the clear gel for a more natural look, I pull out this brow mascara when I want my makeup to look more polished and put-together. Try this product if brow pencils aren't your thing!
What do you think?
Are eyebrows part of your beauty routine? Do you use any of these products? Would you like to see more posts like this? Remember to tell us your thoughts by leaving a comment!