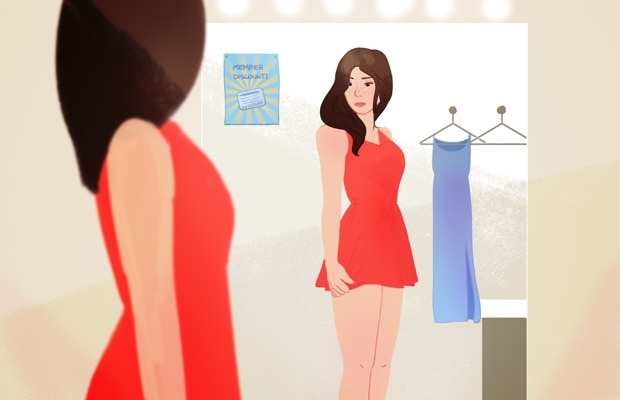 For this week's Outfits Under $100, we're talking dresses. This week, each outfit features a summer dress that addresses some of the many troubles of finding the right dress. It can be such a battle to find something that's not too long or too short, and that flatters your body and matches your style.
Here are three affordable summer dress outfits for inspiration and some tips for shopping for your own dresses:
The Not-too-Short Dress – $97.96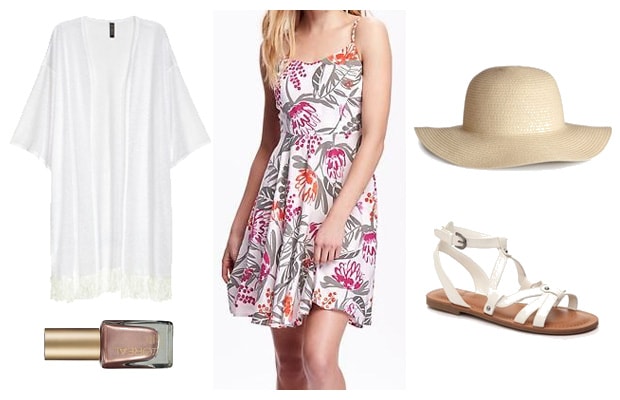 Products: Kimono, Nail Polish, Dress, Hat, Sandals
One of the biggest problems I have looking for dresses is finding the "perfect" length — something that is still cute and short but that I won't have to pull down throughout the day. These cami dresses from Old Navy fit the bill and come in a variety of patterns.
To style, pick your favorite patterned dress and your outfit is halfway there. For thin-strapped dresses like this, you have a few options in terms of how to handle your bra straps showing. Wear a strapless bra, or go sans-bra if you can pull it off comfortably. Or, wear any bra you like and cover up with a kimono or cardigan. To finish off the outfit, throw on some strappy sandals and a cute hat. Don't forget to use nail polish as an accessory!
The Short Girl Dress – $101.14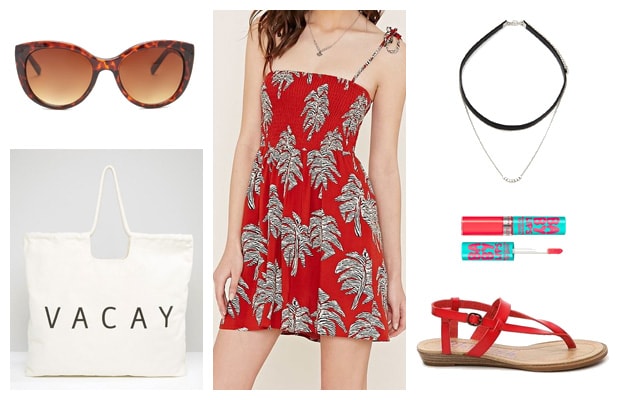 Products: Sunglasses, Bag, Dress, Choker, Lip Gloss, Sandals
To avoid dresses that go down to your knees, try dresses at Forever 21, Tobi, Aeropostale, and ASOS Petite. Check the measurements if you're ordering online, because some "mini" dresses might be perfect for you. The dress featured here is from Forever 21, and reviews say that it's great for shorter ladies.
This palm print red dress is a great attention-grabbing piece. The print makes it easy to style – just keep the rest of the outfit minimal. Add on some sandals (love the matching red of these ones) and some lip color. These tortoiseshell sunglasses work well in a variety of outfits. Accessorize with a cute choker and tote.
The Comfort Zone – $94.19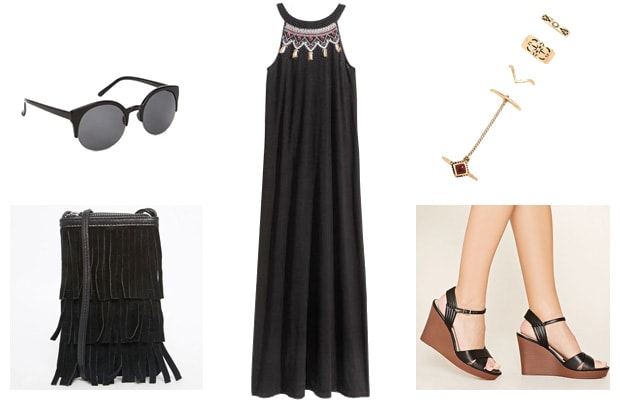 Products: Sunglasses, Bag, Dress, Rings, Sandals
Maxi dresses are great comfort pieces, perfect if you prefer a more modest look or just love the silhouette of a long flowy dress. This season, maxi dresses are popular and come in a variety of patterns and cuts perfect for every style. (Plus, who's going to notice unshaven legs if the dress goes to your feet? Just another bonus.)
This embroidered maxi dress is great for staying within your comfort zone, both in terms of cut and pattern. Accessorize with some bold jewelry and this small fringe bag. Any sunglasses will match this dress. Finally, wedged sandals look great with maxi dresses.
One thing I've noticed is that finding the right cut of maxi dress takes some trial and error. I highly recommend trying on a bunch of different cuts in stores (try Ross or Marshalls for affordable options) before ordering online so you have a sense of what suits your body.
What do you think?
What do you look for when you shop for dresses? Which outfit is your favorite? Also, share your favorite dresses in the comments below! I tried to find dresses that solve a variety of common problems, but I know I missed things, too. Add your tips and tricks and feel free to leave feedback for me. I enjoy reading your comments and feedback.