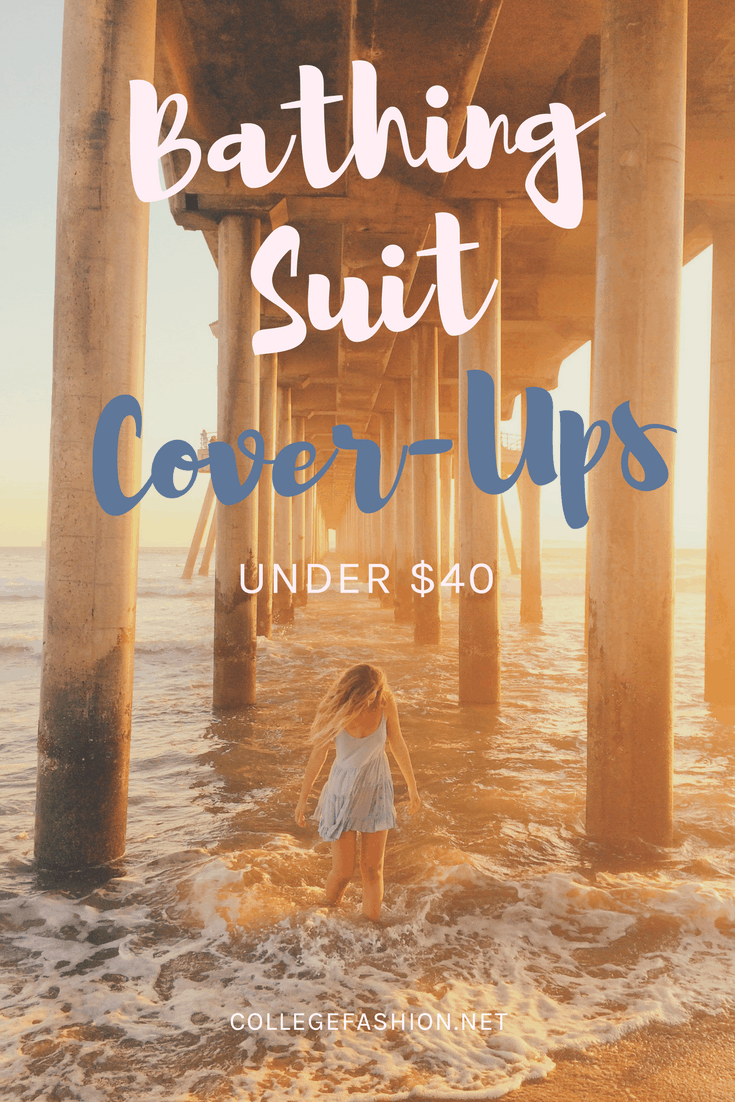 It is a truth universally acknowledged, that a college girl in possession of a swimsuit, must be in want of a bathing suit cover-up at a reasonable price.
Sure, you could just wear a pair of cut-offs and a tank (or one of our favorite beach outfits), but there's something about having a cover-up made specifically for wearing over a swimsuit that makes it feel more special and luxurious.
While bathing suit cover-ups sometimes have a reputation for being frumpy or old lady-ish, this doesn't have to be the case, as there are plenty of styles out there that are not only fashion-forward, but also budget-friendly!
With that in mind, I've scoured the web to find the coolest swimsuit cover-ups under $40; keep scrolling to see my picks!
1. White Off-the-Shoulder Dress: $38.71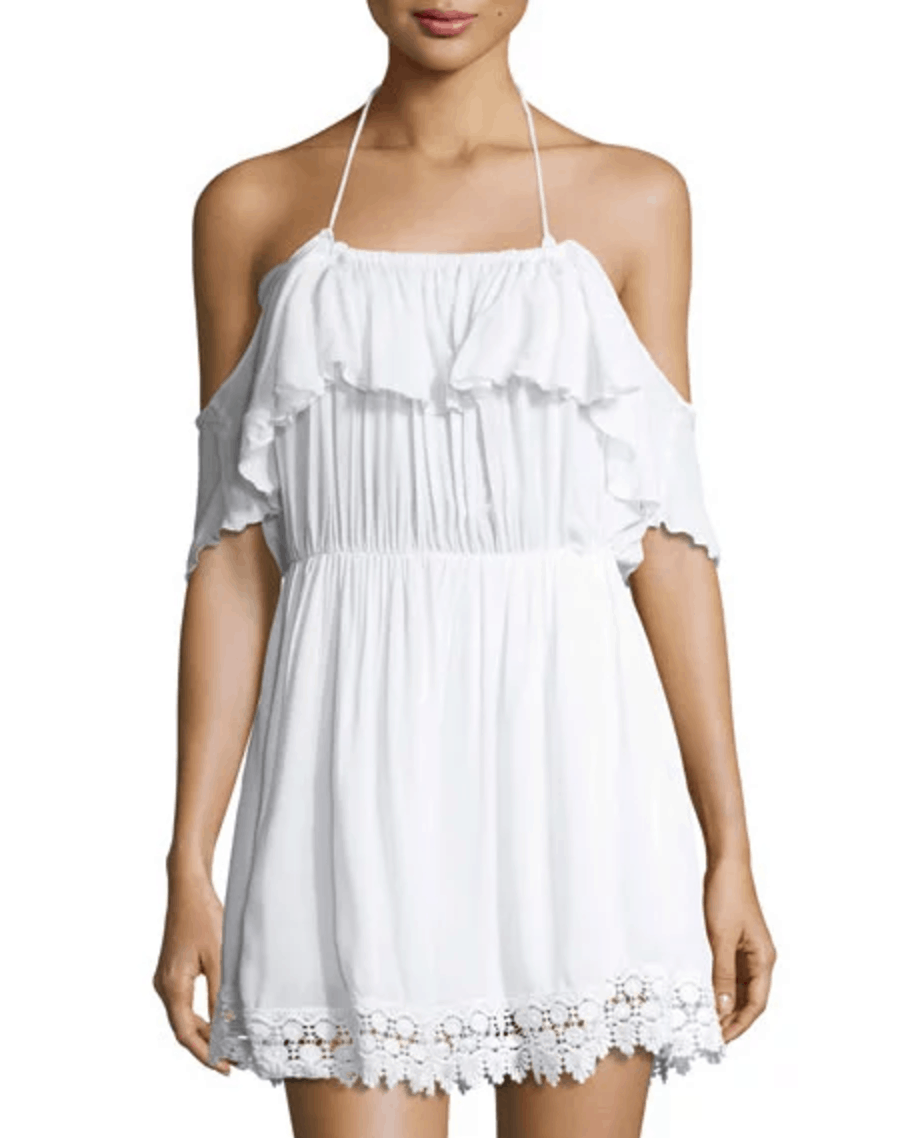 Available at Last Call
There's so much to love about this cute and girly white bathing suit cover-up: its trendy off-the-shoulder silhouette, its pretty crochet trim, its halter neckline that ensures that it won't fall down during beach activities…the list goes on!
I think this option would look great as part of an all-white ensemble, but it would also make a neon swimsuit really pop!
2. Orange Tie-Dye Multi-Purpose Cover-Up: $35.99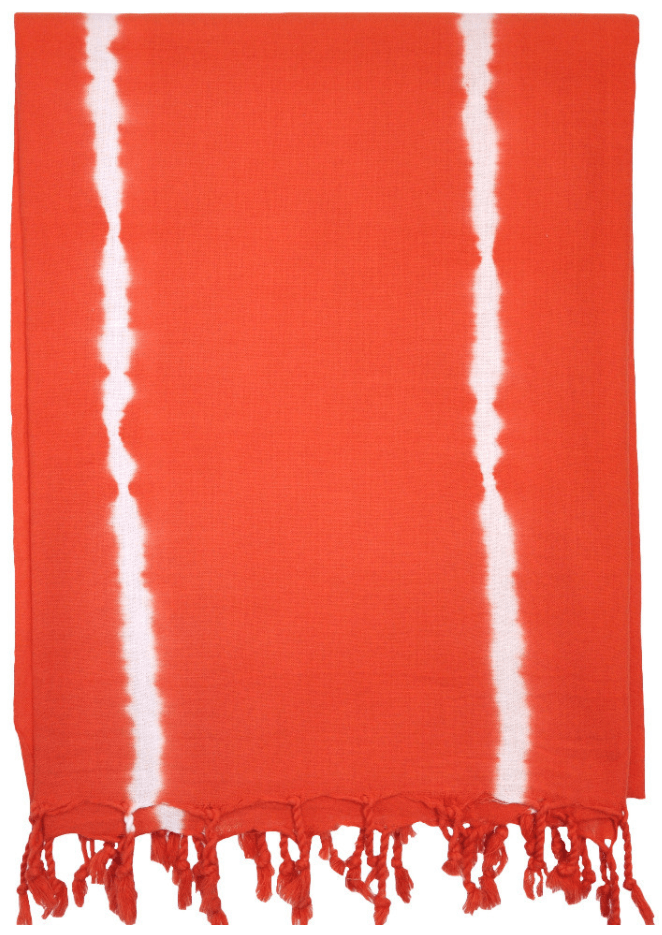 Available at Domino
Is this a towel? A wrap? A sarong? You decide! If your style is bohemian, this beautiful orange tie-dye beach cover-up would make a great addition to your beach bag!
It can be folded and tied in a multitude of ways, making it the perfect option if you have many different swimsuits, but don't want to shell out a lot of money on separate cover-ups.
Psst: In addition to this gorgeous bright orange shade, this cover-up is available in five other lovely colors, so you're sure to find one that fits in with your swim style!
3. Black Drawstring Board Shorts: $22.94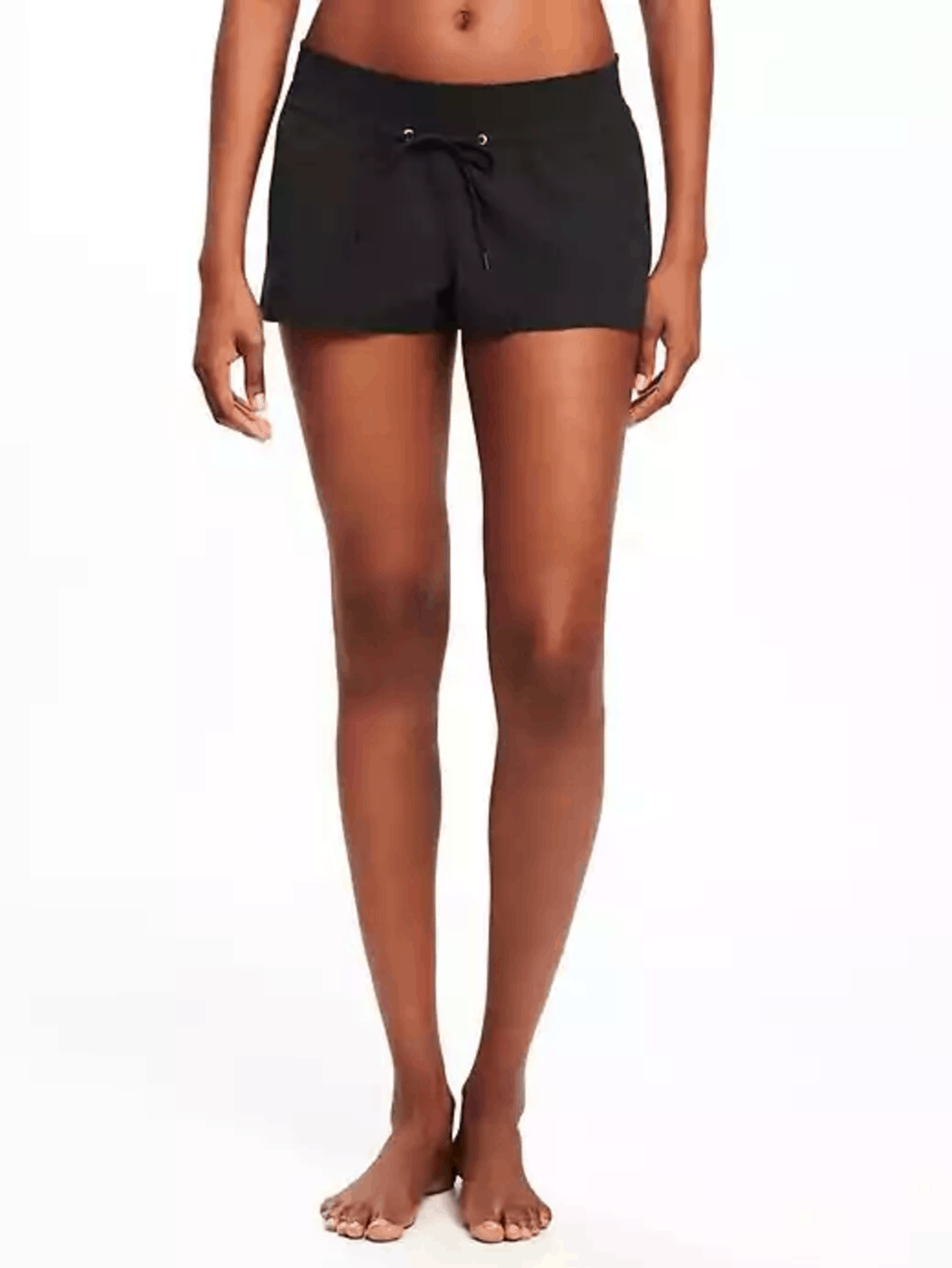 Available at Old Navy
These simple black board shorts are the perfect way to add some more coverage to your swim look, without sacrificing freedom of movement.
A great pick for anyone with a sleek and sporty swim style, these black shorts go with almost any swimsuit, making them a go-to for those days when you want to look chic without being impractical.
These shorts come in a few other colors/patterns, and appear to be very popular online, so be sure to get your hands on a pair ASAP!
4. Pale-Blue-and-White Ombré Chambray Dress: $17.98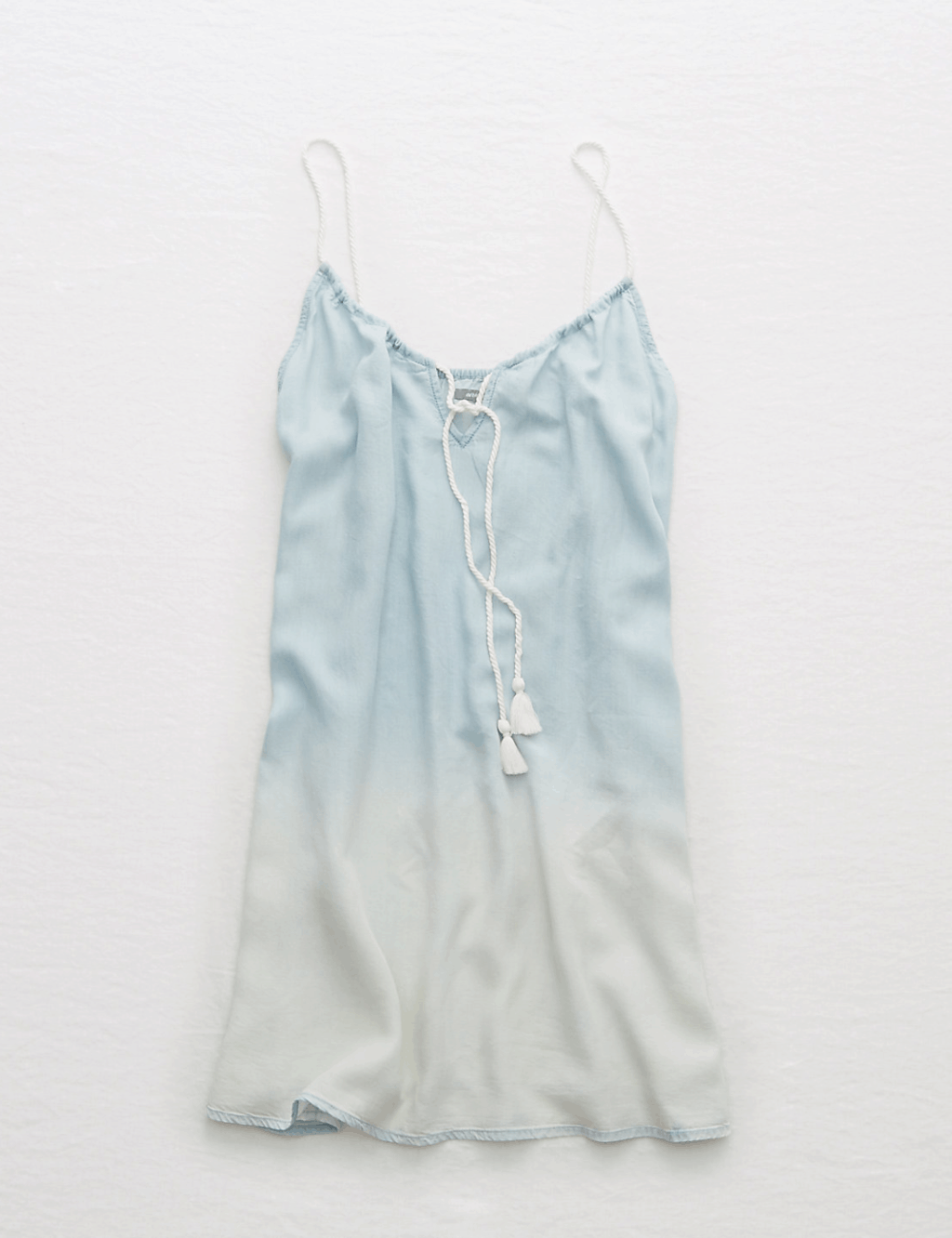 Available at American Eagle Outfitters
Soft, delicate, and pretty, I have to admit that this ombré cover-up dress is definitely my favorite of the bunch! Not only am I a sucker for anything ombré, but the chambray fabric and pretty details on this breezy cover-up make it perfect for wearing both on and off the beach.
Pair it with a white or pastel-colored swimsuit and lace-up gladiator sandals for a sweet, boho-inspired look.
5. Red Maxi Dress: $38.40

Available at Nordstrom
If your style is sophisticated, pick up this bright orange-y red cover-up maxi dress.
From its bottom tier to the tie-up bow in the back, this dress offers both style and substance. Furthermore, its classy silhouette and fun, vibrant color make it perfect for wearing to a poolside brunch in addition to a walk on the beach.
Personally, I'd wear it with a wide-brim straw hat, oversized sunglasses, simple sandals, and a straw tote for a timelessly elegant look.
6. Blue Popover Tunic: $29.50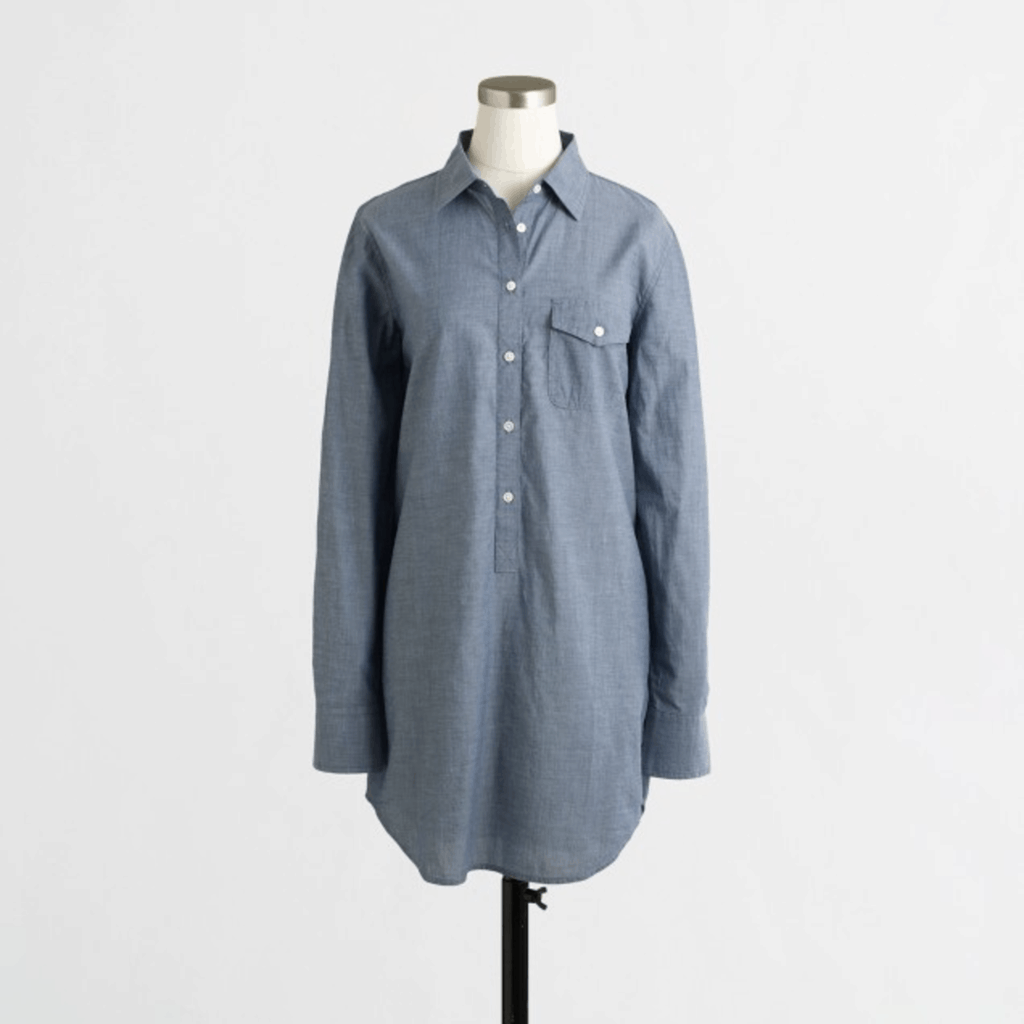 Available at J.Crew Factory
While the idea of wearing a button-down shirt to the beach might seem strange at first, hear me out: The lightweight cotton fabric of this popover and its optional tabs for rolling up the sleeves make this a chic and infinitely wearable beach piece.
Plus, if your everyday style is classy and preppy, this cover-up is probably a natural extension of your everyday wardrobe.
Lastly, this piece is extremely versatile: Wear it now with a classic solid-colored one-piece swimsuit and Clubmaster sunglasses, and even later on in the fall over leggings or skinny jeans with knee-high boots.
7. White Drawstring Shorts with Orange Pom-Poms: $19.99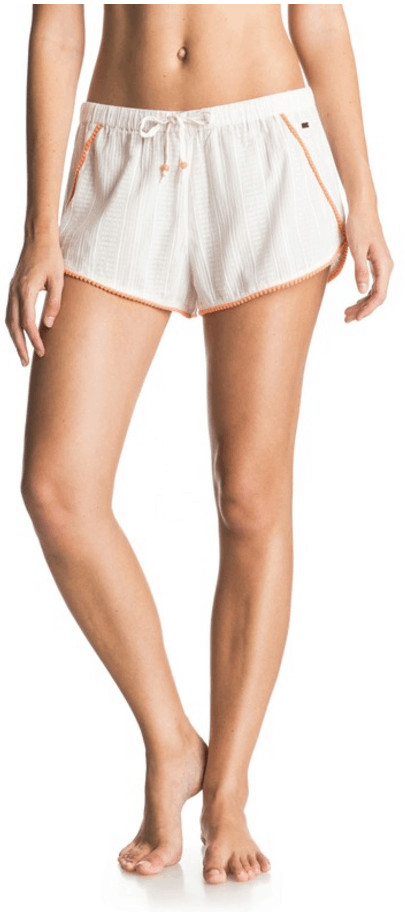 Available at Roxy
A little bit boho and a lot of fun, these orange and white pom pom shorts are a great option if you don't feel like wearing a cover-up dress or skirt, but also don't want to go full-on sporty.
I absolutely adore the trendy pom-pom trim and the beads on the drawstrings, as they add a cute pop of color to any beach ensemble. Moreover, these shorts are neither too short nor too long, making them an ideal option for chilling by the beach or pool with a good book in hand.
I think that these shorts would look amazing with a patterned bikini and a straw hat on your next beach day.
8. Pale Blue Long Embroidered Caftan With Tie Waist: $36.99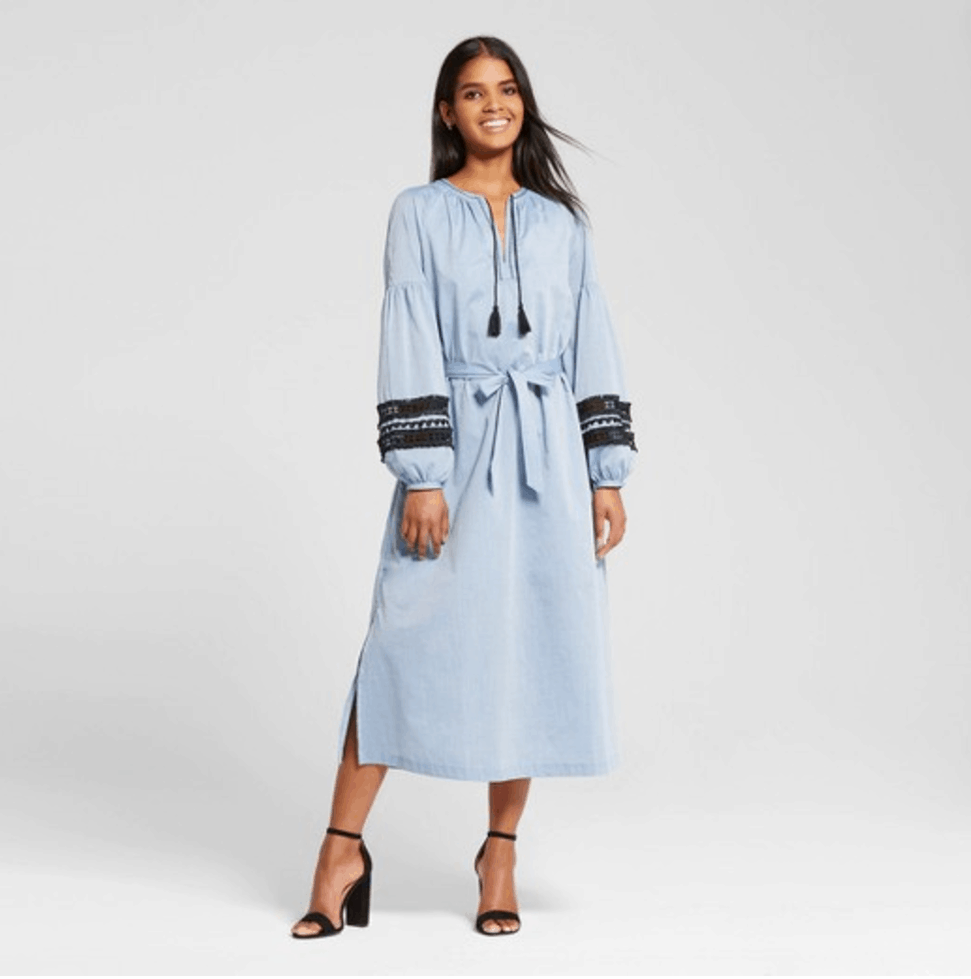 Available at Target
If you want to look fashion-forward this summer, then this pale blue caftan cover-up is for you!
With its cool embroidered details, tie waist, and midi length, this breezy caftan has got you covered when it comes to summer trends! Out of all the options shown in this article, this cover-up provides the most coverage overall, so it is a great option for those looking to dress a little more modestly at the beach.
Like the popover cover-up, this one is highly versatile, and can be worn both now over a swimsuit with heeled sandals for a beachside dinner, as well as into the early fall with heeled ankle boots and a hobo bag.
9. Off-White Short Caftan With Fringe: $29.99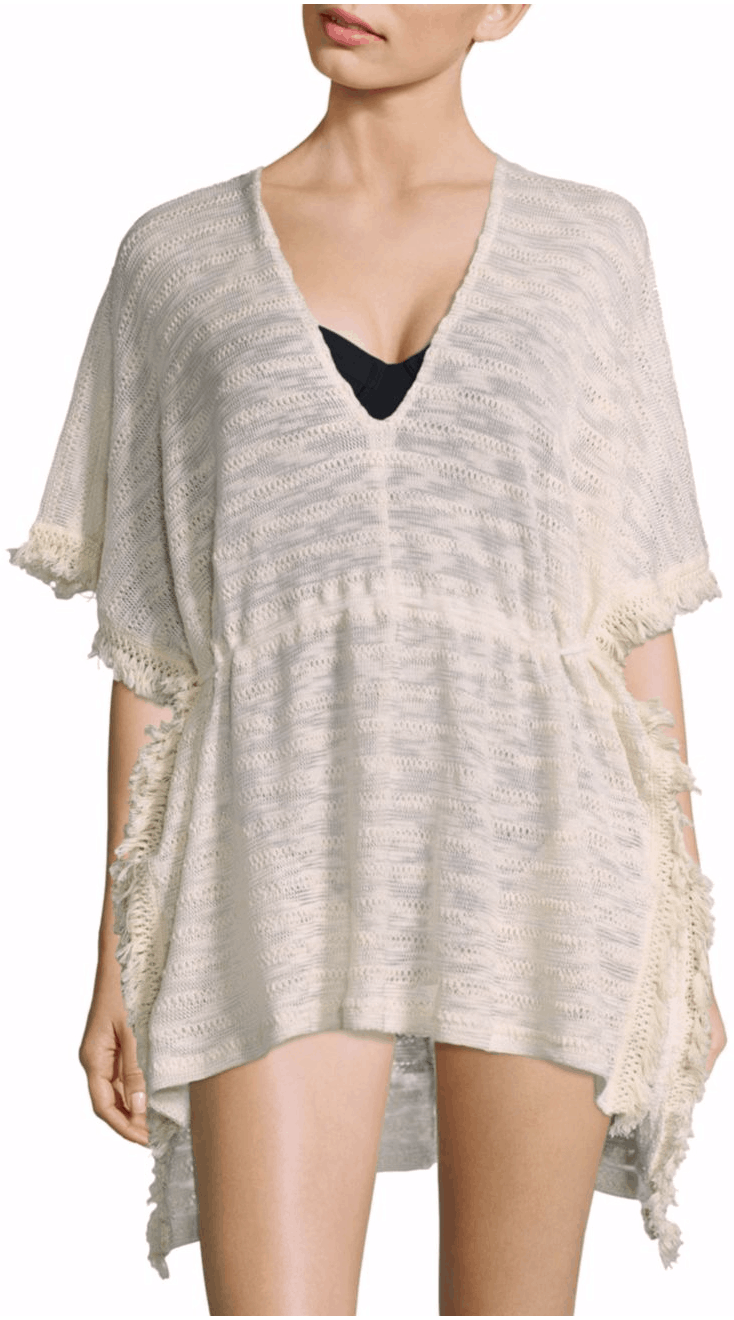 Available at Saks Off 5th
With its classic silhouette and of-the-moment fringe details, this short beige caftan strikes the perfect balance between trendy and timeless.
This beach cover-up would look great with any swimsuit style, and is flattering on all body types — not to mention that its shorter length makes it perfect for long walks on the beach, as you don't have to worry about any dragging hemlines.
I like the idea of contrasting the off-white color of this caftan by wearing it with a black swimsuit, but any color — especially earthy neutrals — would look great, too.
10. Bright Pink Sarong: $6.99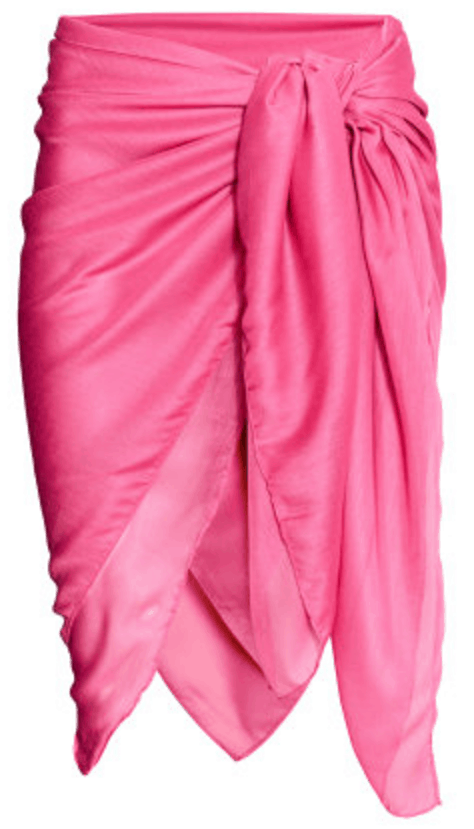 Available at H&M
I couldn't write an article about cover-ups and not include a classic solid-colored sarong, could I?!
Although sarongs sometimes get a bad rap for being matronly, the bright pink color of this one ensures that it is anything but. I love the simplicity and ease of this one–not to mention that it costs less than $10.00, and can be worn as a lightweight summer scarf as well!
For a twist on a timeless beach look, pair this sarong with a brightly-colored bikini to make yourself really stand out! If you'd prefer something a little more subdued, a navy blue bikini or one-piece would look amazing against this sarong's bright pink hue.
What Do You Think?
Which of these cover-ups is your favorite? What do you wear to cover up your swimsuit at the beach/pool? Where is your favorite place to buy cheap cover-ups? Tell me in the comments!