*UPDATE 2021: We have an updated guide to the styles you need for this year. Check out The Hottest Swimwear Trends for Summer 2021*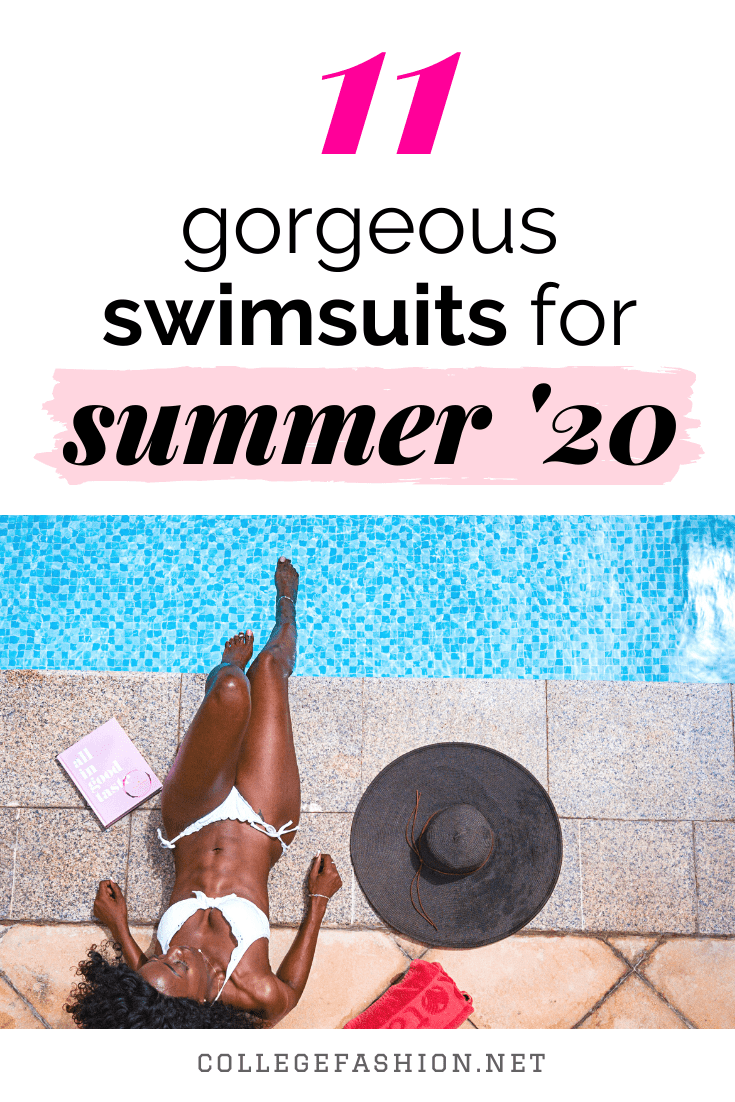 It's summer again, and for many of us that means it's time to find a new swimsuit! So today I'm sharing my best swimsuits of 2020 guide.
There are so many awesome options for swimwear this year, and this post includes a variety of styles. Whether you're looking for something classic, sporty, unique, or modest, there's a swimsuit for you!
Read on to discover 11 cute swimsuits for Summer 2020!
1. Bright Pink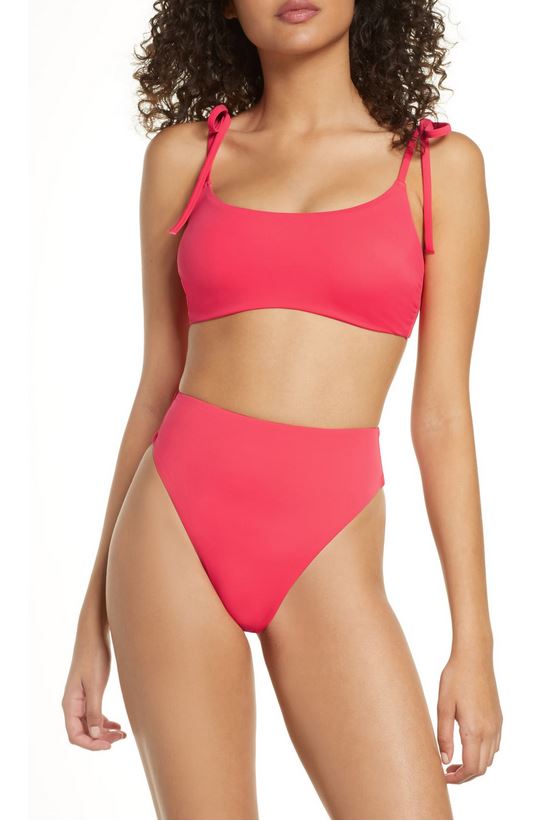 I love the bold pink color of this swimsuit! Bright solids are a great choice for bikini sets because they are fun and colorful, but also let the cut of the swimsuit shine.
This is a great choice if you want a classic swimsuit that isn't plain.
2. Tropical Pattern
I've seen several swimsuits this season in a similar pattern to this one. The leaf-inspired, pastel print is a great choice for summer break.
Additionally, the gathered detail and the halter straps on the top make this a fun look. It has definitely one of the best swimsuits of 2020!
3. Fancy Floral
Another classic swimsuit is this floral one! Sweet blue, red, and yellow flowers cover this bikini set.
The top has a knotted front, and the bottom is high waisted, giving the set a vintage look.
4. Purple Pattern
I feel like lavender is one of the lesser-used colors when it comes to swimsuits. So you're sure to stand out in this one!
The combination of the dyed-look and the purple color is such a great look for summer.
5. Grey & Pink
Another classic swimsuit with a twist is this grey and pink set. The bandeau top and bright pink trim make this set a surprising yet classic look.
6. Leopard One Piece
Belts are another popular trend for swimwear this summer!
This leopard-print one piece is a fun way to wear the trend, and the cut-out detail makes it unique. (For more one-pieces, see our guide to the best one-pieces under $50!)
Additionally, you could simply remove the belt if you would prefer the suit without it.
7. Rash Guard
Looking for a different way to wear a bikini or tankini style? The cut-out details on the sides of this rash guard top make the swimsuit dramatic and on-trend, yet also still sporty and practical.
8. Trendy Tankini
Another tankini option is this animal-print tankini from Target.
The style of this one is similar to a one-piece, as it is simple and modest, yet the tankini cut and animal print pattern make it unique.
9. White Bikini
Plain white swimsuits never go out of style, and this set is a fresh take on a simple bikini set.
This set will be style for years, thanks to its classic cut and supportive bra-style top. If you're looking for something that has lots of style but also isn't too dramatic, this is the set for you!
10. Cow-Print
This cow-inspired pattern has been popular for a while, and it's so different from the typical swimsuit patterns.
If you want to try wearing something new this summer, this swim set is a great way to be both unique and on-trend!
11. Long-Sleeved One Piece
Lastly, long-sleeved one pieces are having a moment.
Suits like this one are perfect for you if you love swimming laps or playing games on the beach. After all, you won't have to worry about anything coming untied or falling off!
These come in so many fun patterns, so you'll be able to express your style!
What do you think of our best swimsuits 2020 guide?
For more on swimwear, be sure to see our guide to the best stores to buy cheap swimsuits.
Which swimsuits are your favorites? What are your favorite swimwear trends this summer? Let us know in the comments!