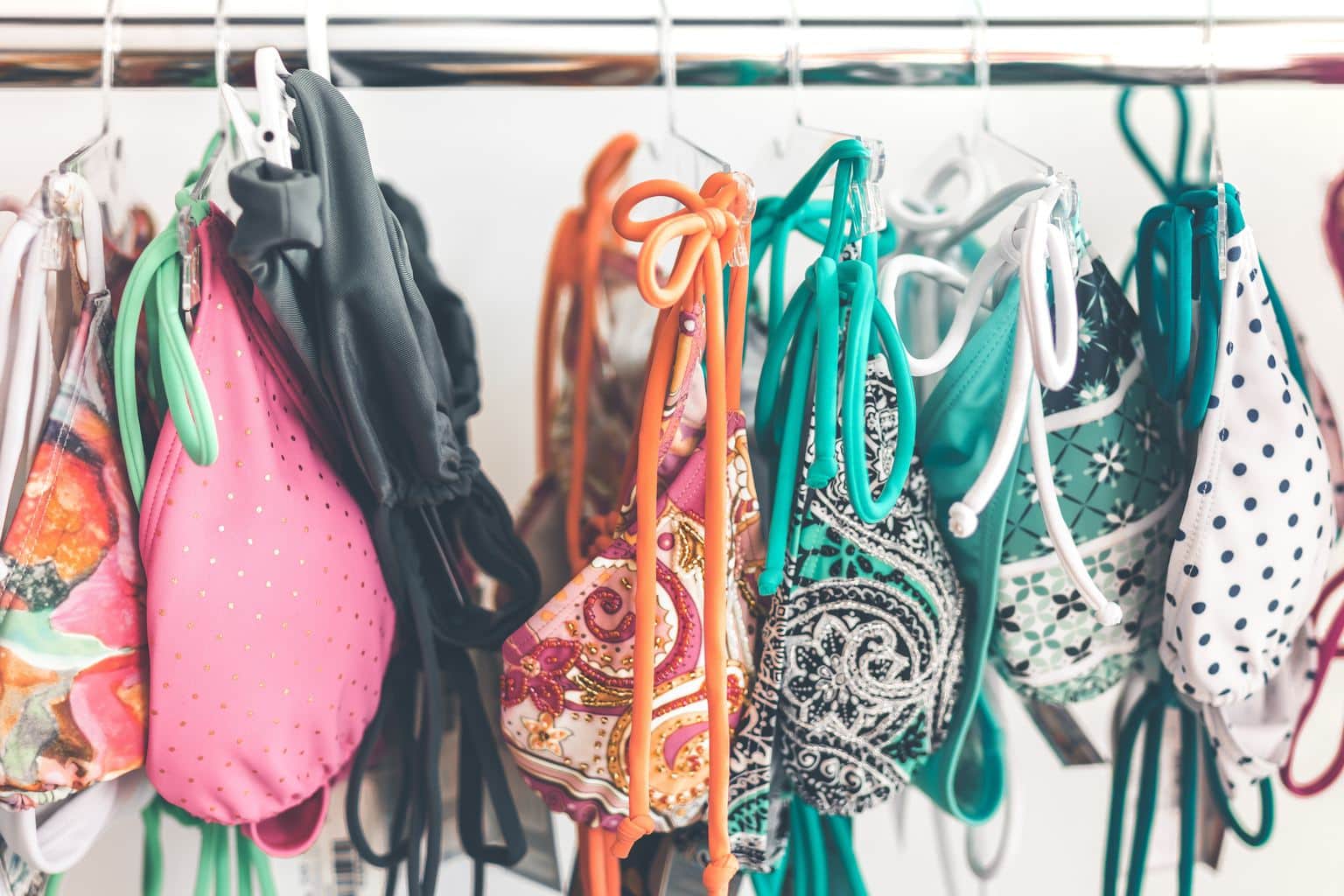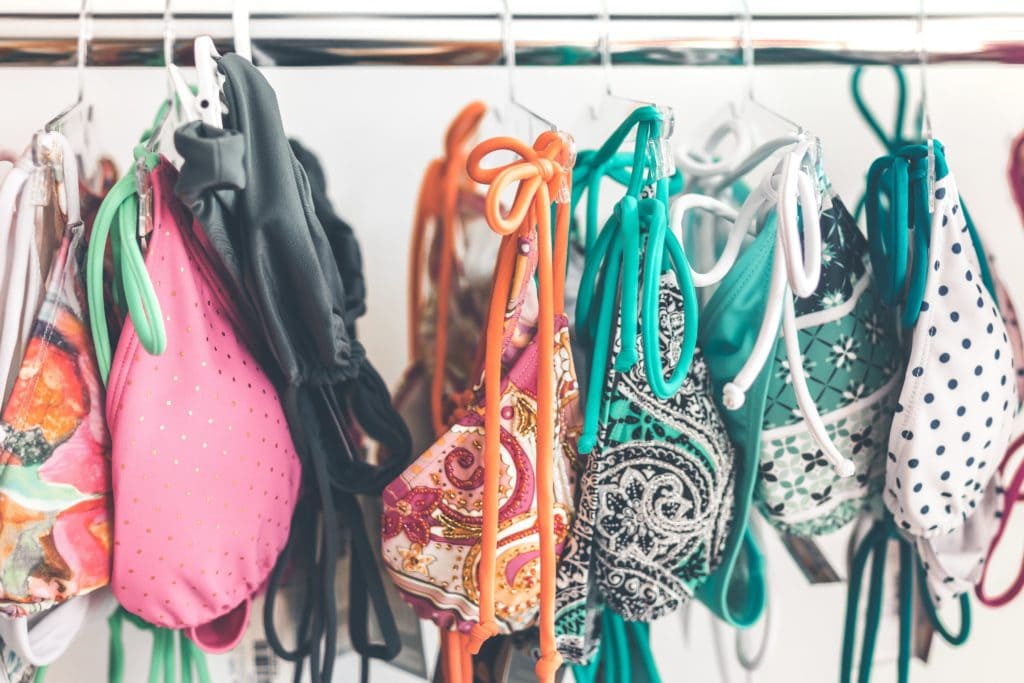 Swimsuit season is still a little ways away, but if you're like us here at CF, you know that it's never too early to plan what you're going to wear during the coming weeks and months.
This is particularly true when it comes to swimsuits.
Swimwear is one of the most frustrating fashion categories to shop for, based on the sheer amount of choices you have to make before you even decide to try a suit on. For example, do you want to go with a one-piece or a two-piece? Solid or print? Lots of coverage or a little less? …And so on.
All of these choices are made even more difficult when you factor in a college student's budget, as well as the fact that, despite it being 2019, most retailers still haven't caught up to the idea that women of all shapes and sizes want to buy swimsuits, and want to look and feel beautiful in them as well.
That's why I've compiled a list of six of my favorite swimsuits on the market right now. My goal is to help make your swimsuit shopping just a little easier.
The best parts? Every option shown here costs less than $100.00! As well, I've made sure to choose options that are actually stylish and will work for every body.
Ready to see these beautiful bathing suits? Just keep scrolling!
1. Large Floral-Print One-Piece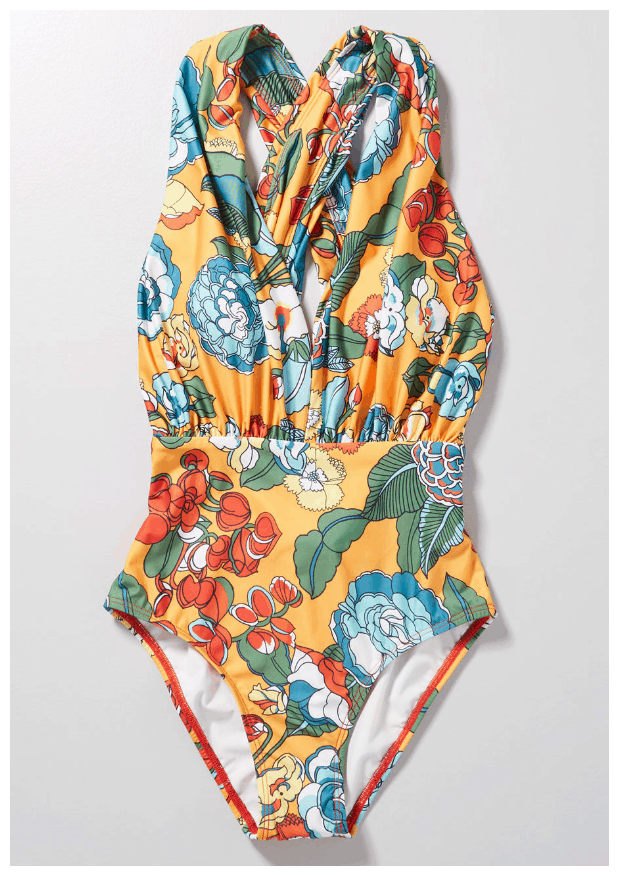 Available at Modcloth in sizes XS-3X
This fun and fabulous one-piece swimsuit is swimwear perfection; not only is the cut super-flattering on a wide variety of body shapes, the statement-making print is striking enough to make a statement, but classic enough that you'll have it for years to come. Not only that, but its bright color scheme makes it easy to style with a wide variety of cute cover-ups.
2. Khaki Green Retro-Inspired High-Waisted Bikini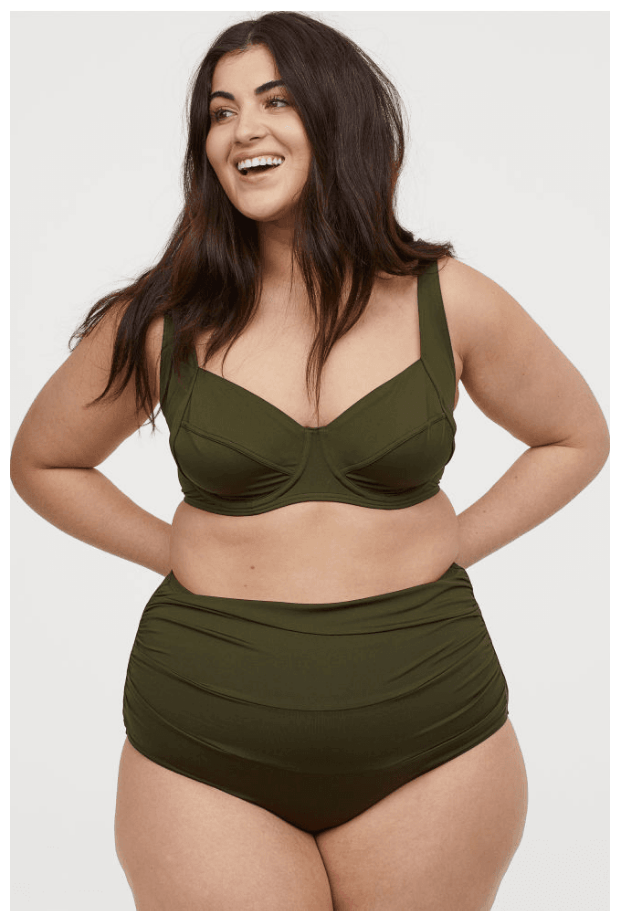 Bikini top available at H&M in sizes 36D-38F; bikini bottom available at H&M in sizes 12-22
If statement-making prints aren't your cup of tea, don't think that you have to go with something boring. This bikini, with its fun, retro-inspired silhouette and khaki green color — a stylish but subtle change from basic black — is sure to turn heads for all the right reasons!
I also love how the top features thicker straps and a wider band, both of which work wonders when accommodating a fuller bust.
3. Lavender Tie-Front Keyhole One-Piece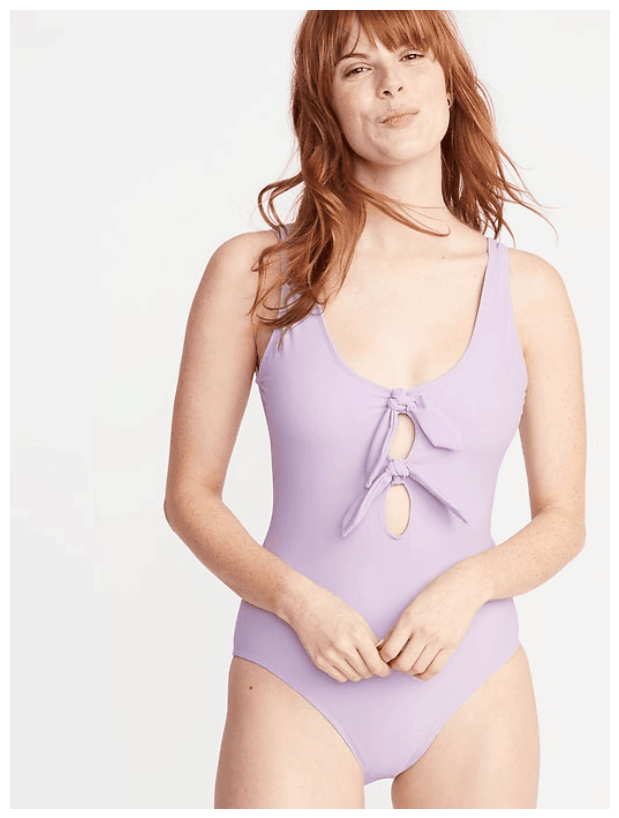 Available at Old Navy in sizes XS-XXL
This feminine one-piece has the prettiest tie details that take it from simple to stand-out. As well, its lavender color is sure to look good on just about everyone, whether you're pale-skinned, tan, or have a deep complexion.
I really like the idea of styling it with a wide-brim straw hat and a white sarong for a look that's as timeless as it is chic.
4. Small Floral-Print Underwire Triangle Bikini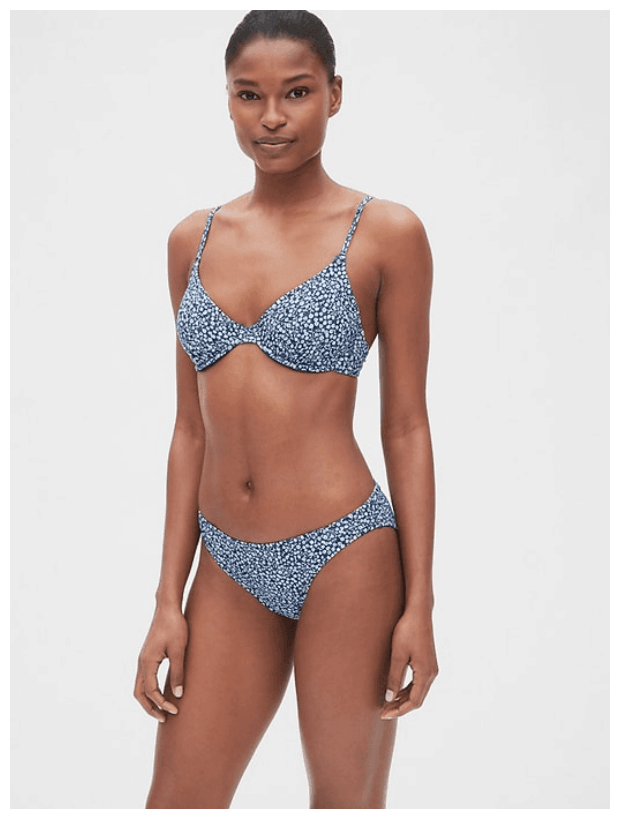 Bikini top available at Gap in sizes XS-XL; bikini bottom available at Gap in sizes XS-XL
If your beach style skews towards the more "traditional" side of things but you're still looking to mix things up a little, look no further than this super-cute blue-and-white floral-print bikini!
The underwire top offers support, while the bottom offers a little more back coverage, which is especially important if you plan on moving around. Finally, the sweet and sophisticated floral print is perfect for anyone who wants to try out a patterned suit, but doesn't want anything that's too over-the-top.
5. Black-and-White Piped One-Piece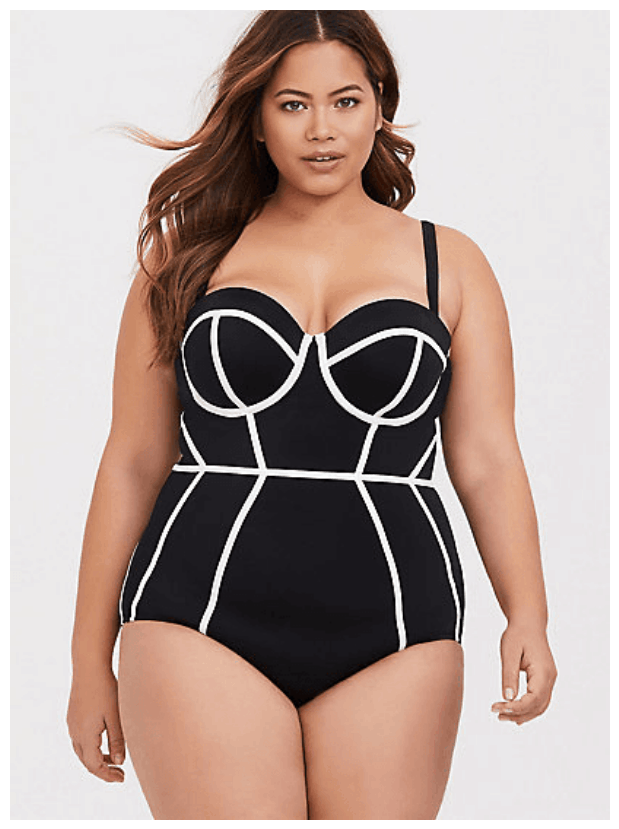 Available at Torrid in sizes 00 (M | 10)-6 (6X | 30), in Regular Cup or Full Cup
I have to admit that this gorgeous piped one-piece swimsuit is one of my favorites on this list, and for good reason: Its black-and-white color scheme is as classic as it gets, while the vintage, boudoir-inspired piping details really show off your shape.
This suit would look great not only on the beach, but also styled with a flowy midi or maxi skirt and espadrille wedges for a post-swim lunch/dinner by the water.
6. Blue-and-White Seersucker Long-Line Halter High-Rise Bikini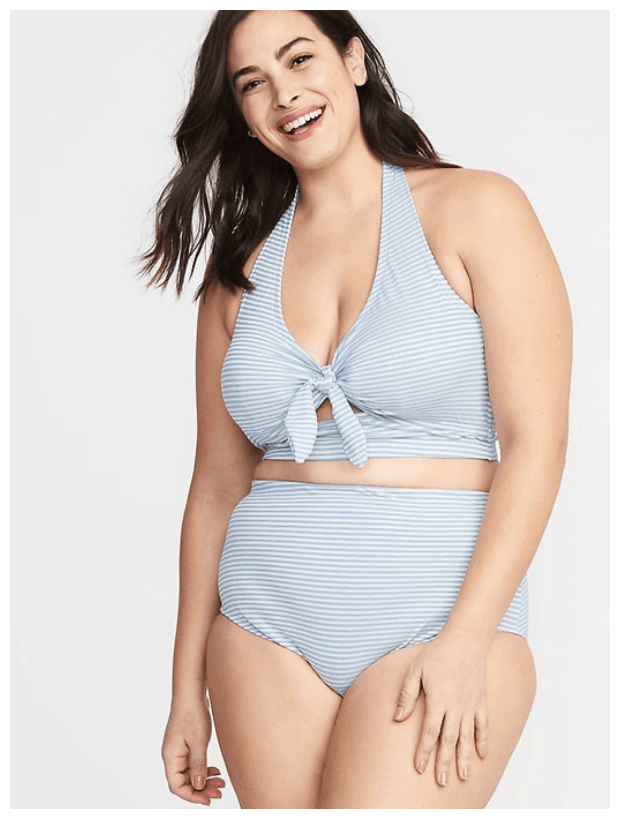 Bikini top available at Old Navy in sizes 1x-4x; bikini bottom available at Old Navy in sizes 1x-4x
For all the preppy girls out there, this lovely blue-and-white seersucker bikini is just what you need to take your put-together look from everyday to beach day!
The keyhole halter silhouette of the top is simultaneously covered-up and a little revealing, making it an ideal compromise between modest and more showy styles. What's more, the swimsuit's subtle print would look great styled with denim cut-offs and flip-flops for a more casual look, as well as with a brightly-colored kaftan and strappy sandals for something a little more dressed-up.
What do you think?
Where do you like to shop for budget-friendly swimsuits that fit your body type? Do you prefer a subtle swimsuit style, or something a little more jazzed-up? Which of the swimsuits featured above is your favorite?
Let me know in the comments!