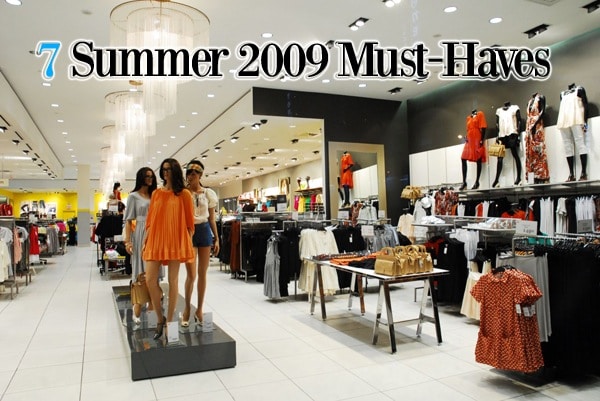 I've been meaning to write this post for a while after many reader requests for a "summer must-haves" list! There are so many great trends going on this summer, and it so was tough to choose just a few of the hottest items. I've finally narrowed it down to the top 7 fashion must-haves for summer 2009.
Of course, the phrase "must have" might be a little misleading – as always, if something doesn't fit with your personal style or body type, feel free to pass! Trends are for experimentation and not all of them are for everyone.
In no particular order, here are 7 of the hottest items you'll want to have in your closet this summer.

A Long Dress
The maxi dress trend is a prime example of a popular look that's still going from last summer. These dresses were hot in '08 and they're hot again for '09. If you don't own one yet, what's stopping you?
Long dresses are the perfect thing for warm weather because they're comfortable, flattering, and oh-so-summery. And if short-shorts are not your thing, long dresses are the perfect way to stay on-trend without revealing more than you feel comfortable with. Perfect for the beach, a casual day of shopping, or even date night.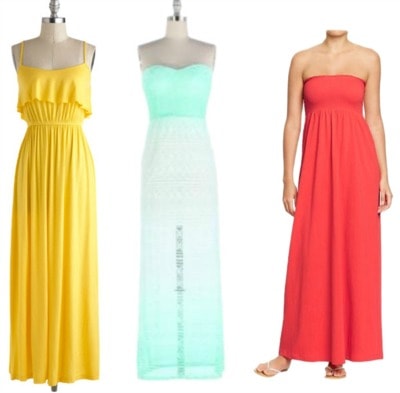 Product Information (left to right): Ombre Dress – Pacsun.com, Cross Back Maxi Dress – Arden B., Tye Dye Tank Maxi Dress – Forever 21, Boho Print Maxi Dress – Wet Seal, Beaded Halter Maxi Dress – Charlotte Russe, Retro Striped Maxi Dress – Charlotte Russe

A Serious Pair of Platform Heels
Height is everything in fashion right now, so when it comes to summer footwear, the higher the better! Of all the summer footwear trends, platform heels are at the top of the list – such an essential for nights out.
When it comes to platform heels, there are so many ways you can go. If you want to channel your inner rocker chick, a pair of studded leather platforms should do the trick. More earthy bohemian? 70's style wedges with a wooden heel might be right up your alley.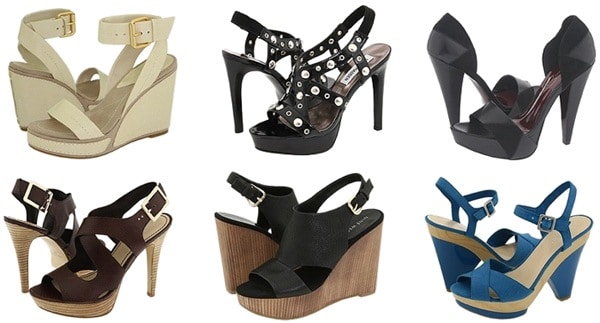 Product Information (clockwise from top left): (All shoes from Zappos.com) – Nine West "Rotten", Steve Madden "Mellissa", Jessica Simpson "Rhauma", Nine West "Kwest", Nine West "Yoel", Nine West "Ira"

Anything Studded
Studs are HUGE right now, and anything you can find with studs on it is hot in my book. The addition of metal studs to everything from leather to denim adds a rocker-chick edge with a little hint of 80's flair – definitely on-trend!
From bags and shoes to jewelry and clothing, metal stud embellishment is a huge trend for summer if you want to make your look a little more edgy. But be careful with this one! It's easy to overdo it. To avoid looking costumey, keep the studs to one or two pieces in your outfit, and make sure the rest of your look is demure for contrast.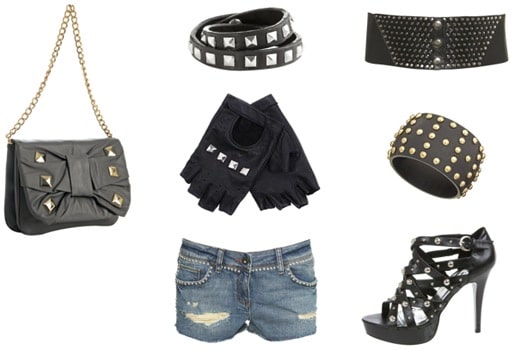 Product Information: Felix Rey "Jean" Bag – Bluefly, Stud Wrap Bracelet – Wet Seal, Gloves – Asos, Shorts – TopShop, Elastic Belt – TopShop, Wooden Studded Bangle – TopShop, Heels – Charlotte Russe

A Short Dress
Long dresses aren't the only summer essential – short dresses, as always, are in as well. After all, summer just wouldn't be summer without the summer sundress.
This year, dress styles are more figure-flattering than ever. Fashion has moved away from the billowy baby-doll dress (you know, the ones that made even the models look pregnant), and towards a cinched-in hourglass shape. These new styles of dresses work on almost every body type, creating curves where there are none and showing off natural curves. There are also so many styles to choose from this season – from strapless and floral to simple and color-blocked. The choice is yours this summer.

Product Information (left to right): Floral Cross-Back Dress – American Eagle, Strappy Sundress – TopShop, Rose Dress – H&M, Scallop Skirt Dress – TopShop, Fab Colorblock Dress – Forever 21

Gladiator Sandals
The footwear trend that keeps on going. Gladiator sandals and heels were super hot last summer and have continued on into this summer.
There are a million ways to wear gladiator sandals, which is what makes them such a summer essential. Pair them with skinny jeans and a tank for a casual day look, wear them with a breezy dress to the beach, or even with a high waisted skirt and a top tucked in. They add casual cool to any outfit and they truly are a versatile essential for summer.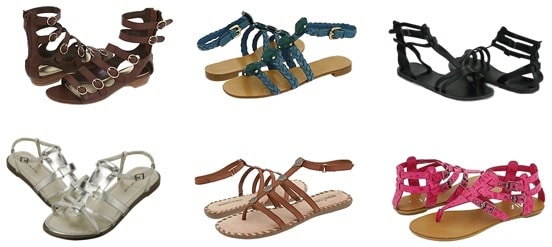 Product Information (clockwise from top left): Nine West "Usman" – Zappos.com, Nine West "Radiowave" – Zappos.com, Irada Gladiator Sandals – Forever 21, MIA "Hydra" – Zappos.com, Minnetonka Warwick Ankle Strap – Zappos.com, Silver Gladiator Sandals – Payless

One-Shoulder Tops & Dresses
I talked about the one-shoulder trend on the first day of 2009, and it proved to be a hot trend for spring and one of the emerging trends for summer 2009. Asymmetrical tops and dresses are everywhere and there are so many cute and affordable options in stores right now!
One-shoulder tops work great for nights out if you keep the color dark and go easy on the bling. Too many accessories and you could look a little more "ready for the club" than fashionable & fabulous. One-shoulder dresses are also super chic right now, and there are tons of cute options in stores. I'm especially loving the cutout one from TopShop below – so sexy yet fashion-forward at the same time.
Product Information (clockwise from top left): Color Block 1 Shoulder Top – TopShop, 1 Shoulder Tee – TopShop, One-Shoulder Floral Top – Charlotte Russe, Striped One Shoulder Vest – TopShop, One-Shoulder Flutter Top – Charlotte Russe, Mesh Insert One Shoulder Tunic – TopShop

A Stylish Pair of Shorts
What summer essentials list would be complete without shorts? Forever a summer staple, this year's hottest shorts aren't ripped up cutoffs, but cuffed denim and twill pieces that give off a classy, polished vibe.
There are so many ways to wear this summer's hottest shorts. You could pair a simple denim pair with a drapey top, plenty of bangles, and metallic Havaianas. Or what about with a simple tank, well-cut jacket, and heels for a night out? The options are endless. One thing's for sure – you need a pair of shorts in your wardrobe this year!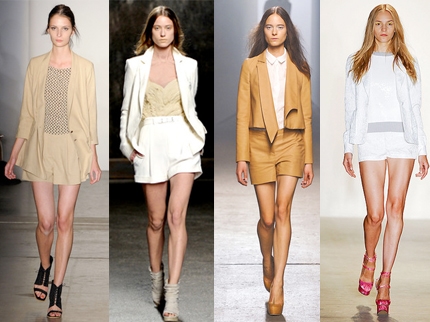 Product Information (clockwise from top left): Hurley Lowrider Short – Pacsun.com, Dickies Stretch Women's Shorts – Tilly's, Hurley Lowrider Blue Shorts – Pacsun.com, Grey Cuffed Shorts – Forever 21, Tonal Plaid Short – Wet Seal, Fairtrade Hotpants – TopShop
Your thoughts?
So there you have it – the 7 fashion must haves for summer 2009! Now that you've seen my choices, I'd like to know what you would add to this list. What are you wearing 24/7 this summer? What pieces do you consider essentials?
Comment with your thoughts – I can't wait to hear what you all think!