This post may contain affiliate links, which means we may receive a commission if you purchase through our links. Please
read our full disclosure here
.
Award winning actor Johnny Depp is best known for his captivating portrayals of memorable characters (and two-time "Sexiest Man Alive" titles), but today, Johnny is the subject of this week's fashion inspiration post!
Johnny Depp got his start in the 1980s with the television show 21 Jump Street, and soon began working on films and famous collaborations with director/writer Tim Burton. Depp has played title roles in movies such as Edward Scissorhands, Sweeney Todd, Ed Wood, and everyone's favorite adventure series, Pirates of the Caribbean. He's also known for adding human elements to somewhat twisted characters such as George Jung in Blow and Hunter S. Thompson in Fear and Loathing in Las Vegas.
(For more in our series on Stylish Men, check out our posts on Mick Jagger, Freddie Mercury, Andre 3000, Kurt Cobain, Michael Jackson, and Seth Cohen from the O.C..)
Sure, our boy Johnny's got talent when it comes to acting, but his style deserves some accolades as well! Eagerto steal some of Johnny Depp's eccentric style? Read on!
Keys to Johnny Depp's Style
Part of Johnny Depp's appeal is that he comes off as too artistic/free-spirited to give a hoot about what he is wearing. Whether this aesthetic is pre-meditated or not is arguable, but everyone can agree that his style is distinctive, mysterious, and quirky. Johnny Depp almost always includes a hat, scarf, and boots in every outfit he wears. Depp also frequently wears thick-framed glasses or sunglasses, piles of tough jewelry, vests, and stylish outerwear.
Depp is also known to wear clothes that look a little tattered. To look chic and not sloppy, pair ripped jeans or a frayed sweater with nice pieces so people get the idea that your look is intentional. Lastly, layer layer layer! It's one of Johnny Depp's signatures.
Need a few ideas to get you started? Read on!
Outfit Inspiration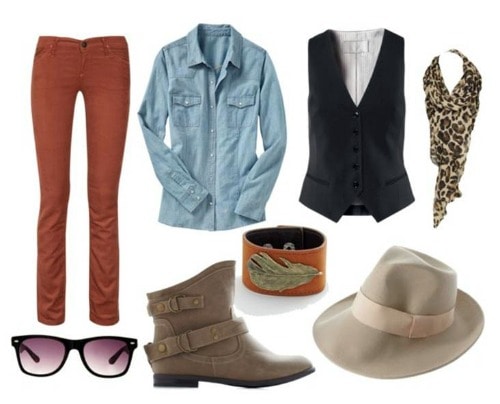 Pants, Shirt, Vest, Scarf, Boots, Bracelet, Fedora, Sunglasses
For this look, start with a comfy pair of skinny cords, and add a cozy chambray shirt. Add some badass style with a black tuxedo vest and biker boots. Add a leopard scarf for a girly touch, and finish with a fedora, leather bracelet, and sunglasses for a hint of Johnny Depp's style.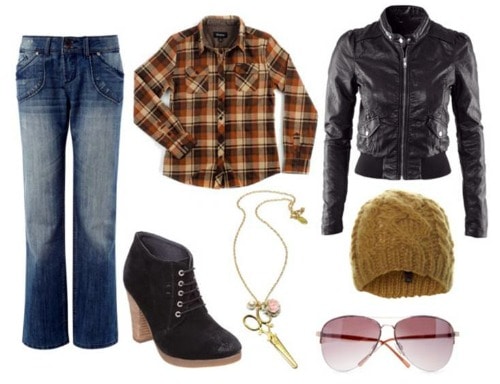 Pants, Shirt, Jacket, Boots, Necklace, Sunglasses, Beanie
This look is reminiscent of Johnny's style in the '90s, back when he was dating Kate Moss! A plaid shirt over loose jeans creates a simple base for a slightly grungy outfit. Add a black moto jacket and black boots, and a beanie to stay warm in the winter months. Finish with a pair of aviator sunglasses and a necklace with a scissor charm, referencing either Edward Scissorhands or Sweeney Todd: the Demon Barber of Fleet Street!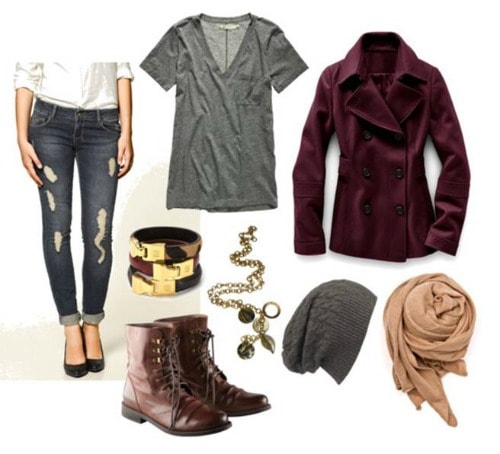 Jeans, Shirt, Coat, Boots, Bracelets, Necklace, Scarf, Beanie
This next look is versatile enough for class, running errands, or even a casual date! This trick to pulling off distressed denim without looking sloppy is finding a pair that is just a little worn — hand wash them to ensure that they don't fray even further! Add a basic v-neck and your trusty peacoat, and lace up your favorite pair of combat boots. Finish the outfit with a thick scarf, slouchy beanie, leather bracelets, and a necklace.
What Do You Think?
Do you like Johnny Depp's style? Do you think it translates well to women's fashion? Who else would you like to see CF cover next? Be sure to let us know your thoughts by leaving us a comment!