This post may contain affiliate links, which means we may receive a commission if you purchase through our links. Please
read our full disclosure here
.
Hello again, friends. After many weeks of anticipation, we've finally gotten to the most requested musical of this series — thePhantom of the Opera!
I know, I know, this post is way over due — the truth is, it took a bit of thinking for me to translate Phantom's gorgeous, elaborate costumes into something wearable in everyday life. I mean, I find hoop skirts and corsets to be a bit uncomfortable for trekking across campus or taking a midterm, but that's just me. However, just because the silhouettes of Phantom costumes are a bit outlandish for everyday life doesn't mean we can't take other elements from everyone's favorite musical–the rich ruby hues, gold jewelry, white lace, and heavy velvet featured in the film and stage productions left me totally inspired!
Just in case you missed past posts in this series, check out the articles on fashion inspired by Rent, Wicked, and Les Miserables, plus a post on everything you need to know before attending a midnight showing of Rocky Horror Picture Show.
Ready to get your inner Prima Donna on? Read on!
Angel of Music
In case you aren't familiar with Phantom, here's a brief summary:
Christina, the central character of this tale, becomes the object of infatuation for the Phantom, a disfigured musical genius who lurks in the darkness of a theater. The musical features elaborate costumes and special effects — notably the dungeon canal and giant chandelier. It was written by Sir Andrew Lloyd Webber in 1986, during a sort of Broadway Renaissance that popularized rock operas and epic plotlines on the Great White Way.
Let's just get this little tidbit out there, too — this musical is freakin' sexy. Andrew Lloyd Webber actually refers to Music of the Night as one of the most sensual songs he's ever written. Pick up the film starring Gerard Butler and Emmy Rossum if you don't believe me — or catch David Cook or David Archuleta's cover versions of songs from Phantom if you need further proof. Raoul's pure, innocent love for Christine and the Phantom's tragic, misunderstood persona will make your heart ache!
This story takes place at a theater in France in 1881, and the costumes reflect this. Much of Phantom of the Opera is an opera within a musical, so many of the costumes worn are well, meant to look like costumes. Elaborate embellishments like gold bangles and necklaces, feathers, velvet and lace tops and skirts, and jewel tones are seen in almost every costume. To capture the essence of Phantom's look, think the exact opposite of Rent and Les Miserables and dress for luxury instead!
Carlotta
Carlotta, the snooty Prima Donna soprano, annoys the cast with her diva-like commands and is eventually replaced by Christine. She is extremely dramatic, which is reflected both in her actions and the way she dresses.
To snag her look, pair rich fabrics with loads of jewelry and accessories — a gold scarf and a feathered turban will get you the aesthetic without making you look like you're in costume. Be sure to finish with dramatic makeup and a lot of attitude!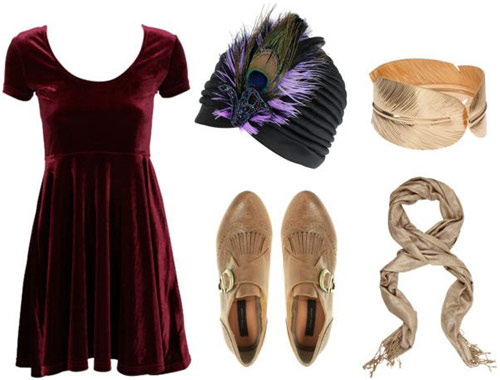 Dress, Turban, Bracelet, Shoes, Scarf
Chorus Girls
Before taking over Carlotta's spot as the leading soprano, Christine was just a lowly chorus girl. Their richly beaded and detailed costumes for the play-within-a-play are right on trend with what's popular today!
An easy way to wear a cropped top is to pair it with a maxi skirt — the conservative look of the skirt will contrast nicely with the trendiness of the top. For the Phantom look, pair it with large gold jewelry and bedazzled sandals.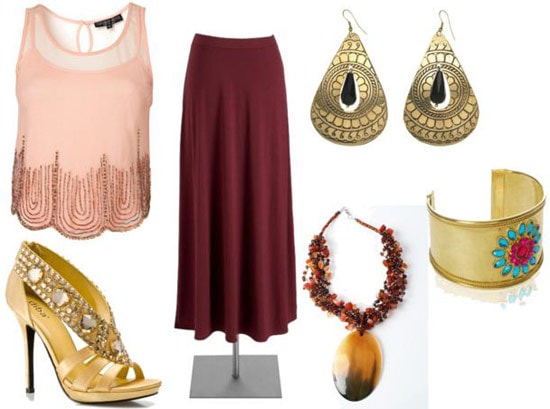 Top, Skirt, Sandals, Earrings, Necklace, Bracelet
Christine
Christine, the heroine of the musical, is torn between her love for Raoul and her allegiance to – and fear of – the Phantom. She is seen wearing soft colors throughout the show, mostly ivory and pink tones with lots of ruffles and lace.
Steal her look by pairing a white lace dress with a gold statement necklace, tights, lace-up heels, ruby earrings, and a signature rose ring. Now work on your vocal scales because not only are Christine's songs impossible not to sing along to, but they're also crazy hard to execute — my renditions of Think Of Me are reserved solely for my shower. Bathroom acoustics are forgiving!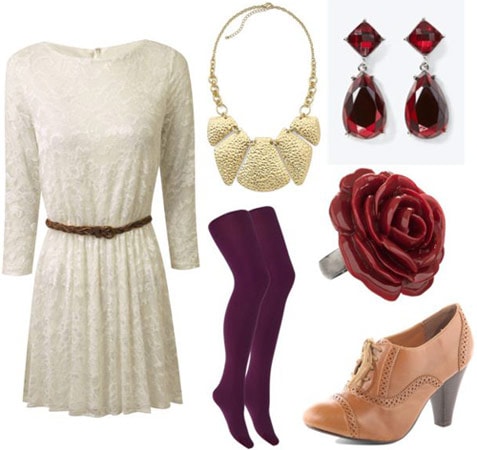 Dress, Necklace, Earrings, Tights, Ring, Shoes
Phantom
The mysterious Phantom is both feared and revered in the musical. Played by the smokin' hot Gerard Butler in the film adaptation, I'd let him whisk me off into his lair anytime he'd like! I'm out of control, I know.
The Phantom pretty much wears a classic tuxedo throughout the entire story. I think it's so cool when girls wear tuxedos to formal events — think Angelina Jolie on the red carpet of the 2001 Oscars! Girl it up with a ruffled top, metallic shoes, and girly driving gloves.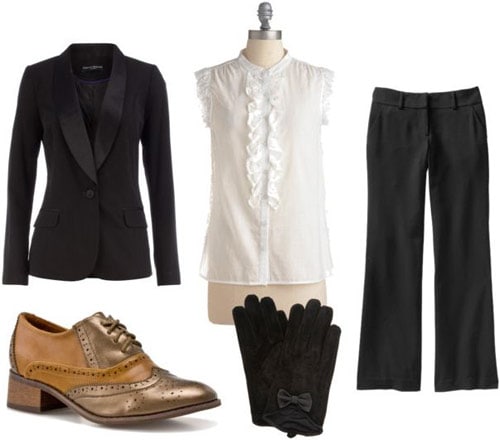 Jacket, Top, Pants, Gloves, Shoes
Let Your Fantasies Unwind!
Have you seen Phantom? Do you prefer the film or the stage production? What are your favorite songs? What other musicals would you like to see CF cover? How do you seek inspiration from dated costumes? Leave us a comment and tell us what you think!