This post may contain affiliate links, which means we may receive a commission if you purchase through our links. Please
read our full disclosure here
.
So, back in my day I was a bit of a theater geek. I was in 3 or 4 musicals a year, I would be devastated (and subsequently dramatic) if I didn't get a part I wanted, and was a member of my high school's show choir far before Glee made it cool. The Thanksgiving break that the movie version of Rent came out, my friends and I went to see the 9:15 am showing (because they didn't offer a midnight screening). Yeah, I was a dork back then and I still am today.
Get ready, girls, because we're digging deep and drawing inspiration from the motion picture Rent this week. Yes, you're about to view ensembles inspired from a videographer, a failed musician, a college professor, a stripper, a cross dresser, a lawyer, and a street performance artist – and they'll all be real-life-wearable. Don't think it can be done? Read on!
Seasons of Love
Rent (a movie version of the original musical) is about a group of friends living in New York City in the late '80s/early '90s, who face the issues affecting young people at the time. The film touches on everything from unemployment to intravenous drugs, creative blocks, AIDS, and love.
Despite all of their problems, the characters in Rent find a family in each other and help one another through their struggles. If you think that sounds like a strange premise for a film, believe me, it is. But it's also truly fabulous.
The film takes place over the winter, making it a great film to inspire outfits for the fall. Every ensemble worn by a cast member is layered in an artful way that's true to their NYC style. Rent characters incorporate many different textures, colors, and patterns into their outfits, and complete their looks with sturdy boots and scarves. The cast's looks also have a touch of bohemian flair — after all, they all living la vie boheme!
Roger and Collins
Roger and Collins have similar styles in Rent. The film takes place between 1989 and 1990, and Roger and Collins' outfits reflect the grunge style of the time. They frequently wear denim, corduroy, flannel, and leather.
To get their looks, try layering practical, utilitarian pieces on top of one another. I love the way Roger, a guitarist, rocks a knit scarf with a tough-looking leather jacket in the photograph above. The vest that NYU professor Collins is wearing in the picture above is a little too manly for my liking, but how cute would a puffer vest from the mall look over a plaid shirt and a pair of skinny jeans?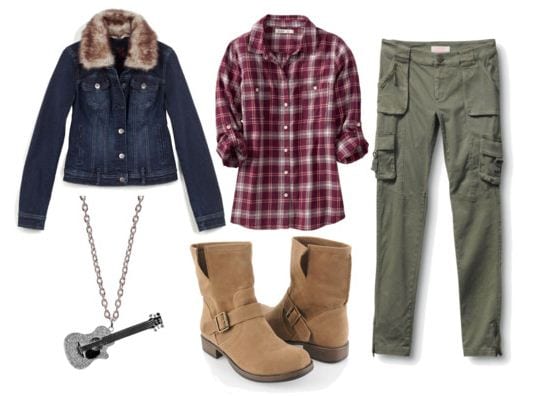 Denim Jacket, Plaid Shirt, Skinny Cargos, Boots, Necklace
Angel
Angel, a cross-dressing busker, is oddly the only one in the group that ever has any money — despite the fact that he dates Collins, a college professor, and they're friends with Joanne, a Harvard-educated lawyer. Besides bankrolling the group's excursions, Angel enjoys dancing, drumming, and dressing up like Santa Claus.
Steal some of his eccentric style (without looking like a drag queen) by pairing bright colors with animal print, but leave the rest of the outfit really simple. Just add some fierce ankle booties and some small but fun jewelry.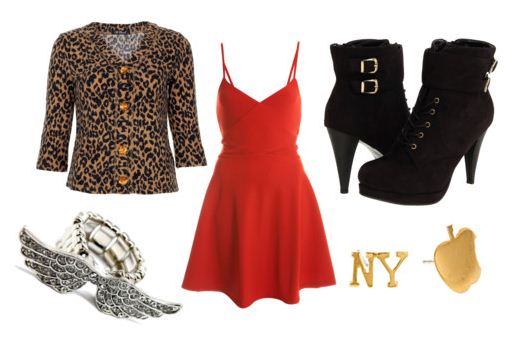 Leopard Cardigan, Dress, Booties, Angel Ring, NY Big Apple Earrings
Mark and Joanne
Mark and Joanne are the only two members of the group (well, besides Collins) with "real" jobs — this requires them to dress more professionally than their friends. Mark and Joanne both layer blazers, sweaters, and scarves, but unlike the other people in their group, the pieces they wear are tailored and more mainstream in appearance.
To copy their style, combine corduroy blazers, khaki chinos, loafers, and Mark's signature striped scarf for a New York-edgy (yet still business casual) look.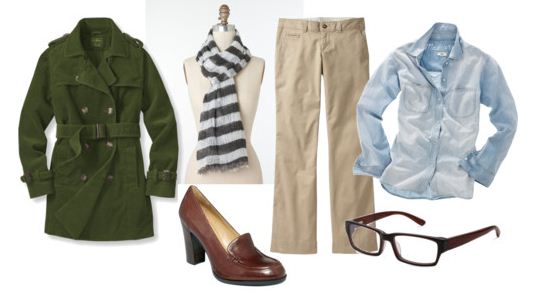 Coat, Scarf, Pants, Shirt, Loafers, Glasses
Maureen
Maureen, played by everyone's favorite Broadway star Idina Menzel, is truly the spitfire of the group. She is a "performance artist," singing bizarre songs and reciting crazy monologues in protest of things around town.
Her over-the-top personality matches perfectly with her bold fashion choices. Maureen likes tight-fitting outfits, and showing off a little cleavage or midriff. One of her most memorable outfits in the film is the black catsuit she wears on New Year's Eve (pictured above).
Copy her style by pairing fancy leggings with a body-con dress or a flashy tunic for a more wearable interpretation of something Maureen would rock. And don't forget to add plenty of confidence!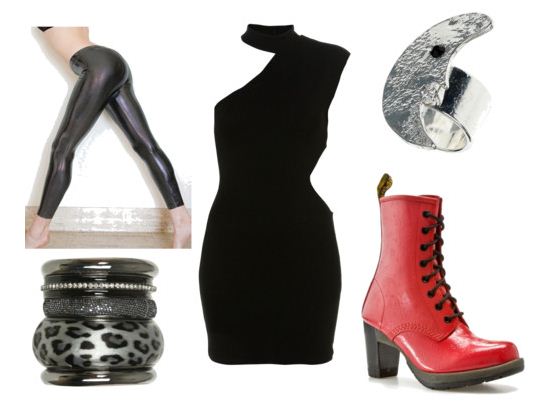 Leggings, Body-Con Cut Out Dress, Bangles, Boots, Moon Ring
Mimi
Ah, Mimi. Homegirl is definitely the hot mess of the group. Mimi spends her days exotic dancing, shooting up heroin, sneaking into her neighbor's apartments, and singing on tables at the Life Cafe. Despite her obvious shortcomings, Mimi has some seriously inspirational street-urchin style. She is seen layering mini skirts over leggings and boots, rocking fur coats, and has dozens of hat-and-scarf combinations.
Get some of Mimi's boho-grunge-borderline-homeless look by mixing unexpected pieces together, and rocking it all with a serious dose of attitude. Here, I layered acid wash skinnies with a striped top, burgundy cardigan, and fur coat, tying it all together with a fedora and badass boots.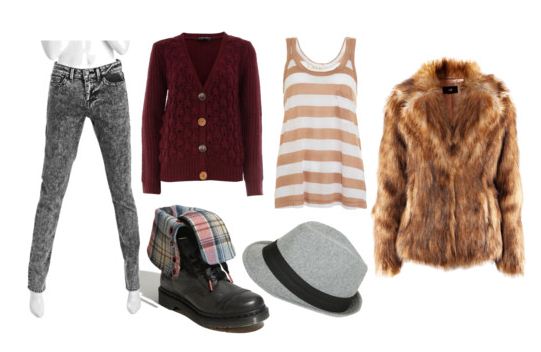 Jeans, Tank, Cardigan, Coat, Combat Boots, Fedora
What Do You Think?
Have you seen Rent? What are your favorite parts? What do you think of the style seen in the film? How do yo feel about 90's fashions returning? What other movies inspire you? Leave us a comment and let us know your thoughts!