This post may contain affiliate links, which means we may receive a commission if you purchase through our links. Please
read our full disclosure here
.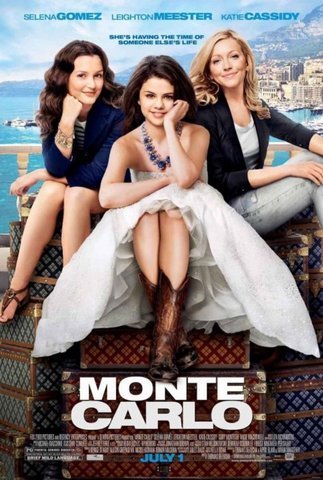 What better way to spend your summer than by taking a trip to somewhere you've never been? In their new movie Monte Carlo, Selena Gomez, Leighton Meester, and Katie Cassidy do just that. The film, which was released on July 1st, follows the adventures of three friends posing as wealthy socialites in Monaco and is an adorable summer flick to see with your friends.
Whether or not you have the luxury of traveling to a new place this summer, you can channel the looks from this fun summer film no matter where you're located. Below, I'll show you how to create three fabulous looks inspired by the characters from Monte Carlo.
Grace Bennett (Selena Gomez)
Top, Tank, Jeans, Boots, Bag, Belt
Being the youngest of the girls, Grace's style is definitely the most relaxed of the group. She rocks a comfy-chic aesthetic throughout the film, relying heavily on her trusty pair of cowboy boots. Her sweet pastel babydoll tops also serve to remind us that she's a country girl at heart. Layering is a big part of her style, achieved by wearing light tanks under flowy peasant blouses. Jeans tucked into boots and a simple shoulder bag finish off her country cutie look.
Meg Kelly-Bennett (Leighton Meester)
Blazer, Top, Shorts, Shoes, Bag
The ultra-classic Meg knows how to keep it sophisticated and timeless in her everyday wear. She's most likely to be seen in preppy clothing, particularly blazers in traditional tones. Her signature striped sweater channels a perfect hint of the nautical trend while keeping her looking right at home in France. To relax her oh-so-classic style, she wears a pair of sandals while wandering the streets of Paris. Her simple and subtle outfits are easy to pull off no matter where you venture to this summer.
Emma Perkins (Katie Cassidy)
Top, Vest, Flower, Skirt, Pumps, Clutch, Belt
This Texas Barbie doll loves to make a statement with her clothing choices. Emma's outfits tend to be very girly and trendy, often incorporating florals, pastels, or both. Layering is also a big part of her outfits – note the t-shirt and vest layered over one another in the photo above. When it comes to shoes, pumps are her footwear of choice. They may not be the most practical for lots of walking, but they are definitely stylish. Channel Emma's look with a fabulous pair of heels, but sneak a pair of flats into your bag for when your feet get tired!
What do you think?
Would you wear any of these looks over the summer? Which one is your favorite? Or do you like a combination of the looks? Did you see Monte Carlo? If so, did you find it inspiring, fashion-wise?
Let me know in the comments!