This post may contain affiliate links, which means we may receive a commission if you purchase through our links. Please
read our full disclosure here
.
Lou Doillon, the offspring of English actress, model and musician Jane Birkin, inherited much of her mother's effortlessly chic, tomboyish style. And like her mother and half-sister Charlotte Gainsbourg, she is more than a just pretty face. She has been the face of Givenchy, designed a capsule collection for Lee Cooper, acted in countless films (thanks in part to her father, French director Jacques Doillon), graced the pages of ParisVogue and VogueUK, modeled for the infamous Pirelli calendar, and much more.
And with Mother's Day coming up on May 9th, it seemed like the right time to spotlight someone who reminds us so much of her mother. So keep reading for more style inspiration from this mother-daughter duo just in time for Mother's Day.
Monochrome Inspiration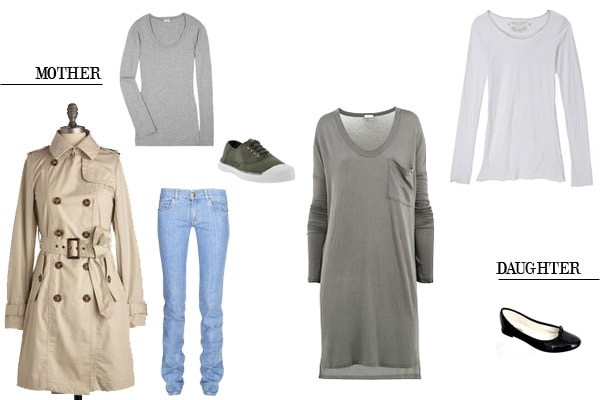 Product Credits: (Mother) Vintage Trench Coat, Long-sleeved Gray Shirt, Jeans, Bensimon Sneakers, (Daughter) Gray Dress, Long-sleeved white t-shirt, Repetto BB flats
The above photo of Jane Birkin and Lou Doillon is one of my favorites; they both look so relaxed and comfortable with each other that it is hard not to be inspired to create equally relaxed and comfortable outfits.
The Bensimon sneakers featured above have a very rich history, as perennial favorites of Jane Birkin. Even better, they are affordable (at only $55) and very practical, something every mother can appreciate. And like the Bensimon sneakers, the Repetto BB flats (on the "daughter" side above) have a rich history, too. They were named after Brigitte Bardot in 1956 and were *the* original ballet flats.
Like Mother, Like Daughter
Photo Credit. Product Credits: (Mother) Dress, Heels. (Daughter) Dress, Heels.
I fell in love with this photo when I first saw it. It reminded me of my middle school days when I used to buy the same heels as my mother just because her love for fashion was infectious. Now, it's interesting to see how much our styles have deviated from one another. My mother continues to wear bright, neon colors, body-conscious clothes and high heels and I wear navy blue, white, black, and nude, almost everything oversized and have sworn off heels. Go figure.
And although Lou Doillon's style doesn't seem to have deviated from her mother's, when she was younger she rebelled against her mother's iconic style in favor of red dreadlocks, a body piercing or two and thrift shops. Lou toldThe Guardian,
My mother and I have a typical mother-daughter relationship about clothes. I used to dress up a lot to go against her easy-going look but recently I borrowed her YSL blouse.
If you have a bit of an edge to your style like Lou, the shredded dress above will probably appeal to your aesthetic. And if your mother is anything like my mother, she will appreciate this white Halston Heritage Deep V Cocktail dress. (It was worn by Sarah Jessica Parker in Sex and the City.)
The Birkin Basket & The Doillon Top Hat
Photo Credit: 1, 2. Product Credit: Wicker Basket, Top Hat
The $10,000 Hermes Birkin bag was named after Jane Birkin, but, funny enough, she was much more likely to be seen carrying around a wicker basket. The basket featured above was made in a small Portuguese town called Algarve and although it costs just $33, having it shipped from Portugal to the U.S. will push the total to $105. Still, that's $9,895 less than the Hermes Birkin bag.
Lou Doillon may not carry around a basket but her love of top hats is just as iconic and eccentric as her mother's love of wicker. The top hat above is great, practical choice to add a little bit of quirky elegance to your style and channel Lou's look.
What do you think?
Would you and/or your mother wear any of these looks? What are your plans for Mother's Day? Have you inherited your mother's style? Do you borrow from your mother's closet? As always, let us know with a comment.