This post may contain affiliate links, which means we may receive a commission if you purchase through our links. Please
read our full disclosure here
.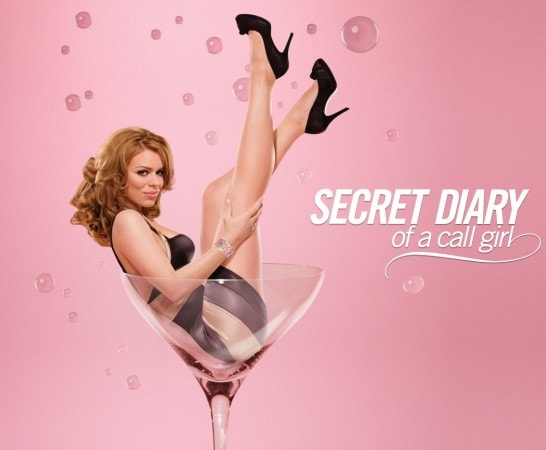 Promotional Image for Secret Diary of a Call Girl, Starring Billie Piper. [Photo Credit]
One night, while attempting to find a replacement series to fill the void left by Sex and the City, I stumbled upon the UK gem that is Secret Diary of a Call Girl.
The based-on-a-true-story series, starring Billie Piper (You might remember her as 90s pop princess "Billie," the girl behind "Because We Want To" and "Girlfriend!"), follows the adventures and exploits of Hannah Baxter, a young, attractive, well-educated London woman living a double life as courtesan named Belle.
The show is a total guilty pleasure: crazy storylines, cute British boys with even cuter accents, and amazing high-street inspired fashion. It's the perfect combination of funny, sweet, and sexy. All things considered, it's actually a pretty decent substitute for SATC– and like Ms. Bradshaw, Belle is a published writer herself! Both fashionable women in their own rights, Hannah and Belle have amazing wardrobes. From casual to sexy and everything in between, Hannah and her alter-ego have it covered.
Interested in imitating either Hannah or Belle's style? CF has your back! Read on and get inspired.
Elements of Hannah's Style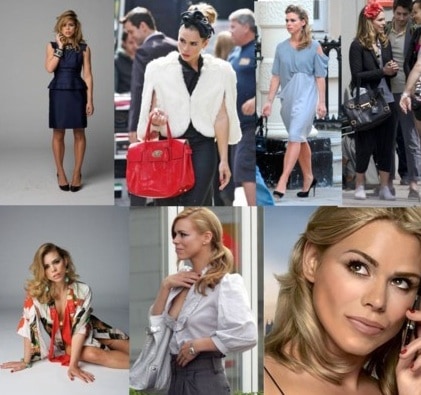 Structure. Hannah's looks are streamlined, and each one incorporates an element of structure. She goes for blazers, shoulder pads, and peplums, all of which promote a more sophisticated, conservative vibe than the clothing worn by her alter ego.

Simple hair and a fresh face. The easiest way to tell Hannah from Belle is to note Piper's changes in hair and makeup. Hannah often pulls her hair back, sweeps it away from her face, or simply wears it down with a subtle wave. Her makeup is minimal and natural, avoiding heavy eyeliner and dramatic lips. Hannah creates a subtly-pretty, dewy look by limiting her cosmetic application to peachy-pink blush, black mascara, and natural lips. The result is a face that's effortlessly youthful and attractive–perfect for every day!

Coverage. It shouldn't come as a surprise that Hannah's wardrobe staples provide more coverage than Belle's! She favors longer hemlines and looser fits for skirts and dresses, layers her clothing, and shows minimal cleavage. Hannah dresses for women while Belle dresses for men.

Great accessories. In a similar vein, Hannah accessorizes far more than Belle does. With Belle, the focus is on the body and the fit of the clothing. Hannah, however, adds interest to her outfits by piling on bangles, wearing eye-catching dangly earrings, and carrying statement bags.

Gorgeous lounge-wear. Belle may have an enviable collection of seductive lingerie, but Hannah owns loungewear that is impossible to beat! She has an extensive collection of silk robes, floor-length printed kimonos, and bed jackets that she is often seen wearing while relaxing and writing – they're SO much cuter than sweatpants, an oversized tee, and slippers.
Hannah's Fashion Essentials
Product Information: Waterfall Devoree Kimono, Topshop. Nicole Sunglasses, Fred Flare. Lena Tuck Woven Trousers, Boo Hoo. Le Metier de Beaute Creme Fresh Tints, Bergdorf Goodman. Vintage Pearlescent Chandelier Earrings, Forever 21. Get Spotted Scarf, Madewell. The Boyfriend Blazer, Fred Flare. Sweetheart Party Dress, American Eagle. Faux Fur Stole, Topshop. Canvas Pump, Urban Outfitters. Turquoise Sedona Ring, 1928. Wrapped Up In Blue Skirt, Modcloth. Winter Kate Eden Jacket, The Trend Boutique.
Outfit Inspired by Hannah
Product Information: Closet Peplum Skirt, Oil. Rosebud Salve, Sephora. Mirror Cocktail Ring, Unique Vintage. Butterfly Sleeve Chiffon Top, Metropark. Kitten Heel Court Shoes, Dorothy Perkins. Talullah Earrings, Asos. Classic Trench, American Eagle. Doctor Doctor Bag, Spotted Moth. OPI Suzi Skis The Pyrenees Nail Lacquer, Hair Boutique.
Elements of Belle's Style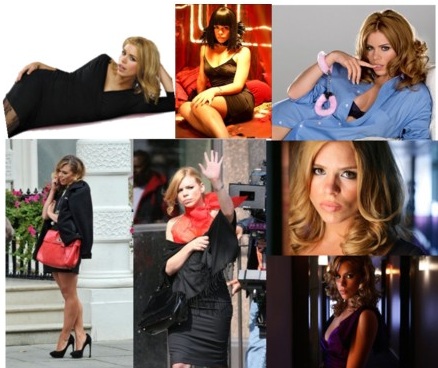 Body-conscious tailoring. When Belle is dressed, her style is sensual, but not overtly sexual. The look isn't at all skanky (for the most part), even though, well, you know… Belle must, after all, live up to her title of a "high-class" call girl. When in doubt, this classy version of sexy is what we should aim for: Showing too much skin is never a good look. Wearing a great pair of heels and a longer dress can be much sexier (and more flattering!) than donning the same pair of heels with a tight mini. A little mystery goes a long way, and can make you look more mature and refined.

Feminine and romantic fabrics. Many of Belle's outfits, and especially her nightwear, feature feminine textiles that are tactility-pleasing. Belle has an obvious penchant for lace and silk, and often includes these fabrics in her outfits. Of course, Belle's gorgeous undergarments are wardrobe staples that cannot go without mention: She favors matching sets, stockings, corsets, and garter belts. It's a mix of classic vintage style and modern-day sexy.

Sultry hair and makeup. Completely opposite from Hannah, Belle rocks a beauty look that's decidedly sultry. The show's opening titles feature Hannah getting into character as Belle–glamming up and applying makeup (as Kanye West would say, #itsaprocess) to make herself look like a very different woman. Belle's makeup staples include dark eyeliner, false eyelashes, smokey shadow, dramatic lip color (either red or another highly-pigmented shade), and a spritz of men's cologne. For her hair, Belle wears her long blonde locks down and generally prefers romantic curls or voluminous, touchable styles.

Variety. Belle's looks also vary from Hannah's in that Belle is more adventurous when it comes to wearing a variety of styles. Because Belle is constantly adapting and playing a part, her wardrobe has much more variation than Hannah's: Belle plays with color, rocks hot shoes, and sometimes goes for hair extensions or wigs! Each of her looks is memorable and obviously "Belle," but they aren't particularly similar.
Belle's Essentials
Product Information: Wisen up Coat, Modcloth. MAC 'A Tartan Tale' Lipstick, Nordstrom. Pick of the Glitter Heel, Modcloth. Luxe Leather Pencil Skirt, Oasis. Leopard Print Scarf, Yes Style. Hot Tools Professional Jumbo 1″ Curling Iron, Amazon. Dolly Cut Out Bustier Dress, Asos. O Lingerie Eloise Padded Bra and Brazilian Briefs, Oli. Salt and Peplum Dress, ModCloth. Steve Madden Haylow Pumps, Zappos. Vanessa Bruno Silk Camisole, The Outnet. ck one Fragrance, Sephora. Padlock Purse, Jane Norman. Shu Uemura Luxe False Eyelashes, Nordstrom.
Inspired by Belle
Product Information: Jessica McClintock Rose Clutch, Endless. CZ Pave Ball Stud Earrings, Fantasy Jewelry Box. Timpa Duet Lace Underwire Demi Bra, Journelle. Oasis Corset Asymmetric Neckline Dress, John Lewis. (Similar Product) Double Wrap Studded Belt, Asos. Sam Edelman Nivan Pump, Amazon. Frederic Fekkai Wave Creating Spray, Saks Fifth Avenue.
Want to see more?
If you loved Hannah's or Belle's style and you're looking to watch a program that's funny and sassy while still being thought-provoking, make sure to check out Secret Diary of a Call Girl! The series will premiere its fourth and final season in January on Showtime and is also available on Netflix and iTunes.
What do you think?
Have you watched Secret Diary of a Call Girl? Are you inspired by Belle's/Hannah's style? Did you recognize Billie?! Leave a comment and let us know!