This post may contain affiliate links, which means we may receive a commission if you purchase through our links. Please
read our full disclosure here
.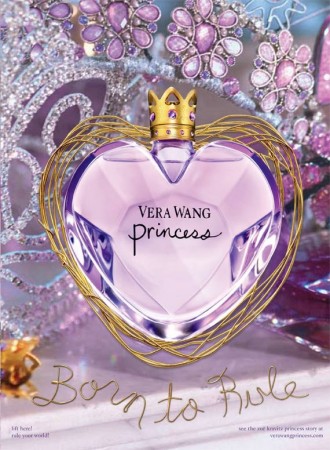 When most people hear the name Vera Wang, gorgeous and extravagant wedding dresses normally come to mind. However, aided in part by her ultra-popular "Princess" fragrance line, this designer's success has gone far beyond white gowns. The Princess fragrance collection embraces the idea of royalty, with the advertisements containing slogans such as "Born to Rule," pictured above, flanked by stunning celebrities like Camilla Belle and Zoë Kravitz. Even the bottle itself is regal, with its purple tone and gold crown cap. Whether you wear the fragrance or just like the bottle, Vera Wang's Princess collection is definitely one to check out!
While you may not be able to wear a crown to class, you can use the Princess fragrance design as inspiration for your own everyday regal looks. Scroll down to view the following outfits and get your inspiration going. Now, you can smell like a princess and dress like one, too!
Princess Outfit 1.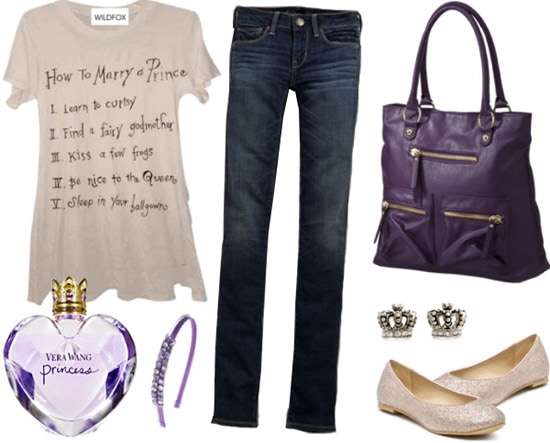 Top, Jeans, Shoes, Bag, Earrings, Headband, Perfume
This casual outfit is fit for any modern day princess. A cute oversized graphic tee with royally-inspired text winks at the regal theme while still remaining relaxed for class. Pair with skinny jeans, glitter flats, and a deep purple tote to make the look modern. Add cute crown studs and a sparkly headband to finish off the outfit.
Princess Outfit 2.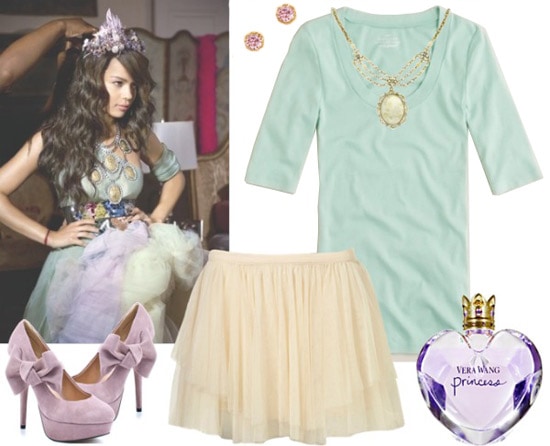 Photo Credit| Top, Skirt, Shoes, Necklace, Earrings, Perfume
Inspired by Zoë's gorgeous dress, this outfit can easily give you an ultra-feminine, royal appearance. The pretty cream tulle skirt, worn over a simple light green tee and lavender pumps, creates a princess-like pastel look. Put on a vintage statement necklace and cute stud earrings to complete a rather gorgeous getup, perfect for when you feel like dressing up a bit without being too over-the-top.
Princess Outfit 3.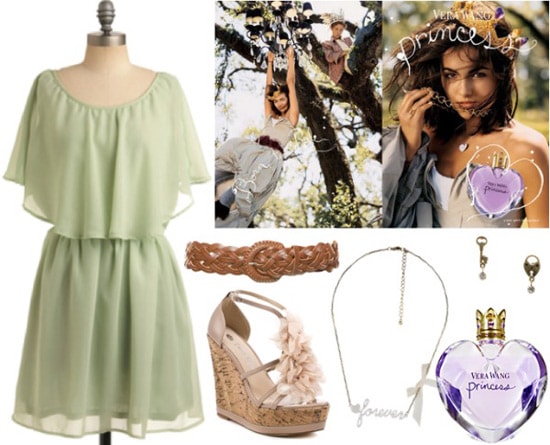 Photo Credit | Dress, Belt, Shoes, Necklace, Earrings, Perfume
For a flirty appeal inspired by Camilla's princess look, try this light green ruffle dress with ruffle-embellished wedges. Belt the waist with a leather-look braided belt and add a pretty nameplate necklace to keep the outfit sweet. Mismatched earrings give the pretty princess look a bit of an edge.
Princess Outfit 4.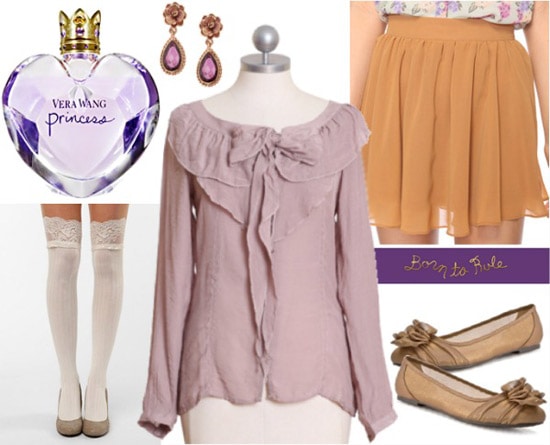 Photo Credit | Top, Skirt, Shoes, Socks, Earrings, Perfume
In comparison to the first three looks, this outfit gives a bit more of a vintage princess feel. The ruffle blouse is simple and chic when tucked into a chiffon skirt. Wear with pretty flats and lace-embellished thigh-high socks to create a super feminine vibe. Finish with gem drop earrings and you're ready to rule!
What do you think?
Do you use designer ads for fashion inspiration? Do you wear Vera Wang Princess? Would you wear any of the looks above? Which outfit is your favorite? Would you like to see more posts like this in the future? Let me know in the comments!