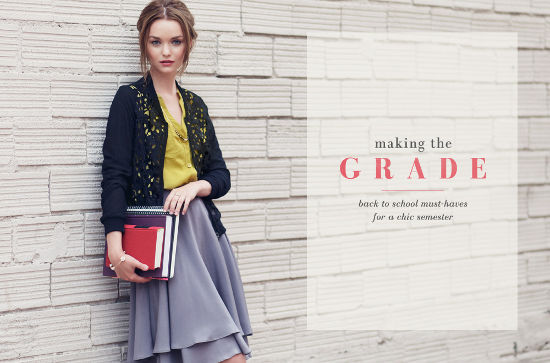 Photo via Ruche
When I stumbled across this back-to-school-themed lookbook from Ruche, it was like hitting the fashion inspiration jackpot! Chic, classic, and vintage-inspired school outfits – what more could you ask for?
Whether your look is dressy, casual, retro, or feminine, Ruche has an outfit to suit nearly every style. I've recreated four of my favorite looks below (for less), but for more inspiration, be sure to check the whole lookbook.
Look #1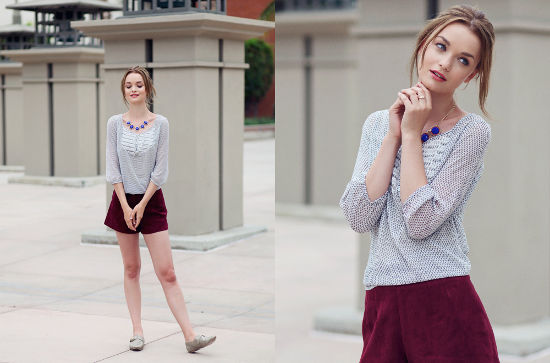 This outfit would be adorable for the first day of classes, especially if it's still warm and summery where you are. Burgundy high-waisted shorts and a lightweight printed blouse make it slightly dressy, but not overly so.
I recommend comfortable shoes, like these gray oxfords, since you'll want to be able to walk easily from class to class (no one wants to be late because they wore hard-to-walk-in heels on the first day!). A cobalt blue statement necklace will help you stand out from the crowd, and the final touches – gold rings and a peachy-pink lipstick – polish off the ensemble.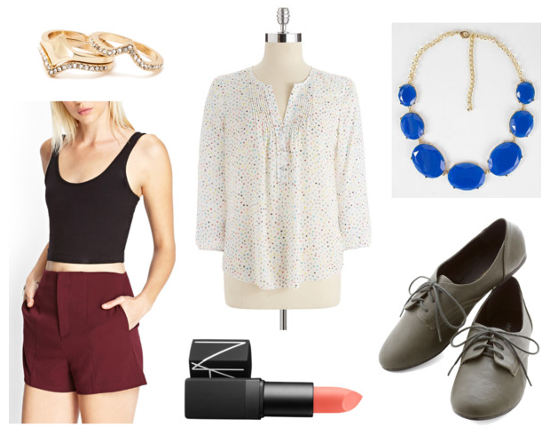 Product Info: Blouse, Shorts, Shoes, Necklace, Rings, Lipstick
Look #2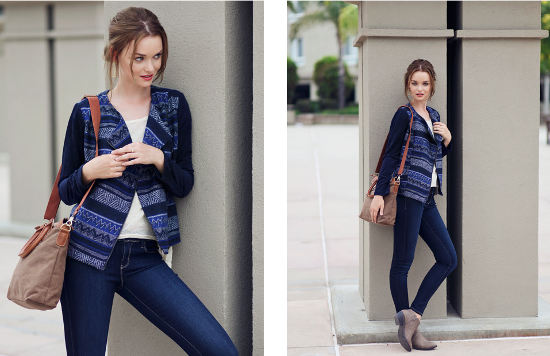 I love how this statement jacket easily dresses up a t-shirt and jeans. It's a great outfit to help you look put-together on one of those rushed mornings during the first week of school.
All you need is a printed jacket or blazer, a white tee, and dark wash skinny jeans. Break out your favorite go-with-everything ankle boots and a casual messenger bag, then finish the look with sparkly teardrop earrings.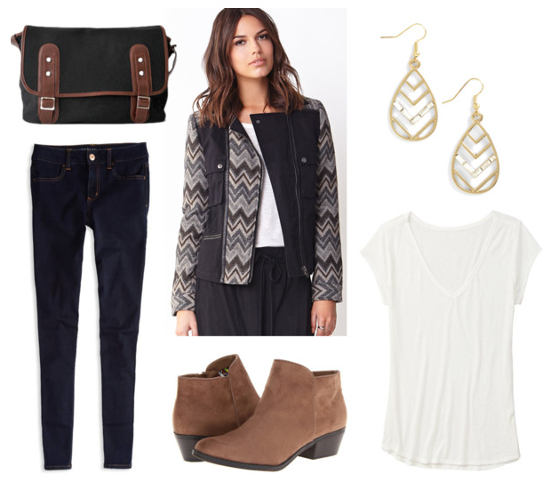 Product Info: Jacket, Tee, Jeans, Boots, Earrings, Bag
Look #3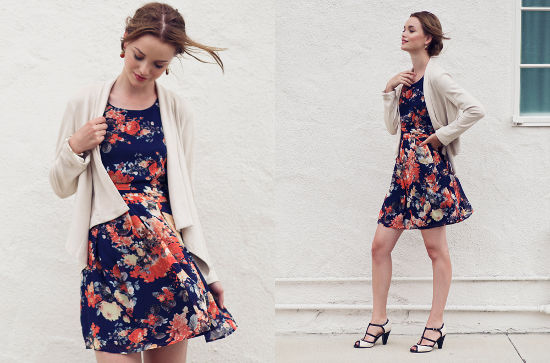 This ensemble would be perfect for start-of-the-year social gatherings, like Convocation, sorority events, or meetings with professors. It's polished and feminine (but still comfortable!), so it's ideal for when you want to look slightly dressed up.
Pair a floral chiffon dress with a beige cardigan and feminine gold jewelry. If you're a fan of heels, try this trendy color-blocked pair, and if not, go with a similar pair of flat color-blocked sandals. Now wasn't that easy?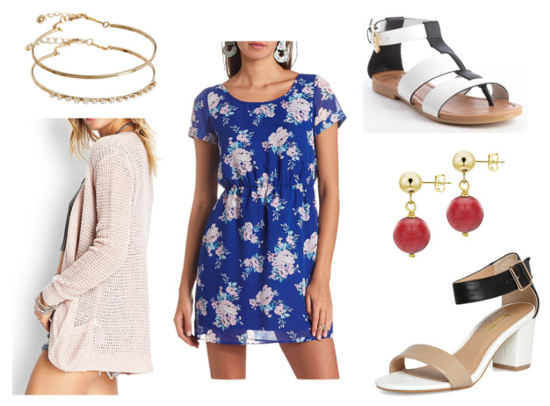 Product Info: Dress, Cardigan, Bracelets, Earrings, Sandals, Heels
Look #4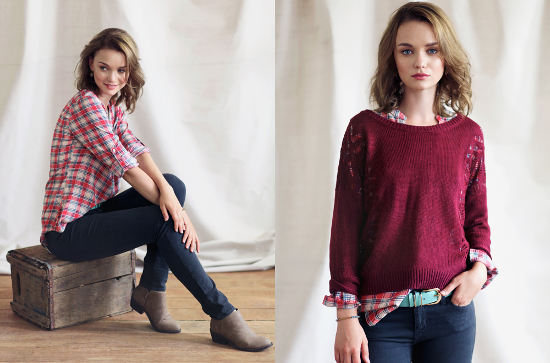 A plaid shirt, sweater, and jeans are a classic fall combo – especially when the weather gets cooler. Throw on some comfy skinny jeans and a plaid button-down shirt, then layer a burgundy sweater over top.
Keep to the classic autumn vibe with a pair of suede ankle boots and accessorize with a simple woven bracelet. Lastly, a bright mint belt spices things up with an unexpected pop of color.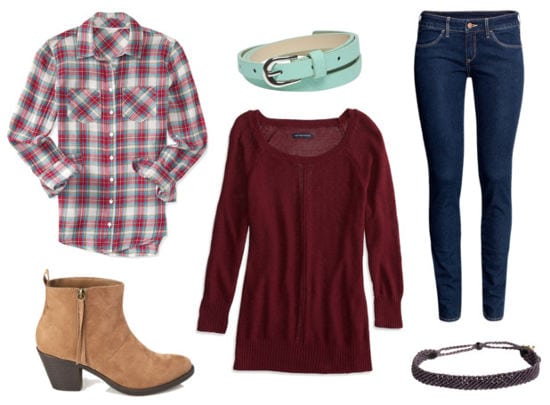 Product Info: Shirt, Sweater, Jeans, Boots, Belt, Bracelet
Thoughts?
What do you think of Ruche's lookbook? Which outfit is your favorite? Would you wear these looks to school? Let us know in the comments!