This post may contain affiliate links, which means we may receive a commission if you purchase through our links. Please
read our full disclosure here
.

If you love color, you'll love this month's batch of editorials. Fresh and juicy like a yummy fruit salad, these gorgeous fashion spreads will leave you salivating. And with the hot sun shining down, it's more important than ever that you keep yourself cool while still looking cutting edge.
In keeping with the spirit of summer, below I've collected editorials with colorful prints, textures, and hues to keep you inspired all month long. If you're game, scroll on down to check out some of my favorite July 2011 fashion editorials, as well as some inspired outfits!
1. Lisanne de Jong by Viviane Sassen for Dazed & Confused July 2011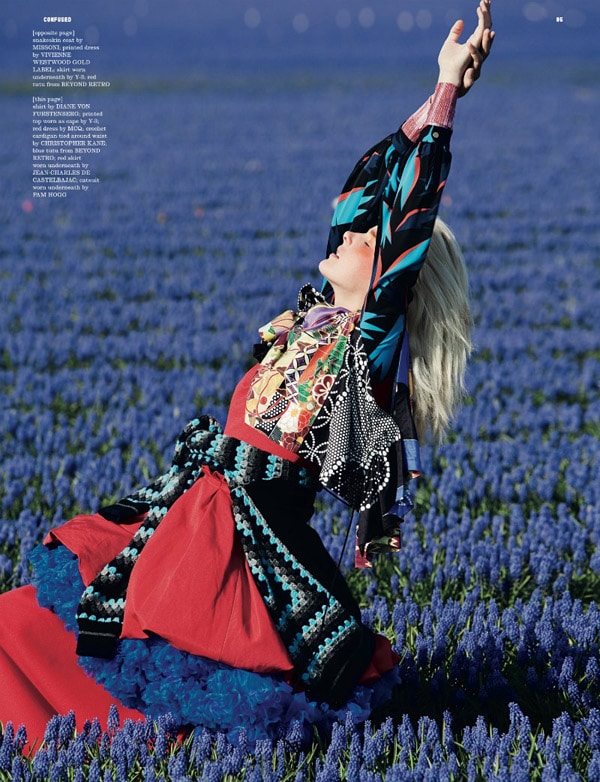 (See the rest of this editorial at FashionGoneRogue.)
If you're a daydreamer and nature lover like me, you'll love this editorial from Dazed & Confused's July issue. By chicly mixing free-spirited prints, shapes, and colors together, photographer Viviane Sassen managed to capture grace and beauty in one photograph. While this picture is highly editorial, it also gives you plenty of cool inspiration for outfits. I love the color pops, as well as the mixing of weave and silk textures. I highly recommend checking out the rest of this editorial – especially if you love color. Trust me; it's worth it.
Get the Look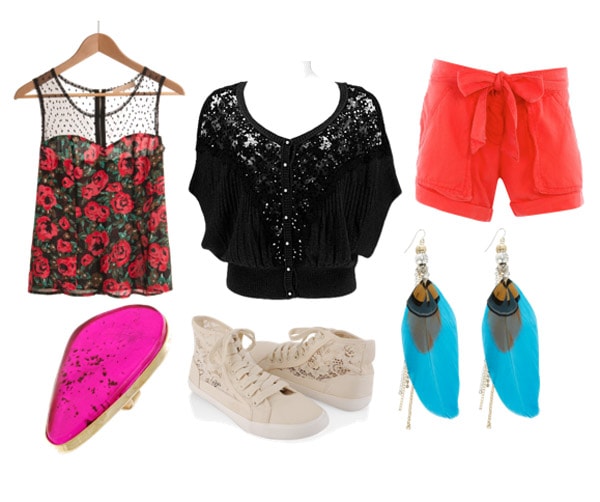 (Products: Blouse, Cardigan, Shorts, Ring, Shoes, Earrings)
For my inspired look, I picked a bunch of items with colors similar to those seen in the editorial, as well as clothes featuring interesting textures.
I first picked out this unique floral blouse which can easily be tucked into the adorable pair of shorts I found. To get that weave-y texture seen in the picture, I added a loose knit cardigan with interesting detailing as well as a pair of lacey white high tops. Last but not least, to get that last pop of electric color, I picked out this awesome magenta ring and some electric blue feather earrings. While the colors are wild, they all work together for a zany and fashion-forward look.
2. Edie Campbell by Viktor Vauthier for Tank Summer 2011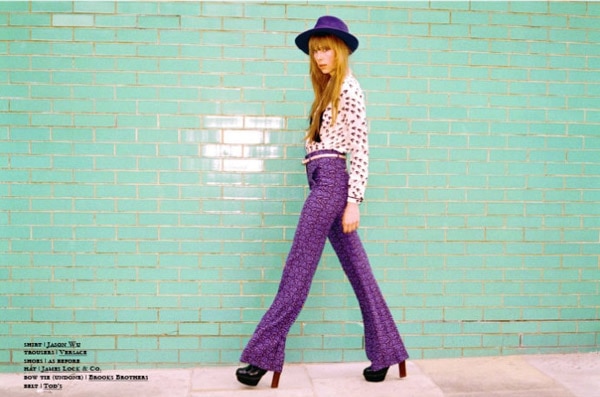 (See the rest of this editorial at FashionGoneRogue.)
Mmm, I love a good '70s bellbottom. Chic from head to toe, model Edie Campbell looks fantastic in Tank Magazine's summer issue – and how couldn't she? Her look is gaw-geous. I love the way the heels and pants work together to elongate her legs, as well as the way her hat doesn't look too "overdone".
Get the Look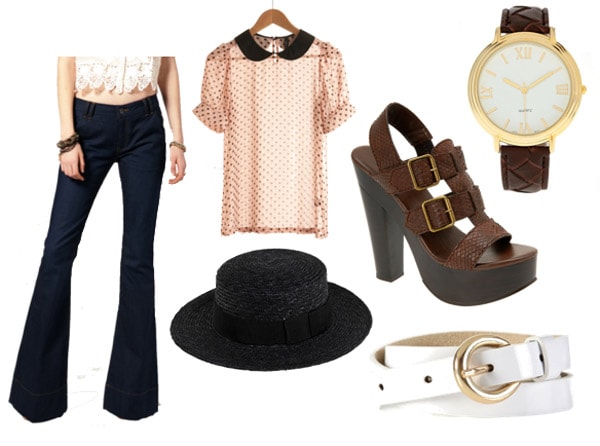 (Products: Flare Jeans, Blouse, Hat, Heels, Belt, Watch)
For my inspired look, I stayed pretty true to the photograph, pulling similarly styled items.
I first found a pair of perfect flare jeans and paired them with a great polka dot blouse that can be tucked into the jeans. Once tucked in, belt the jeans with the cool white belt I picked out, and then throw on a pair of clunky heels. Last but not least, accessorize with a golden-faced watch and a great black brimmed hat. If you want to go retro without looking dated, this outfit is for you – don't be afraid of the flare, my friends; embrace it.
3. Charlotte Free by Paul Schmidt for Jalouse June/July 2011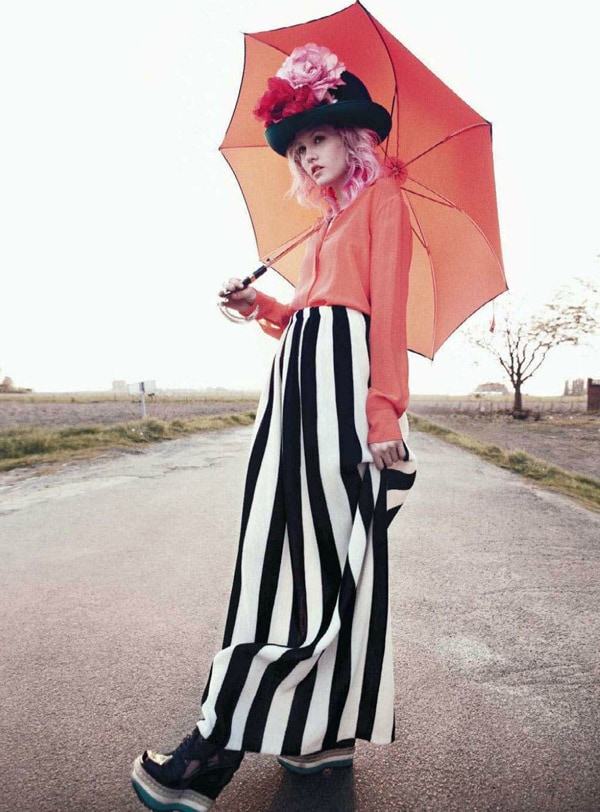 (See the rest of this editorial at FashionGoneRogue.)
While this look may not be everyone's cup of tea, I, for one, love its street style swagger. I especially love the long vertical striped skirt and funky Prada heels (so cool!). This look isn't timid, and that's what I love about it. Loud and wild, it offers plenty of fashion inspiration.
Get the Look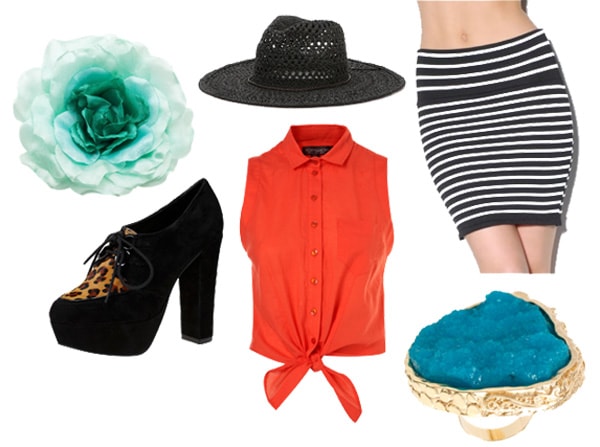 (Products: Pin, Heels, Hat, Blouse, Skirt, Ring)
To get an inspired look, I started off by picking out an orange front-tie blouse and pairing it with a black and white striped skirt. To jazz up the outfit, I then picked out a pair of fun cheetah print heels, as well as a green floral pin and a blue stone ring. Finally, to finish the outfit, I found the perfect topper – a black panama hat. This outfit has a loud chicness as well as a bit of whimsy; it would be perfect for a music festival or a night out.
4. Daphne Groeneveld by Greg Kadel for Numéro #124 June/July 2011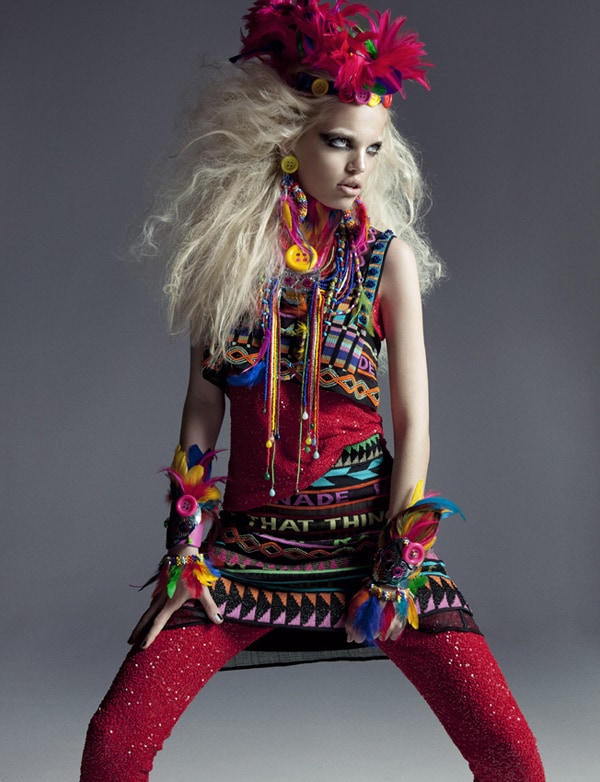 (See the rest of this editorial at FashionCopious.)
The last editorial for the month has all the color you could ever want, plus some serious attitude. Model Daphne Groeneveld looks deliciously wild yet naive in this photo. I love the geometric prints, the bright, sorbet-esque colors, and the costume jewelry; all the elements combine for a fabulous image.
Get the Look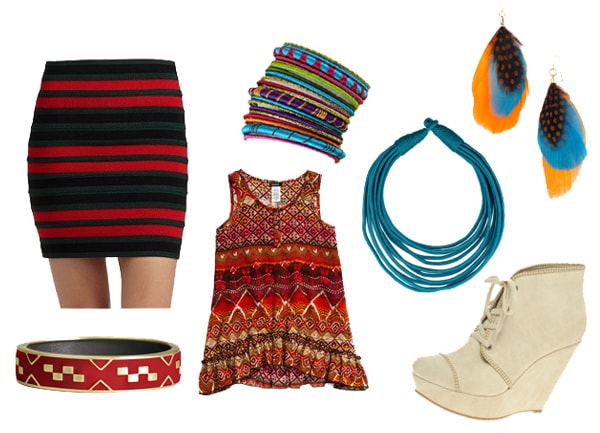 (Products: Skirt, Bracelet, Assorted Bracelets, Top, Necklace, Heels, Earrings)
To get a similar look, I picked out a ruby-hued geometric tank and a striped bandage skirt. The clothing, though awesome, will actually serve as a neutral backdrop for the main attraction of this look, the jewelry.
Speaking of jewelry, I have pulled lots. To start, I picked out a cool multi-strand teal necklace, and added a large assortment of colorful bracelets. Finally, to finish off the look, I picked out a pair of feather earrings in a lovely tangerine and electric blue, as well as a neutral white wedge shoe. This look is a great, refreshing "going out look" with minimal black and lots of color – after all, who says sexy should be limited to black? Throw on this look and you'll look wild in the best possible way.
Extra: Thoughts and Goodbyes
Oh, CollegeFashion, I've been involved in a lovely affair with you for almost two amazing years now – and despite the coming and going of fashion trends, we've faired everything from clogs to muses to fashion week with an open mind, bad puns, and opinionated readers. So it's no wonder that I feel a sting of sadness when I say that I'm finally moving on. Yes, this will be my last post on CF.
I just wanted to take a time out of this post (that you are free to skip over – the usual "thoughts" spiel is the next paragraph over) to say thanks. Thanks to everyone who regularly read my street style and editorial posts, as well as all my other articles on College Fashion. I've always loved your feedback and opinions, they made me think, gave me perspective, and helped me grow. I'll miss all of you, and will continue to read CF right along with you.
Your Thoughts?
With all that said, for the last time, give me the pleasure of getting your feedback! What did you think of this month's set of looks? Did you like the editorials? What about the inspired looks? Which was your favorite? Your least favorite? Let me know in the comments!