This post may contain affiliate links, which means we may receive a commission if you purchase through our links. Please
read our full disclosure here
.
When you think of a fashion icon from the past, who is the first person that comes to mind? Marilyn Monroe? Audrey Hepburn? Edie Sedgwick, perhaps? While all three of those women have enviable styles that we absolutely love, there are so many other fashionable women that have graced the history pages.This biweekly column focuses on just that: unexpected and out-of-the-box fashion icons from the past. We feature women who have not only made an impact, but also have distinct signature styles that we can still draw inspiration from today.
If you haven't seen them already, be sure to check out our other "A History of Style" posts on Amelia Earhart, Billie Holiday, Joan Jett, Louise Brooks, Dorothy Dandridge, Elizabeth Taylor, Edith Head, Mary Tyler Moore, Sylvia Plath, Edith Bouvier Beale, Marlene Dietrich, Frida Kahlo, Cyndi Lauper, Isadora Duncan, Pam Grier, C. Z. Guest, Debbie Harry and Josephine Baker.
This week, we'll be taking a closer look at American adventurer, filmmaker and writer Osa Johnson's practical yet chic safari attire. Read on to learn more about Osa's life and unique style, then check out some outfit ideas to help you channel her look for yourself:
5 Facts About Osa Johnson
Osa Leighty was born on March 14, 1894 in Chanute, Kansas. At age 16, Osa married a photographer named Martin Johnson, who had recently returned from a voyage in the South Seas with author Jack London. Together, Martin and Osa traveled around the United States for several years displaying Martin's photography before deciding to embark on a series of safaris throughout Africa and the South Pacific.
Over the next 20 years, the Johnsons traveled to largely unexplored locations, filming and photographing the people, wildlife and scenery in these remote areas. Osa and Martin used their footage to produce documentary films of their adventures. These films were wildly popular at the time, as people in the United States had never seen anything like them.
In 1937, Martin and Osa were on a flight to California for a lecture when the plane they were traveling in crashed. Osa was seriously injured and Martin, tragically, did not make it.
After her husband's death, Osa decided to continue their work by lecturing, writing and producing films. She produced four more films and wrote several books, including her best-selling memoir I Married Adventurebefore passing away in 1953.
The Martin and Osa Johnson Safari Museum opened in 1961 in Osa's hometown of Chanute, KS. The museum holds many artifacts, photographs and other memorabilia from the Johnsons' lives. More recently, Martin and Osa's films served as an inspiration for the construction and design of Walt Disney World's Animal Kingdom Lodge.
Osa's Style 101
Fashion meets function. Even though she was roughing it out in the wild, Osa's ensembles always seemed to look both polished and functional. For example, she would wear practical clothing like trousers, tunics and jackets, but always made sure to add a little flair with an accessory like a skinny belt or printed scarf.
Nothin' but neutrals. Since she was trying to blend in with the environmental, Osa's wardrobe was naturally filled with neutral-colored pieces — no neons for this girl! Instead, she wore lots of whites, browns, khakis and soft greens. Try blending two or more of those shades in a single outfit for an authentic Osa-inspired look.
Mad Hatter. As you can tell in the photos above, Osa was rarely seen without her trusty safari hat. The wide-brimmed topper not only kept her face protected from the elements, but made a stylish statement. Channel Osa's love for hats by donning a sun hat or fedora for a similar look.
Outfits for Inspiration
Outfit #1: Ready to Explore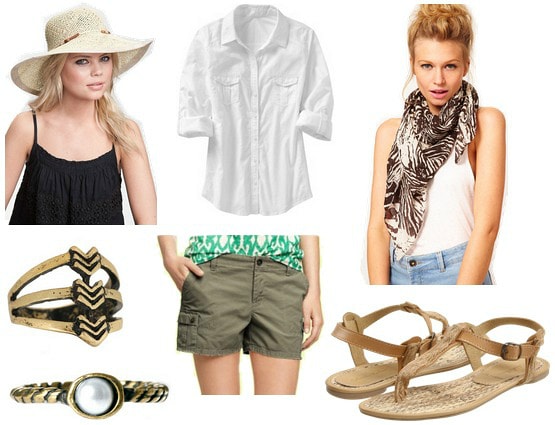 Product Info: Hat- Nordstrom, Shirt- Old Navy, Scarf- ASOS, Arrowhead Ring- Forever 21, Circular Ring- ASOS, Shorts- Gap, Sandals- Zappos
Outfit #2: Wilderness Girl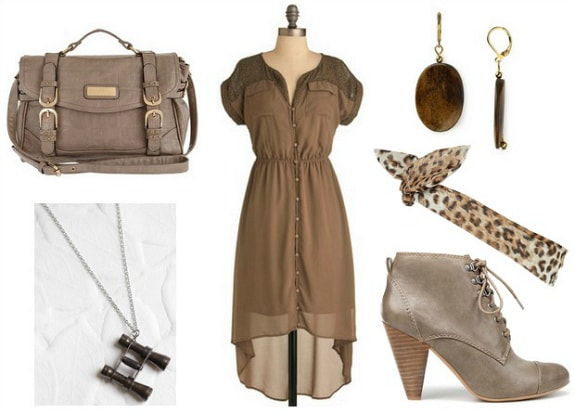 Product Info: Bag- River Island, Dress- ModCloth, Earrings- Bloomingdale's, Necklace- Ruche, Head Wrap- River Island, Boots- Zara
Outfit #3: Adventure is My Middle Name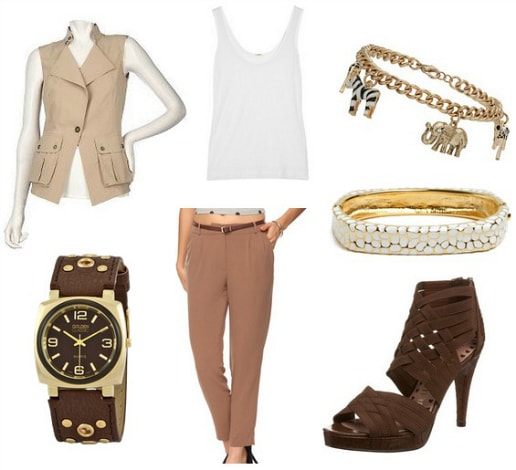 Product Info: Vest- K-DASH, Tank Top- J. Crew, Charm Bracelet- Miss Selfridge, Watch- Endless, Pants- Forever 21, Bangle- BaubleBar, Shoes- Libby Edelman
What do you think?
Do you find Osa's style inspiring? What about her life story? What do you think of her look? Would you wear any of these outfits? Let me know what you think by leaving a comment below!