This post may contain affiliate links, which means we may receive a commission if you purchase through our links. Please
read our full disclosure here
.
When you think of a fashion icon from the past, who is the first person that comes to mind? Marilyn Monroe? Audrey Hepburn? Edie Sedgwick, perhaps? While all three of those women have enviable styles that we absolutely love, there are so many other fashionable women that have graced the history pages.This biweekly column focuses on just that: unexpected and out-of-the-box fashion icons from the past. We feature women who have not only made an impact, but also have distinct signature styles that we can still draw inspiration from today.
If you haven't seen them already, be sure to check out our other "A History of Style" posts on Amelia Earhart, Billie Holiday, Joan Jett, Louise Brooks, Dorothy Dandridge, Elizabeth Taylor, Edith Head, Mary Tyler Moore, Sylvia Plath, Edith Bouvier Beale, Marlene Dietrich, Frida Kahlo, Cyndi Lauper, Isadora Duncan, Pam Grier, C. Z. Guest, Debbie Harry, Josephine Baker and Osa Johnson.
This week, we'll be taking a closer look at actress Jean Seberg's chic and timeless sense of style. Read on to learn more about Jean's life and unique style, then check out some outfit ideas to help you channel her look for yourself:
5 Facts About Jean Seberg
Jean Seberg was born on November 13, 1938 in Marshalltown, Iowa. After graduating from high school, she enrolled at the University of Iowa.
While attending UI, Jean was cast as Joan of Arc in the film Saint Joan. The director — Otto Preminger — held an open talent search for the role and chose Jean out of 18,000 hopefuls.
Although Saint Joan wasn't a box office success, Jean became quite popular with the people of France. She starred in a series of French New Wave films, including Jean-Luc Godard's Breathless, which earned her much critical acclaim.
During the late 1960s, Jean was involved in anti-war politics and the civil rights movement, and associated with members of the Black Panther party, which resulted in her being a target of the FBI's COINTELPRO program. The bad press caused by this, coupled with several personal problems, nearly ruined her acting career. From that point forward, Jean only acted in foreign films.
In August 1979, Jean went missing and was found dead 11 days later in the backseat of her car. Her death was ruled as a "probable suicide" due to an overdose of barbiturates. She was just 40 years old.
Jean's Style 101
Sticking with the classics. Jean's classic, chic, and put-together outfits are what make her such an inspiring style icon. Lightweight button-ups, breton striped tops and solid-colored trousers made up a majority of Jean's wardrobe. These pieces are just as stylish today as they were back then.
Easygoing separates. Jean's timeless separates made getting dressed a breeze, as she could easily mix-and-match different pieces to create an endless number of chic outfits. The next time you're getting dressed, take a cue from Jean and try to mix up your wardrobe basics to create stylish new looks.
A little goes a long way. Jean was also quite the fashion minimalist when it came to accessories. While she mixed it up with the occasional hat or headscarf, Jean usually stuck to low-key jewelry like delicate necklaces, practical wristwatches, or simple band rings.
Outfits for Inspiration
Outfit #1: Modern Classics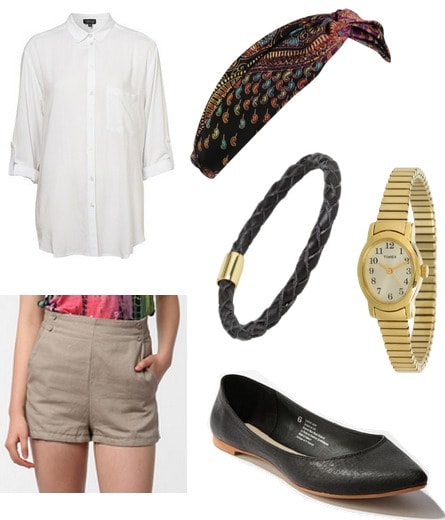 Product Info: Shirt- Topshop, Shorts- Urban Outfitters, Headwrap- Forever 21, Bracelet- Linea Pelle, Watch- Timex, Flats- Urban Outfitters
Outfit #2: Simply Chic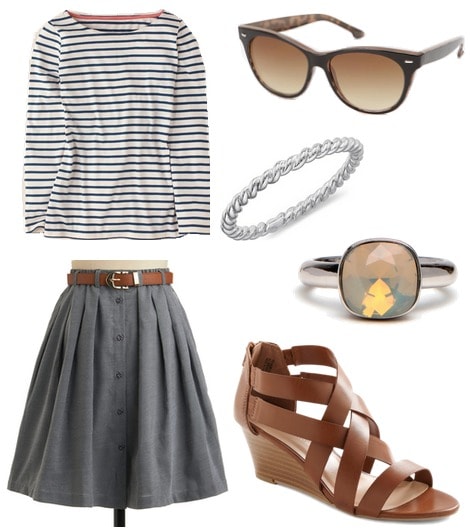 Product Info: Top- Boden, Skirt- ModCloth, Sunglasses- Urban Outfitters, Braided Ring- Blue Nile, Moonstone Ring- BaubleBar, Sandals- ModCloth
Outfit #3: Effortless Sophistication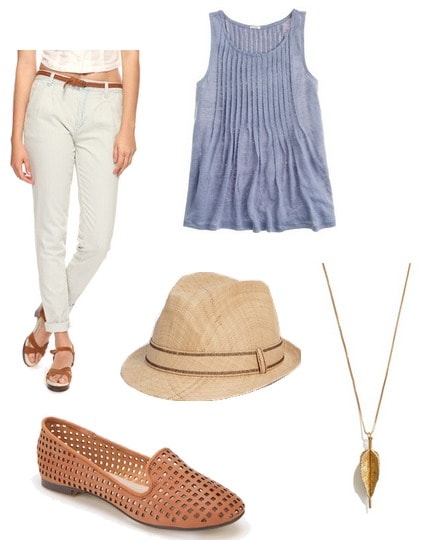 Product Info: Pants- Forever 21, Top- J. Crew, Hat- Nordstrom, Necklace- Madewell, Loafers- Urban Outfitters
What do you think?
Do you find Jean's style inspiring? What do you think of her look? Would you wear any of these outfits? Let me know what you think by leaving a comment below!