This post may contain affiliate links, which means we may receive a commission if you purchase through our links. Please
read our full disclosure here
.
As I mentioned in my last post about international Vogue editors, sometime employees of magazines are more interesting style-stars than celebs, as they look fabulous on somewhat limited budgets… kind of like us college girls, right?
So instead of doing just Vogue this time, I thought I'd expand this series to more fashion-related magazines and their editors and directors. So here are five outfits inspired by the consistent sartorial choices of five fashion editors and directors hailing from around the world.
1. Miroslava Duma- Invited Fashion Editor, OK! Magazine, Russia
Miroslava is perhaps the most famous person on this list of editors, as she seems to be more of an "IT-girl" than most editors. Regardless, she is one of my biggest fashion inspirations. From her gorgeous mane to her great skin to her infectious smile, this girl looks awesome and always appears to be having the best time ever! It doesn't hurt that one of her best friends is Natasha Goldberg, Russian director of Kova&T, or that she freelances for a myriad of magazines. What's not to love about Miroslava?
Miroslava-Inspired Outfits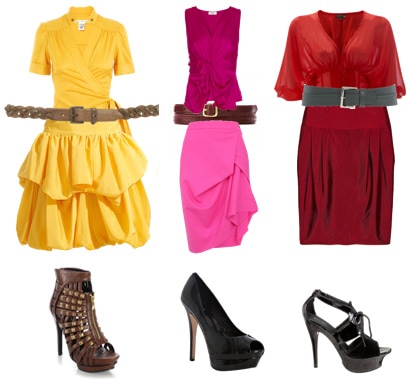 Yellow: Top- Matches Fashion, Belt- Warehouse, Skirt- Reiss, Shoes Urbanog,
Pink: Top- The Outnet, Belt- Linea Pelle, Skirt- Coggles, Shoes-Bluefly
Red: Top- Fever Designs, Belt- Zappos, Skirt- The Outnet, Shoes- Amazon
While many girls who work in fashion tend to wear dark colors, Ms. Duma breaks the mold by often wearing one bright color, often in the form of a dress, which she always belts at the waist. Of course, like many of her peers, she is always seen in dark heels.
To get her look for yourself, try a monochromatic palette: it can be difficult to wear all one color, but Miroslava breaks it up by wearing very similar colors- like in the image of her wearing beige (top right, above). Not daring enough to wear a single solitary color in an ensemble? An easier way to channel this Russian star is by highlighting an hourglass shape as she does, with a belt cinched at the waist.
2. Taylor Tomasi-Hill, Accessories Director, Marie Claire US
I'll admit it right now: Ms. Tomasi Hill is one of my girl crushes. Can you blame me? She always looks incredible! Her bright, firey red hair may have something to do with it. (Who wouldn't be jealous of those locks?) But in all seriousness, it's difficult to pin down Taylor's style as she can pull of anything- I'm totally jealous! Plus, she married her high-school sweetheart, and yes, I did "aww" out loud when I heard that. You have to love her.
Taylor-Inspired Outfit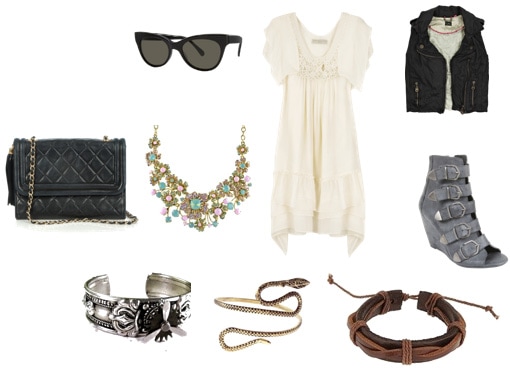 Product Info: Bag-Chanel (not available online!) Sunglasses- Norma Kamali, Necklace- Accessories Online, Cuff-Artfire, Snake Bracelet-ASOS, Leather Bracelet- Urban Outfitters Dress- net-a-porter Vest- net-a-porter Shoes- Steve Madden
As I mentioned, Ms. Tomasi-Hill has a very eclectic style, however, she does have some consistency. She loves mixing textures, piling on the accessories and buckled, gladiator-style shoes.
For this outfit, I chose to channel Ms. Tomasi-Hill's look in the first picture above, which is why I chose this white dress and dark, leather vest combo. The contrast between light and airy and rough and hard makes for an interesting aesthetic. When it comes to accessorizing, Taylor doesn't always exactly match- but, in pictures, it all comes together perfectly (the mark of a fashion editor?). To further channel her look, seek out interesting combinations of jewelry, like this snake bracelet that I paired with a leather one!
3. Anya Ziourova, Fashion Director, Tatler Russia
Anya Ziourova has more fashion cred than most editors twice her age- she's styled editorials for everyone. By everyone, I mean every publication from Vogue China to Vogue India to Vogue Portugal, and, of course, Tatler Russia, where she is Fashion Director. Of course, it's her bold personal style we're looking at here, and she does not disappoint in that regard either.
Anya-Inspired Outfits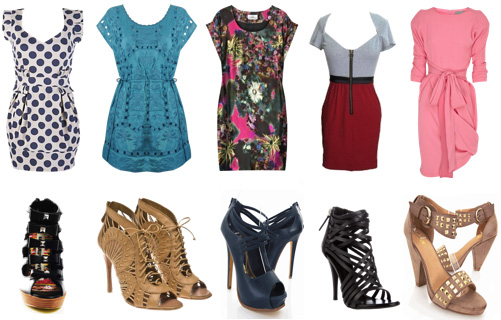 Dresses (Left to Right): 1-Very, 2- Forever 21, 3- Net-A-Porter, 4- Amazon, 5- Net-A-Porter
Shoes (Left to Right): 1-heels.com, 2-Brown's Fashion, 3-Ami ClubWear, 4-,Far Fetch 5-Ami ClubWear
Ms. Ziourova wears lots of sleeved, body-con dresses that she utilizes to show off her legs- and with pins like that, why wouldn't she? In terms of shoes, she prefers heels with interesting ankle details.
To recreate her look, I wanted to give you multiple options – five, to be exact! Each incorporates her signature sleeved dresses and ankle-highlighting shoes. While you might thing a few of these combos clash, what I admire most about Anya's style is that she doesn't care if things match- she'll rock leopard heels with a printed dress without flinching. What may be crazy to others somehow works for her, which goes to show that as long as you have confidence in yourself, you can pull off anything!
4. Christine Centenera, Fashion Editor, Harper's Bazaar Australia
Let's be honest: when it comes to fashion-forward magazines, Harper's Bazaar Australia isn't the first name that pops into your head, right? To be honest, I didn't even know the publication existed before I found pictures of Christina Centenera- once I saw her style, I started paying attention. And I'm so glad I did – the editorials are exquisitely styled, thanks to the lovely fashion editor, of course!
Christine-Inspired Outfit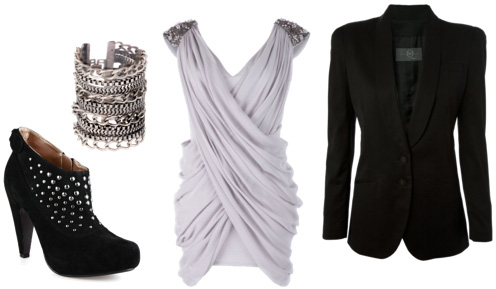 Product Info: Shoes- Desire Clothing, Bracelet-ASOS, Dress- John Lewis, Blazer-Liberty
Ms. Centenera favors monochromatic colors, like black and grey. Also, she wears lots of short dresses & skirts and tops with exaggerated shoulders.
To get her look, I recommend this silver dress, as the draping makes it interesting but it still has shoulder details (check!) and is relatively short (double-check!). This McQ Blazer is pretty expensive, but many stores like H&M and Forever 21 have very similar, cheaper versions. Now all you need is a good body moisturizer and you're ready to channel Ms. Centenera!
5. Vanessa Coyle, Senior Fashion Editor, UK Harper's Bazaar
Here's another Harper's Bazaar editor that's putting her magazine on the map with the aid of her amazing street style. Now, Vanessa might not be old enough to be considered senior in more than title, but through her editorials and personal clothing choices, she's definitely proved herself as a senior fashion editor.
Vanessa-Inspired Outfit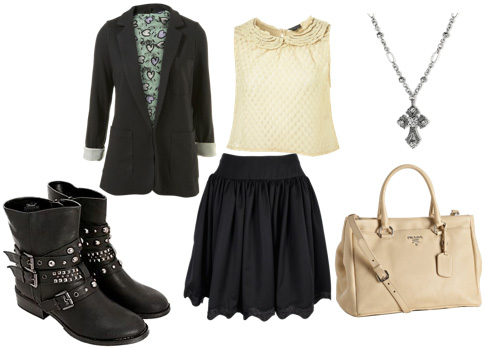 Product Info: Blazer-Topshop, Top- Topshop, Necklace-Nordstrom, Bag-Bluefly, Skirt-Colette, Shoes-HotTopic
When it comes to what Ms. Coyle wears, I can only describe it as schoolgirl gone bad. Yes, she usually wears a dark blazer and a collared shirt paired with either a skirt or dark pants, but she adds her own touches such as tough ankle boots and a beige purse.
Being that it's summer, I changed her top to a sleveless one and added a mini for the outfit above. While Vanessa usually rocks minimal jewelry, she's often seen with a cross necklace– but you can easily swap that out with another pendant if it's not your taste! All you need now is that rebellious teenaged spirit to carry this outfit off!
Your thoughts?
What do you guys think? Who is your favorite fashion editor? Which of these women inspires you most? Tell me everything in the comments!