This post may contain affiliate links, which means we may receive a commission if you purchase through our links. Please
read our full disclosure here
.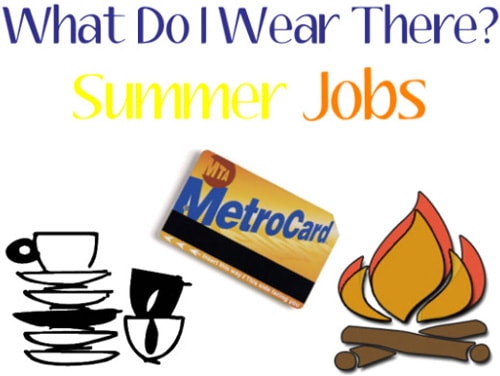 Ah, the summer job. Practically a right of passage for us college students, there are many variations within this one standard field. Whether you're waiting tables or waiting for the train on your way to a corporate internship, I'm here to help you get through those early mornings of "What do I wear there?" panic!
For this piece, I created outfits for three different types of summer jobs: working with kids at a summer camp (this would also work for babysitting!), working in a restaurant/cafe with an all-black dress code (as this is obviously a challenge if you want to express your inner style) and a position that requirescommuting (since many of us have internships/jobs that we reach via a lengthy car, train or bus ride).
Best of all, considering the nature of the first two jobs–physical work most likely outdoors with kids and with food/drinks–I made sure to find clothes that were cheap and therefore easy to stock up on or replace.
If I missed your summer job, let me know in the comments! I understand the stress of the morning rush to work and I'd love to help you out in the next article.
Comfy for Camp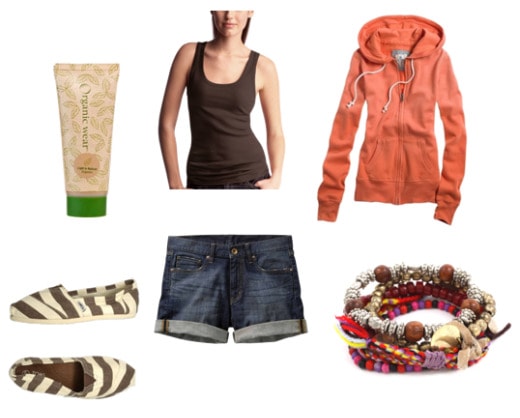 Product Information: Tank: Gap.com, Tinted Moisturizer: Ulta.com, TOMS: Yoox.com, Shorts: Uniqlo.co.uk, Hoodie: Ae.com, Bracelets: Asos.com
The major concern when working in this sort of environment, with its outdoor location and plethora of kids running around, is definitely function over fashion. But that doesn't mean you can't still look cute working at a camp!
I started off with a plain, solid brown tank–I suggest stocking up on a bunch of these in different colors to wear throughout the week. Layer this with a hoodie to protect from any chill or rain while you're trekking around outdoors, and throw on boyfriend shorts – they'll allow you to run around while retaining your modesty (though they may be in style, hot pants have no place at summer camp).
As those of you who follow my columns know, I love TOMS shoes, and they are perfect in this situation–the canvas is flexible while the design is adorable! For added flair and fun, finish off your accessorizing with an updated friendship-style bracelet (a great throw back to your own camp days!).
Hair and makeup are best left as natural as possible, so I recommend just a simple tinted, SPF-infused moisturizer for makeup. If you want to wear a bit more, add waterproof mascara and some lip balm. Simply smooth your hair with some anti-frizz cream and pull it back–or leave it down and possibly get some camper-created styles!
Cool for Cafe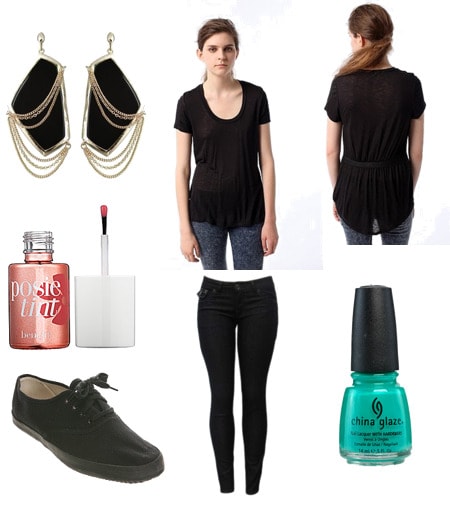 Product Information: Shirt: Urbanoutfitters.com, Earrings: Charmandchain.com, Lip and Cheek Stain: Sephora.com, Sneakers: Urbanoutfitters.com, Jeans: Modaexpressonline.com, Nail Polish: Ulta.com
Having had a waitressing job before that required an all-black uniform, I understand how depressing it can get to put the same all-black basics on each day. Therefore, I wanted to add a few tweaks to this look that will add some excitement to your all-black ensemble.
Black jeans are the safest route to go for, as they will allow you to move with ease and can be tossed into the wash for a quick clean up when you return home. Rather than just picking out a simple v-neck tee or tank, I went for a tee that has a bit more shape to it (the banded waist is super flattering!).
Simple black canvas sneakers are–just like the jeans–comfy and easy to clean, so I chose them to complete the base of your all-black ensemble. For a pop of color, rock vibrant turquoise nails and use a lip and cheek tint to brighten up your face against all of the black.
Finally, I chose these anything-but-basic modern black earrings as your statement accessory; they will be sure to capture your customer's attention (and admiration) and possibly start up some interesting conversation!
Chic for Commute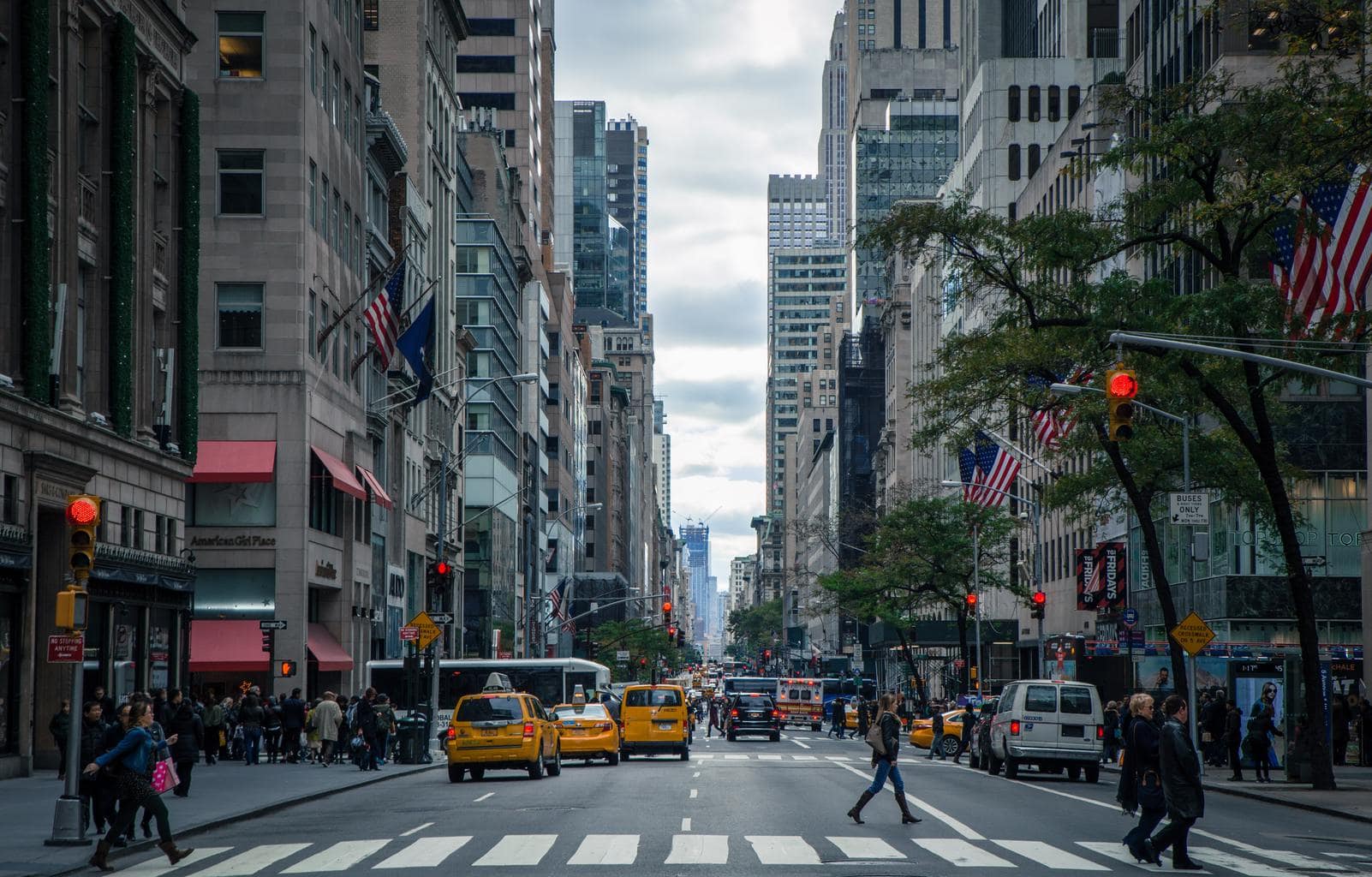 Product Information: Dress: Joythestore.com, Sunglasses: Oliverbonas.com, Necklace: Urbanoutfitters.com, Hairspray: Sephora.com, Wedges: Lorisshoes.com, Blazer: Forever21.com, Bag: Piperlime.gap.com
Note: This look is best for a position that is in the more relaxed, fashion/creative industry. Dress codes vary greatly across different industries, so be sure to ask about the dress code at your workplace before starting your first day at any job! For more, see: How to Dress Professionally: Business Dress Code Basics.

With my hometown located about an hour outside of NYC, many of my friends often spend most of their summers on trains and buses as they do the dreaded daily commute to an office job in the city. I personally think this is the toughest type of job to dress for, as you are most likely commuting in for a position that requires you to dress up a bit. So how do you stay comfy on a long commute while still looking professional once you step off the bus or train?
I think this dress is the epitome of a great look for commuting and work, as the cotton material is breathable for the commute while the shape, length and color are 100% work appropriate. Since I have found that you can never really predict the temperature on a bus or train, bring along a blazer or cardigan to throw on if the air's blowing a bit too strong.
The idea of wearing heels to run for a train scares even a die-hard heels fanatic like me, so I suggest going for their comfier cousin, the wedge. I actually own these wedges for my work days and have taken to wearing them out even when I'm not in the office–they're amazing!
As for accessories, try a chain necklace to toss on as you head out the door; it toughens up this girly pink dress a bit without being too over-the-top for an office. Sunglasses are another must for a commuter, as they can hide your tired eyes in the morning (and even allow you to doze off a bit unnoticed). Finally, a tote bag large enough to cart your laptop, a notebook and any other necessities is a must, and I love how this bag manages to be sleek in construction but noticeably sturdy with its woven handles.
Your hair and makeup for this position depends entirely on how you feel and how those around you present themselves in the work place. However, if you're like me and a long work day typically ends with flat hair, use some volumizing hairspray before you head out into the working world!
What Do You Think?
Do you have any experience working in any of these positions? What do you usually wear to work? Do you have any tips for dressing for certain professions? Would you wear there looks to your workplace? Let us know in the comments!
And don't forget to leave any other "What Do I Wear There?" questions below; yours may be featured in next week's article!