This post may contain affiliate links, which means we may receive a commission if you purchase through our links. Please
read our full disclosure here
.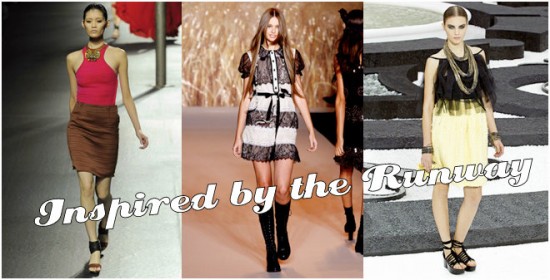 With school winter formals happening this month and next, every girl is searching for the perfect look that both flatters and stands out in a crowd. After writing the Runway Looks for Less column last semester, it seemed only fitting to look to the runways for formal inspiration as well.
I admit, some designer looks are a little too ridiculous to wear to a semi-formal; but even if the look itself is over-the-top, you can still take inspiration from the colors and accessories! Below, I picked three looks from Lanvin, Anna Sui and Chanel and translated them into formal and semi-formal outfits to fit a college girl's wardrobe (and her budget).
Lanvin's Jewel Tones
Florals and pastels are always pretty, but for the winter season, there's nothing better than deep jewel tones. Lanvin's Spring RTW collection incorporated pieces in hot pink, yellow and emerald, all anchored by dark browns and gunmetal accents. The looks that came down the runway were powerful and eye-catching.
Now, you'd look a little silly in a pencil skirt at a formal dance, but the colors and silhouettes of this look are great inspiration! So look for a dress in a deep pink and instead of accessorizing with black shoes, pick up a pair in brown instead. As for your jewelry, don't be afraid of big gems and jeweled bib necklaces – they will bring your look from average to amazing.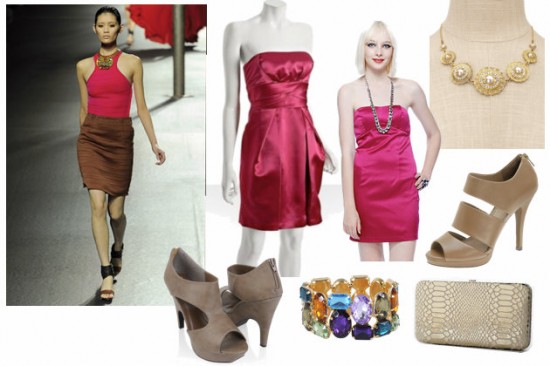 Production Information: Dresses – Bluefly, Forever 21, Necklace – Charlotte Russe, Shoes – Aldo, Forever 21, Bracelet – Forever 21, Clutch – Kohls
Anna Sui's Lace
Anna Sui's collections are always full of whimsy, mixed patterns and fabrics and, in the case of her Spring 2011 RTW collection, babydoll dresses. I love this look because it's young and fun while still looking put together. Lace seemed to pop up on many runways this year and is definitely a fun trend to play with!
With a couple of little changes (most people don't wear combat boots to formals), this lacy look becomes an outfit that Blair Waldorf would definitely approve of. Pearls, ribbons and delicate fabrics are the keys to translating Anna Sui's look into the perfect formal ensemble. Plus, black and white are always sophisticated and classy.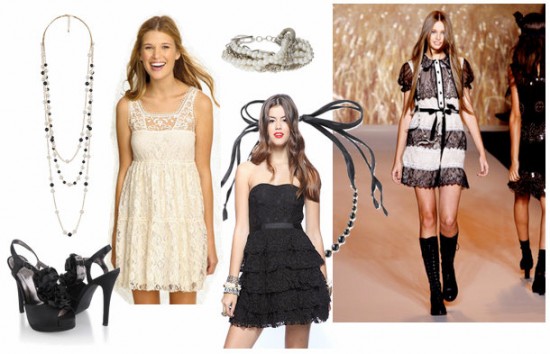 Product Information: Necklace – Forever 21, Shoes – Forever 21, Dresses – Delias, Forever 21, Bracelet – ASOS, Necklace – Nordstrom
Chanel's Feathers
Chanel's spring collection was reminiscent of a dream, filled with floaty fabrics and feathered edges. As always, black was the main color used and the silhouettes were powerful and feminine. This particular Chanel look combines yellow and black fabrics, bold jewelry and cage heels.
While the Chanel look is (obviously) a little bit over the top for a winter formal, it's easy to translate it into a wearable look that will impress all of your classmates. There are different shades of yellow that complement different skin tones, so be sure to try on a couple hues to get the most flattering one for you. After you find the perfect dress, have fun with accessorizing! Forever 21 and H+M always have great selections of fun jewelry – a little touch of feathers is all you need to get the Chanel look.
Product Information: Dresses – Dillards, Dillards, Necklace – Forever 21, Shoes – Wet Seal, Bracelets – Forever 21, Clutch – Windsor Store
What do you think?
Are any of these looks something that you'd wear to formal? Where do you get your fashion inspiration from? With semi-formals coming up, we're all looking for tips and tricks to getting that perfect look. Be sure to leave a comment!