This post may contain affiliate links, which means we may receive a commission if you purchase through our links. Please
read our full disclosure here
.
This post brought to you by Keds. All opinions are 100% mine.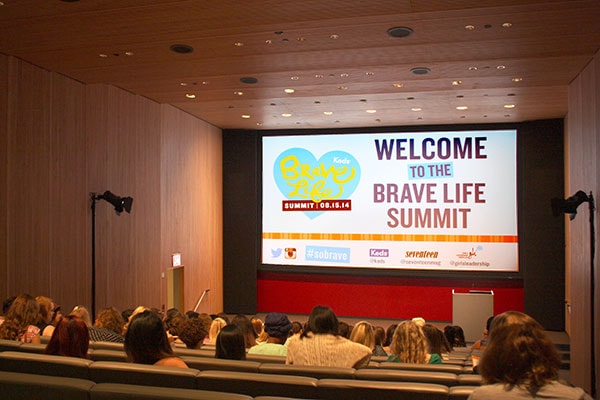 The scene before the Summit at Hearst Tower in NYC
This past Friday, I had the privilege of attending the 2014 Keds Brave Life Summit in NYC.
Below, I'll share my experience at this incredible event, and show you how you can win a Brave Life Grant to affect positive change in your own community.
About the Keds Brave Life Summit
The Keds Brave Life Summit is a conference held by Keds and Girls Leadership Institute. The summit brings together 150 girls from around the world to give them the opportunity to connect and learn to be brave in all areas of life.
This year's summit was jam-packed with amazing, accomplished speakers, including Rachel Simmons, co-founder of Girls Leadership Institute; Alicia Menendez, host of Fusion's "AM Tonight"; Lauren Berger, CEO of Internqueen.com; Gina Kelly, Fashion Director of Seventeen Magazine; Tony Award-winning playwright Sarah Jones; and many more.
The amazing @RachelJSimmons speaking: "There's never been a better time to be a young woman." #sobrave#ad

— College Fashion (@CollegeFashion) August 15, 2014
My favorite speaker of the night was host Rachel Simmons, who discussed how to be "everyday brave" and why "bravery is a muscle" – by taking small-scale brave actions every day, we can build our way up to actions that change the world.
Alicia Menendez spoke about her struggles in high school, her college battle with depression, and the unique ways depression can manifest itself in high-achieving young women. When she finished and opened the floor for questions, the responses were raw and emotional – I'm not sure there was a dry eye in the house. It was a real bonding experience for all of us.
Now, @AliciaMenendez: "If you loved high school, I am jealous of you. If you didn't, most of my adult friends didn't either." #sobrave#ad

— College Fashion (@CollegeFashion) August 15, 2014
On a lighter note, I also enjoyed hearing from Lauren Berger of InternQueen.com – her talk on "Learning to Love Rejection" hit home. Lauren argued that we should use rejection as motivation – after all, "Rejection doesn't mean never, it just means 'not right now'." She also shared some awesome networking tips.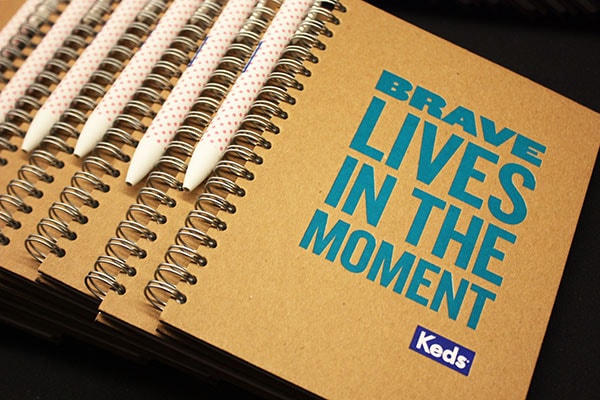 Notebooks distributed to summit attendees
At the end of the summit, Rachel asked the room to participate in a text message poll, sharing one brave step we were going to take tomorrow. The results, printed on the big screen, were heartwarming, inspiring, and the perfect way to end the evening.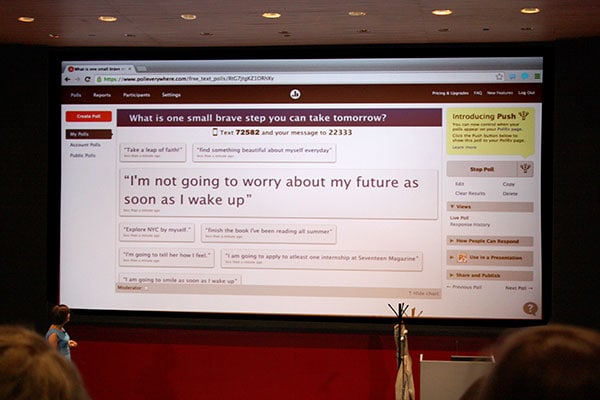 Text message poll: What's one small brave step you can take tomorrow?
Win a Brave Life Grant to Change YOUR Community
Now it's YOUR chance to be brave and make a difference in the world with the help of Keds. They provided $50,000 to TMI, an agency of DoSomething.org, to help girls attend Brave Life Summit 2014, and now they have a new grant that you'll all want to sign up to win:
The Change Your Community, Change Your World Grant launched August 15th. It will provide up to 50 girls (between the ages of 13 and 24) up to $1,000 each to fund their charitable dreams. For full details on how YOU can apply to make your brave dreams come true, visit the Keds grant website here. The sooner you apply, the better your chances!
Learn more!
Thanks so much to Keds, Girls Leadership Institute, and Seventeen for putting on a truly incredible event.
For more on the Brave Life Summit and Brave Life Project, be sure to follow @keds and the hashtag #sobrave on Twitter. You can also check out Girls Leadership Institute, Seventeen, and the Brave Life Project website.
Disclosure: This post was sponsored by Keds. The opinions, as always, are our own. For more information, please see our Disclosure page.