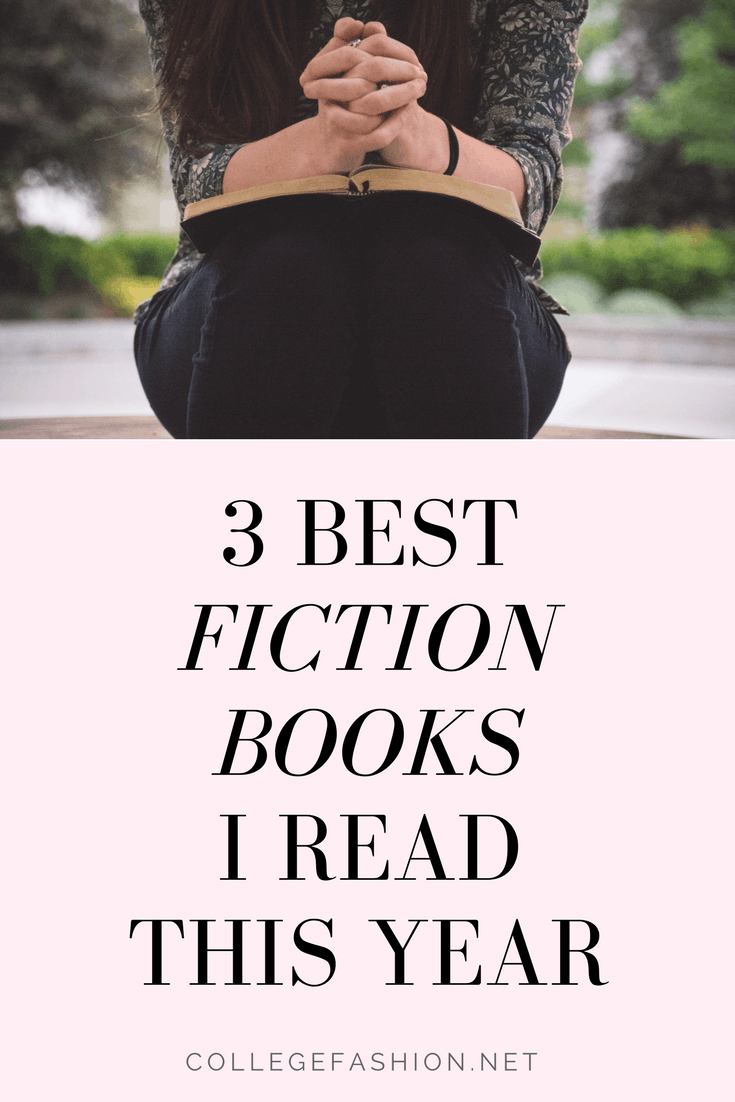 We've officially made it halfway through the year! Weird, right? I feel like I just started working on my TBR list, and now I've made it through, like, 20 books. A lot of them were great, but it still wasn't hard to narrow the list down to my top three.
These three books weren't just the best fiction books I read this year – they definitely make my list of All-Time Favorites, too! I can't wait to share them with you.
Read on for the best three works of fiction I've read in the past six months:
Hemlock Grove by Brian McGreevy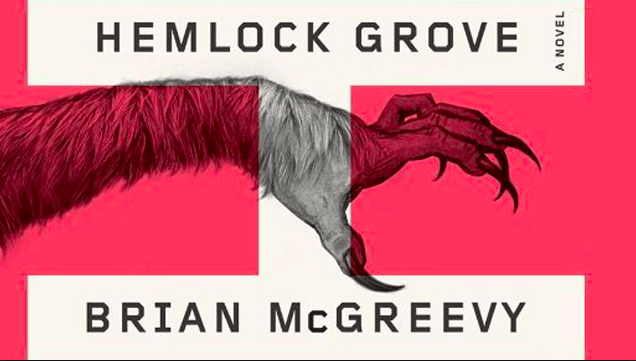 I've been screaming at my friends to read Hemlock Grove since I found it at a secondhand store a couple months ago. It's one of those books that I simply couldn't put down.
This horror/thriller novel was originally released five years ago and has even led to a Netflix series that is currently three seasons long (including a full two seasons of material that wasn't part of the original book).
The story takes place in a small town in Pennsylvania, where teenage girls start to show up inexplicably murdered. Newcomer Peter (gypsy, werewolf, suspicious to the rest of the town, but not the killer) forms an unlikely friendship with local rich-boy Roman (who is hiding some secrets of his own) in order to find the killer.
On the way, the two characters unearth a plethora of mysteries about the supernatural forces at work in the town of Hemlock Grove. You'll be hooked right away; trust me.
The best way I can explain how much I loved this book is that I was so into it, I completely forgot to guess who the killer was. Read it! (But seriously, don't watch the Netflix show. Despite following the book's plot to a near-T, something about the translation to screen made the eerie elements I loved in the book feel hokey, unbelievable, and over-the-top on TV.)
Hemlock Grove Fashion: Outfit Inspired by the Book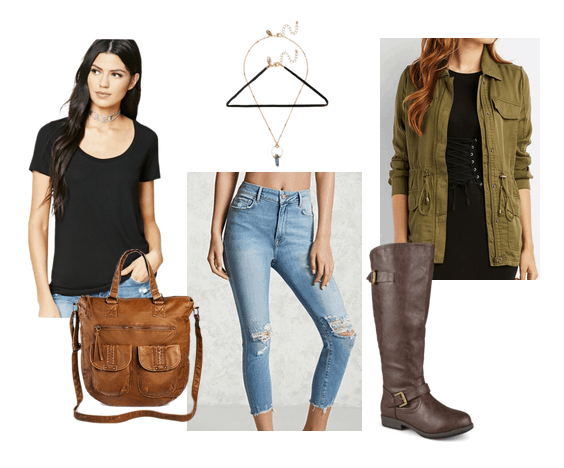 Products: Shirt – Forever 21, Purse – Target, Necklace – Charming Charlie, Jeans – Forever 21, Anorak – Charlotte Russe, Boots – DSW
The setting for Hemlock Grove has that "creepy-small-town-America" vibe, so I went with a woodsy look that would also be effective for, you know, hunting down the supernatural.
Nothing is more effortless than a slouchy black top and distressed jeans, which have the perfect amount of edge when paired with chocolate brown riding boots and an army green anorak. This "healing stone" choker is a nod to all the mystical elements in the book, and this comfy brown crossbody is definitely big enough to hold your phone, keys, wallet, werewolf-slaying tools, and whatever else.
Cinder by Marissa Meyer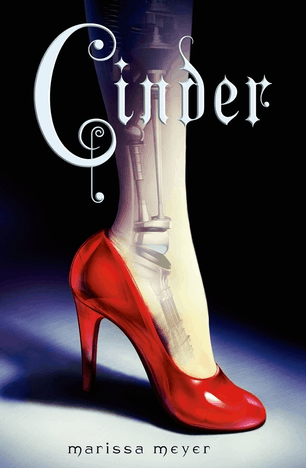 There have been more retellings of fairytales than you could possibly count, but "Cinderella… but she's a cyborg mechanic in an intergalactic war" might be my favorite.
Cinder has it all: We're talking droids instead of mice; a plague ravaging the country; a prince that is a fully-fleshed out, wonderfully written character; and an ending that will leave you shocked.
Most importantly, this book's take on the Cinderella character is AMAZING – absolutely no damsel-in-distress! She's tough, resourceful, and witty while still retaining the compassion and selflessness that made the iconic Disney version so beloved.
The new plot turns a simple fairy tale into an action-packed adventure story with so many unexpected twists that you will definitely be kept on the edge of your seat. Plus, this book is the first of FIVE "twisted fairy tales" in the The Lunar Chronicles series, so you'll be set on reading material for a while.
Cinder Fashion: Outfit Inspired by the Book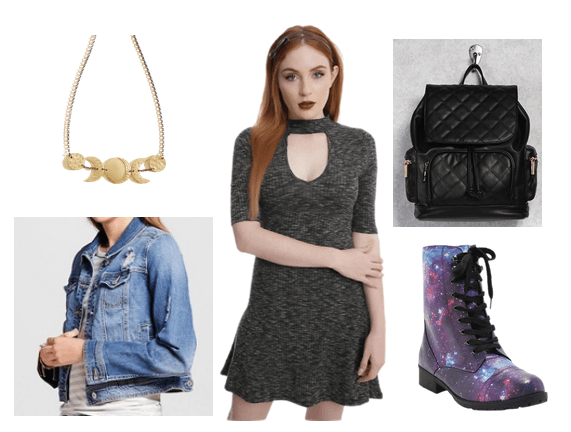 Products: Necklace – ModCloth, Jacket – Target, Dress – Hot Topic, Backpack – Forever 21, Boots – Hot Topic
There's nothing like some good space-themed apparel. Get a look inspired by both Cinder's personality and her environment with an edgy grey skater dress layered under a denim jacket.
Pair these pieces with some galaxy-printed combat boots and a necklace depicting the cycle of the moon. Finally, stash your stuff in a black-as-night quilted backpack.
Battle Royale by Koushun Takami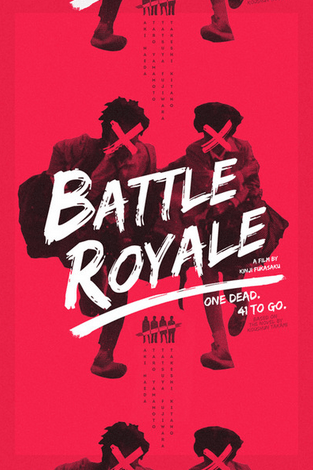 My FAVORITE book I've read so far this year is definitely this one (so much so that I actually covered it in a post a couple months ago, but I felt it deserved a second mention!).
Battle Royale is the original "The Hunger Games", and, in my opinion, is even better.
Originally published in Japanese in 1999, the book was translated into English in 2003. It follows a Japanese junior high school class as they are abducted on their way to a field trip and forced to fight to the death on a secluded island as part of the government's yearly example of their own control and domination.
I like Battle Royale better than The Hunger Games because the kids have all grown up together and are friends already, instead of being randomly selected and meeting for the first time within the death tournament. This makes the stakes higher and the moral dilemma a lot more challenging.
Also, the book switches perspective between characters (kind of like Game of Thrones) so you get well-developed backstory on EVERYONE (not just the protagonists). This makes even the "villains" more humanized and sympathetic.
The entire book is one of the most suspenseful things I've ever read and the finale left me screaming. My favorite. Do yourself a favor: Just read it.
Battle Royale Fashion: Outfit Inspired by the Book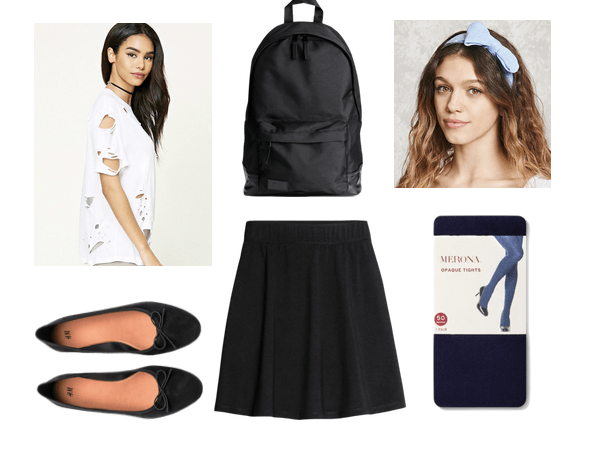 Products: Shirt – Forever 21, Shoes – H&M, Backpack – H&M, Skirt – H&M, Headband (similar) – Forever 21, Tights – Target
Schoolgirl chic, anyone? The kids in Battle Royale have the disadvantage of needing to fight each other in their school uniforms, so a book-inspired outfit obviously required the schoolgirl combo of a black skater skirt, black flats, and tights.
To turn the look from "honor roll" to "don't mess with me", all you need is a distressed tee like this one! Add the finishing touches – a cute headband and a sturdy backpack – and your look is complete.
What do you think?
Will you be checking any of my favorite books out? What's the best book you've read so far this year?