This post may contain affiliate links, which means we may receive a commission if you purchase through our links. Please
read our full disclosure here
.
Welcome to CF's new column, Women in Power! Inspired by the upcoming election, Women in Power will feature important women in history, outline their accomplishments, and explain how you can honor these amazing ladies in style. Enjoy!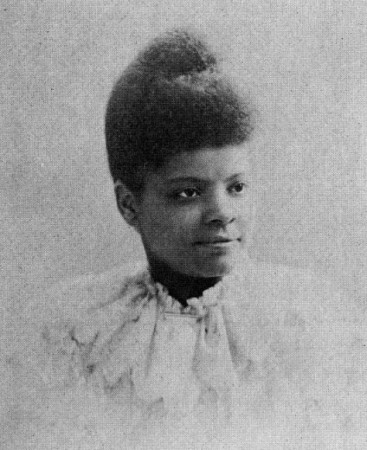 Photo: Project Gutenberg Public Domain, via Wikimedia Commons
When we think about the civil rights movement, we typically think of Martin Luther King Jr., Malcom X, and the 1960s. When we hear the phrase "women's suffrage," we immediately think of Susan B. Anthony, the early 1900s, and marches for equality. However, it is important to honor one exceptional woman that campaigned for both of these causes as early as the 1880s: Ida B. Wells.
Ida B. Wells was an African American journalist, newspaper editor, and early leader in the civil rights movements. She spent most of her life documenting lynch laws in America and advocating for equality and change. During these campaigns, Ida toured internationally and spoke on various celebrated lecture tours – even after becoming a mother. Ida worked hard for women's rights and the suffrage movement and established women's organizations that are still in existence today. Her legacy is strong and she is remembered as an incredibly influential woman.
Keep reading to learn more about Ida B. Wells and to see an outfit inspired by this amazing woman's style.
10 Facts about Ida B. Wells:
Ida B. Wells was born in Holly Springs, Mississippi on July 16, 1862 to enslaved parents James and Elizabeth Wells. One year later, the family was freed under President Abraham Lincoln's Emancipation Proclamation.
Ida's father James Wells was active in politics and spent much of his life working for the advancement of blacks. Her mother Elizabeth was very religious and raised her children under a very strict hand. Because both of Wells's parents valued education, Ida attended Shaw University until her rebellious behavior (confronting the president of the college) got her expelled.
In 1878, at the age of 16, Ida was away visiting her grandmother when yellow fever struck Holly Springs. The epidemic swept through the south and took with it Ida's mother, father, and 10-month-old brother Stanley. After the death of her parents and brother, Ida's relatives suggested that the six children be sent to foster homes. Ida fought hard to keep her five siblings under the same roof and, after much resistance, she succeeded. To look after her younger siblings, Ida found a job teaching in a black elementary school making $30 per month. At the time, white teachers received a salary of $80 per month.
In 1883, Ida and her younger siblings moved to Memphis, Tennessee in order to be closer to family members. In Memphis, Ida continued teaching and, during the summer, she attended classes at the prestigious Fisk University. Throughout her education, Ida continuously challenged her classmates with her strong political views and then-radical opinions on women's rights.
On May 4, 1884, Wells was ordered by a train conductor to give up her seat and move to a more crowded car. Refusing, Wells's actions mirrored those of Rosa Parks's famed resistance 71 years later. Ida was dragged off the train. Upon arriving home, she immediately hired an attourney. She initially won her case and a $500 settlement but, after further review, the verdict was reversed and Ida was responsible for paying court costs.
While teaching in Memphis, Ida was offered an editorial position for the Evening Star. She also wrote for The Living Way weekly newspaper under the pen name "Lola." During her time with these publications, Ida earned a reputation for writing about race issues and social injustices. She later became co-owner and editor of anti-segregationist newspaper Free Speech and Headlight. Operated in a church basement, this newspaper focused on racial injustices occurring in the south.
In March 1892, three of Wells's close friends were attacked and jailed for owning The People's Grocery, a store that was competing with white businesses for customers. A mob broke into the jail, took the three men, and publicly lynched them for their actions. As a result, Ida began a career in investigative journalism and spent her time researching lynch laws in America. In retaliation for her accusatory and bold publications, a mob destroyed and burned Ida's newspaper offices while she was out of town.
After receiving death threats and beginning to fear for her life, Ida moved to Chicago. During this period of her life, Ida travelled to many cities and spoke about the injustices she had faced. Her audiences were influential and supportive; in New York City, Ida was able to speak to many African-American activists of her time.
While living in Chicago, Ida helped to organize the black boycott of the 1893 World's Columbian Exposition in Chicago. With the help of Frederick Douglass and other notable activists, Ida protested the lack of African American representation at the fair. She was able to hand out pamphlets to over 20,000 people entitled "Reasons Why the Colored American Is Not in the World's Columbian Exposition."
Ida B. Wells married in 1895 and, not surprisingly, became one of the first married women in America to keep her last name as well as her husband's. She went by Ida B. Wells-Barnett. The couple had four children and Ida continued to tour the world and balance her home and work life. For the remainder of her life, Ida juggled the roles of teacher, speaker, writer, activist, and mother until she passed away at the age of 68 from kidney failure.
Style Inspired by Ida B. Wells:
Product Information:Earrings, Watch, Dress, Heels, Envelope Clutch
Ida B. Wells was respected, practical, strong-willed, and resourceful. Often rebellious but always sincere, Ida was a no-nonsense sort of woman. So keep your look simple and refined when channeling Ida's personality – but don't be afraid to celebrate your femininity!
Begin with a fitted collared dress and some stylish but practical menswear-inspired heels. These pieces reflect Ida's down-to-business attitude but also give your outfit some flair and girlish charm. Keep accessories simple – elegant pearl studs and a timeless watch perfectly accent the outfit. An envelope clutch will keep the necessities at hand (pen and paper, perhaps?) and a high out-of-the-way bun will tell people that you mean business.
Your turn!
Ida B. Wells was and is celebrated as a stellar activist and journalist. She reported on topics close to her heart and important to her life. By kickstarting the civil rights movement and standing up against injustices, Ida B. Wells's legacy will be honored for years to come.
What do you think about the legacy of Ida B. Wells? Her style? Is she a good role model for women? Who else would you like to see featured in the future? Make sure to leave your thoughts in a comment!