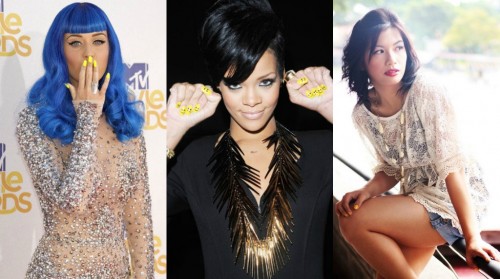 Katy Perry, Rihanna and a street style look showcase the yellow nail polish trend. Photo Credits: 1, 2, 3
Over the past year, it seems that nearly every color in the rainbow has been a "hot" nail polish shade, leaving us to ask: Is there any nail polish color that seems off-limits or totally strange these days? (For us, the answer is no.) In case you haven't taken notice of the latest nail polish craze, yellow is the new hot color to use on your fingernails.
All shades of yellow – from pastel buttercup hues to bright summer neons – are popular right now. Katy Perry memorably rocked it on the red carpet at the MTV Movie Awards, but others have followed in her footsteps. Photos have surfaced of Natalie Portman, Rihanna, Gwen Stefani and other celebs rocking stunning yellow-toned nails.
Personally, while I love the idea of this trend, I had a difficult time wearing it. Yellow is my favorite color and while I love the look of yellow polish on others, I removed my yellow manicure quickly. Since I'm ultra-pale, the shade I chose just didn't work on me – perhaps I need to try an even brighter yellow shade next time.
Unsure about what to wear with yellow polish? The answer is: other colors!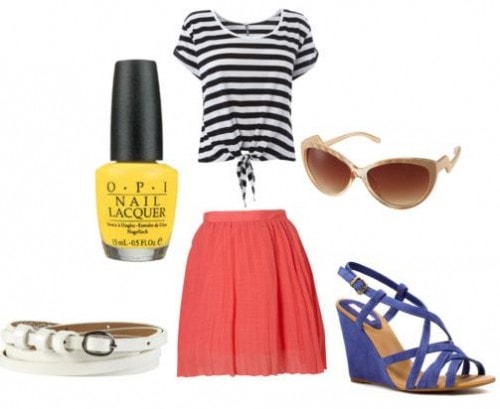 Product Information: Top – Peacocks, Skirt – Topshop, Wedges – Zara, Belt – Topshop, Nail Polish – OPI via Amazon
What do you think about the yellow nail polish trend?
Leave a comment below and let's discuss your thoughts on it! Is this a summery-fun nail polish trend or just simply silly? Is this a nail polish color that you would wear? Would you rock a bright neon or is a soft pastel more your taste?